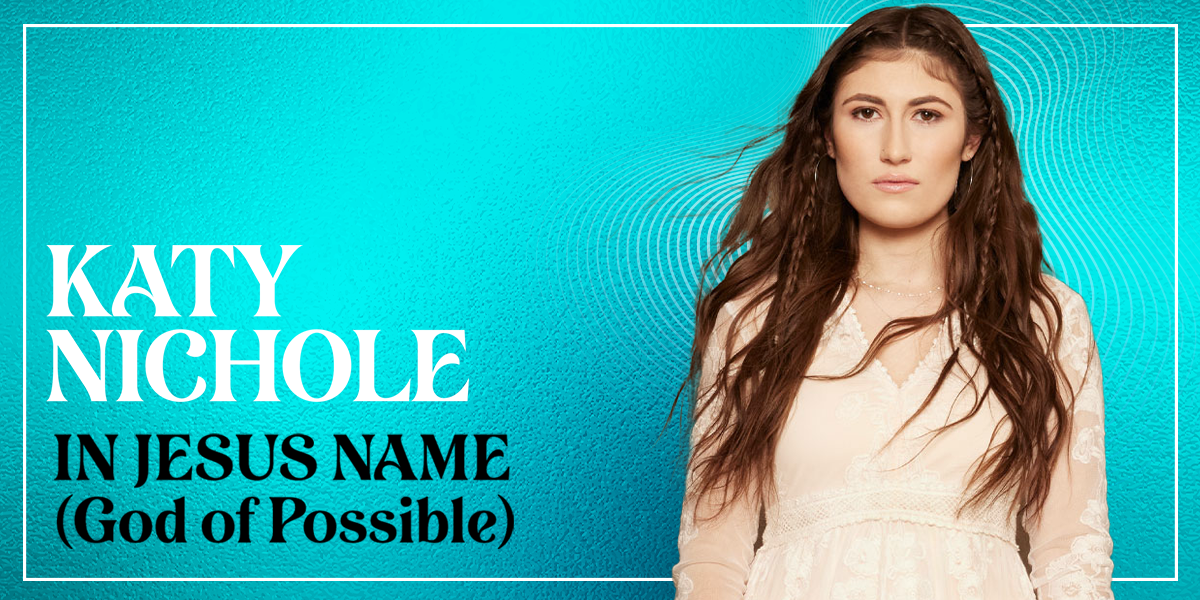 When 21-year-old singer, songwriter and worship leader @Katy Nichole posted the chorus of what is now "In Jesus Name (God of Possible)" on TikTok, she had no idea that it would eventually soundtrack millions of videos on the social platform. In a matter of months, the clip had been heard more than 80 million times, leading Katy to finish the song.
WATCH NOW: Katy Nichole "In Jesus Name (God of Possible)" Official Audio
Together with established songwriters Ethan Hulse, Jeff Pardo and David Spencer, Katy penned verses and a bridge to complement the original chorus; and that's when the current iteration of "In Jesus Name (God of Possible)" was born. The bold lyrics are resonating with scores of listeners as Katy's confident voice authoritatively declares a prayer stripped from her journal:
I pray for your healing
That circumstances would change
I pray that the fear inside would flee
In Jesus name
I pray that a breakthrough would happen today
I pray miracles over your life in Jesus name
Momentum for her debut single continues to build as fans are hearing it on the radio for the very first time. The soaring ballad that speaks the name of Jesus over everyone who hears it peaked at No. 2 on the iTunes overall Top Songs chart upon release and has now reached in excess of 150 million people.
"This song is one of the greatest gifts God could ever give me. I want to be a good, faithful servant to the Lord. I'm just grateful to be His vessel," Katy says. "It's a wild thing to see where this song started and where it is now. I'm so thankful for what God is doing."
Pointing to the truth of Matthew 19:26 ("With God everything is possible."), "In Jesus Name (God of Possible)" is a powerful invocation the newcomer desires to sing over people simply because she's experienced the transformation that happens when God answers our prayers.
After multiple surgeries to correct her scoliosis, Katy witnessed a miracle as her spine was straightened and as the Lord delivered her from a season of depression. Moreover, even as she continues to battle chronic health issues, she remains in awe of the ways in which God chooses to sustain and heal her — body and soul.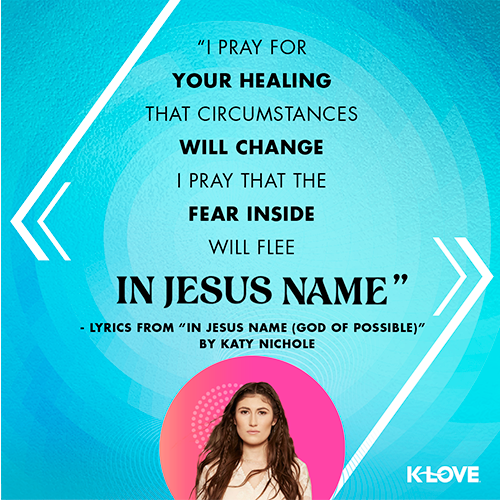 "God is a God of healing," she attests. "God's healed me, so I know He can heal someone else."
---
Don't Miss a Beat & Sign Up for K-LOVE's Music Updates!
Get monthly emails with updates on new music, videos, and exclusives from your favorite Christian artists on K-LOVE!