When @Zach Williams and @We The Kingdom invited new sibling trio @CAIN on tour earlier this year, it was a match made in heaven. The group's Taylor, Madison and Logan Cain are forging a musical path in the same rootsy, Americana vein as their tourmates; and their similar foot-stomping acoustic direction can be heard on their debut song, "Rise Up (Lazarus)."
While the song name drops the friend that Jesus raised from the dead, it actually talks about God resurrecting the dark and dead places in our lives. Filled with distinct familial harmonies and thoughtful lyrics, the song didn't come easy the day CAIN found themselves in a writing room with songwriters Ethan Hulse and Nick Schwarz.
WATCH: "Rise Up (Lazarus)" Official Music Video
"That day started out rough. We were halfway into the write when we realized we needed to start over completely," the band confesses on Instagram concerning the genesis of the song. "Once Ethan brought up this idea, we were off to the races. Then, when Taylor was looking back in her song idea notes, she realized she'd recorded the same words, same melody two months prior. God wanted to write this song, and He made sure to get it to us. We pray that you feel Jesus calling out to you to RISE UP."
WATCH: "Rise Up (Lazarus)" Story Behind the Song
"Rise Up (Lazarus)" appears on CAIN's self-titled EP, available now. In addition, the siblings have also been lending their harmonies to a variety of cover songs on Instagram, putting their spin on some of their favorite tracks from artists like @Steven Curtis Chapman, @NEEDTOBREATHE, @Phil Wickham, and @Matt Maher.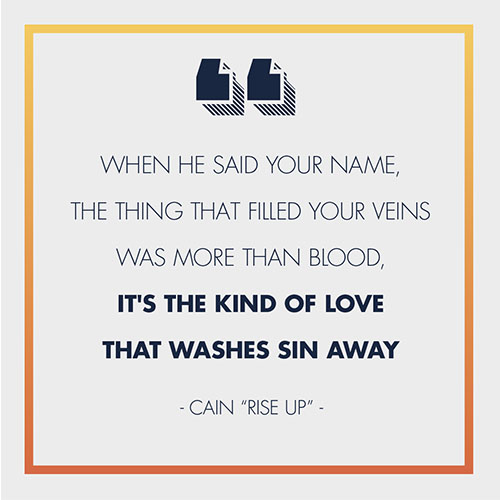 The trio recently traveled to California's iconic Joshua Tree National Park to record their first-ever music video. Look for the official clip, featuring "Rise Up (Lazarus)," to premiere soon. Until then, you can enjoy the official lyric video (below) and live performance (above).
WATCH: "Rise Up (Lazarus)" Lyric Video