It's an annual event and many new faces take part each year. This year, "Students are strongly encouraged to follow all CDC, state, local government, and school district guidelines and mandates," according to SYATP leadership.
See You at the Pole (official):
"RETURN…RESTORE…REVIVE" (from 2 Kings 23:25) is the theme for See You at the Pole 2020, which is all about students praying at their schools. The event is planned for Wednesday, September 23, at schools around the world.
The event is more than just one day of prayer. With the challenge of COVID-19 affecting schedules at participating schools, students are being challenged to find new and unique ways, places, and times to pray throughout the Global Week of Student Prayer—September 20-26.
Then on Wednesday, September 23rd, if possible, students are encouraged to gather at a school flagpole or other community location to pray. This means that, all around the world in every time zone, for 24 hours, students will be praying for their school, friends, families, churches, and communities.
This is the 30th year for See You at the Pole, a student-initiated and student-led event that started in Burleson, Texas, in 1990. SYATP brings students together to intercede for their leaders, schools, and families, asking God to bring moral and spiritual awakening to their campuses and countries.
SYATP is all about prayer!
Start praying today for:
Your school's event.
Those planning your SYATP.
Christian students to show up ready to pray on Sept 23.
Excellent communication for Christ to non-Christians.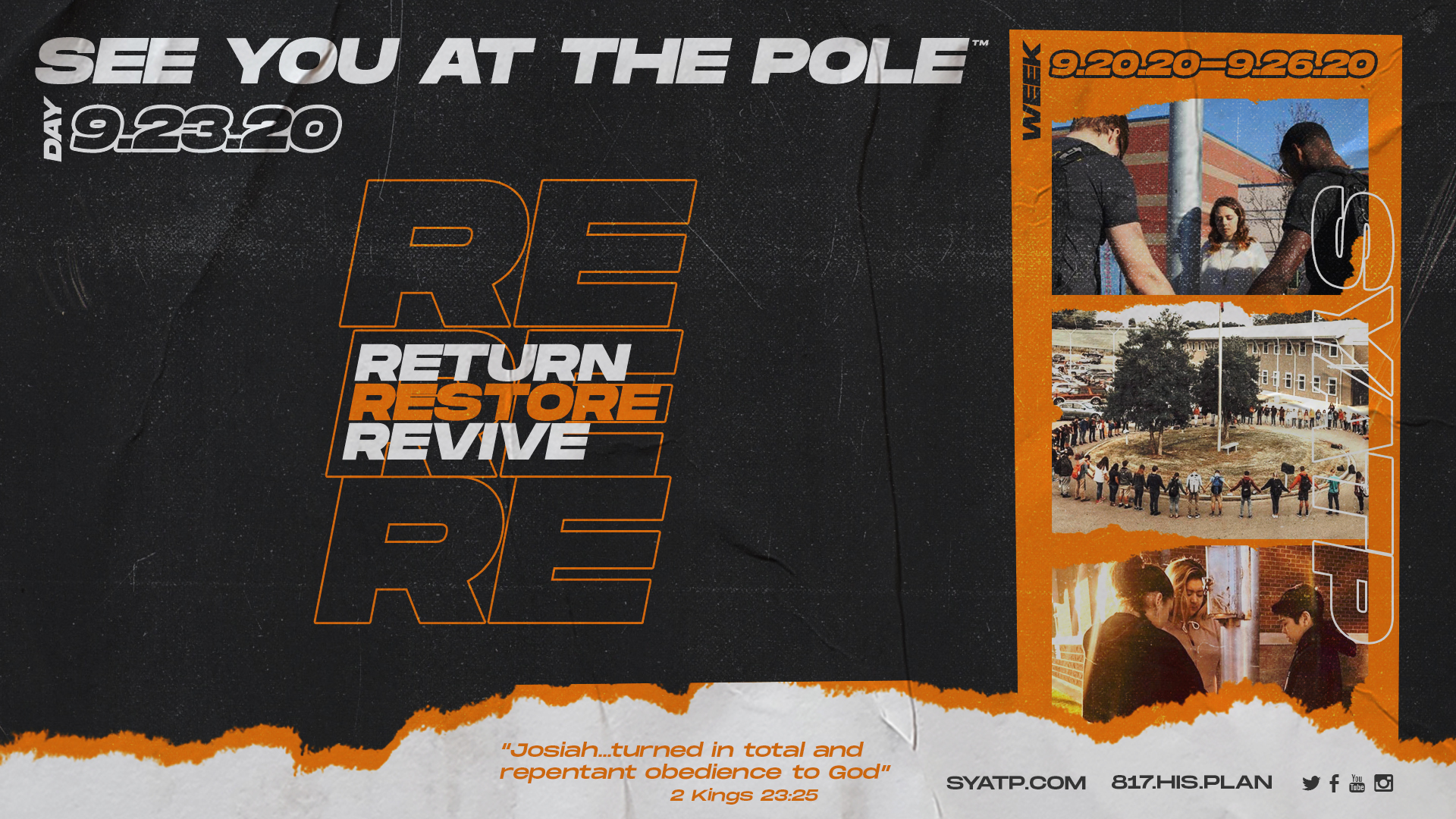 Students' Rights
While there is no requirement to ask the administration or school board's permission to meet, it is wise and courteous to inform the administration about See You at the Pole™. According to your constitutional rights upheld by Supreme Court precedent, you already have permission to have See You at the Pole™ because it is student-led, before school hours, and outside of any school building. It does not cost the district anything financially for students to meet and pray, so you aren't "establishing religion with tax money." Read the United States Department of Education's statement on Religious Expression in Public Schools.
If opposed by the school administration, you should:
Know your rights. Students who take leadership should be willing to back up their beliefs, if necessary, by studying the materials available. Visit the Alliance Defending Freedom web site for more info regarding students' legal rights.
Plan your response. If ordered by a school official to disperse during See You at the Pole™, you should respectfully leave the school grounds and pray off campus. The goal of See You at the Pole™ is to pray to God, not fight with man. You can make an appointment with the official later to discuss the situation.
Use your available resources. Expert legal counsel is available from several groups offering free assistance to individuals in religious-liberty cases. Timely intervention has resolved almost every situation with little difficulty!
Remember—above all, you are representing Christ.
The See You at The Pole backstory:
A small group of teenagers in Burleson, Texas, came together for a DiscipleNow weekend in early 1990. They came seeking God and little did they know how powerfully He was about to move. On Saturday night their hearts were penetrated like never before, when they became broken before God and burdened for their friends. Compelled to pray, they drove to three different schools that night. Not knowing exactly what to do, they went to the school flagpoles and prayed for their friends, schools, and leaders. Those students had no idea how God would use their obedience.
God used what He did among those teenagers and others who were holding similar prayer meetings at their schools to birth a vision in the hearts of youth leaders across Texas. The vision was that students throughout Texas would follow these examples and meet at their school flagpoles to pray simultaneously. The challenge was namedSee You at the Pole™ at a brainstorming session during a meeting of key youth leaders. The vision was shared with 20,000 students in June 1990 at Reunion Arena in Dallas, Texas.
Only God had envisioned how many students would step up to the challenge. At 7:00 a.m. on September 12, 1990, more than 45,000 teenagers met at school flagpoles in four different states to pray before the start of school. Reports came into toll-free number for days after the first event.
A few months later, a group of youth ministers from all over the country gathered together for a national conference in Colorado. Many of them reported that their students had heard about the prayer movement in Texas and were equally burdened for their schools. No other events had been planned, but it was clear that students across the country would be creating their own national day of student prayer. There was no stopping them.
On September 11, 1991, at 7:00 a.m., an estimated one million students gathered at school flagpoles all over the country. From Boston, Massachusetts, to Los Angeles, California, from North Dakota to the tip of Texas, students came together to pray. Some sang, some read Scripture, but most importantly, they prayed. Like those first students, they prayed for their schools, for their friends, for their leaders, and for their country.
As in all great movements of prayer, See You at the Pole™ did not begin in the hearts of people. It began in the heart of God. God used the obedience of a small group of teenagers to ignite what has become an international movement of prayer among young people.
Since 1991, See You at the Pole™ has grown to God-sized proportions. Within the first few years, the movement began to spread to other nations through missionaries from the U.S. Now each year, an estimated 1 million students from all the world participate in See You at the Pole™. Students in more than 64 countries have participated. In places like Canada, Korea, Japan, Turkey, and the Ivory Coast, students are responding to God and taking seriously the challenge to pray.