YouVersion and OneHope created the free Bible App for Kids in 2013 to encourage children to engage with God's Word. Since then, the app has been installed by families in every country in the world. While it took seven years to reach the first 50 million installs, the app saw another 50 million installs in the past three years alone. With this recent surge in growth, Bible App for Kids is now celebrating 100 million unique installs.
"We know that the most important influence in a child's life is their family," said Bobby Gruenewald, Life.Church Innovation Pastor and YouVersion Founder and CEO. "With that in mind, we're really encouraged to see millions of families around the world choose to turn to the Bible and learn about God together."
With the app available in 66 different languages, more than 85% of those 100 million installs are from outside the U.S. The app has been translated into some of the world's most-spoken languages like Spanish, Chinese, and French, but it's also available in other languages like Polish, Mongolian, and Swahili. In every experience, Bible App for Kids is designed to bring Scripture to life through interactive animations and fun activities to help children experience 41 of the major stories of the Bible.
"Through this Bible experience, we're seeing children in every country fall in love with God's Word," said Rob Hoskins, OneHope President. "We're passionate about equipping the global Church to engage the next generation with interactive stories from the Bible and help lay a foundation for future spiritual growth."
Children around the world are using the Bible App for Kids to share God's Word with their peers. In Russia, 7-year-old Arisha used the app to tell her friend Mariana about Jesus. After a few weeks of using the app together, Mariana made the decision to follow Jesus.
"She doesn't hesitate to share her faith and tell her friends about Jesus," said Olga, Arisha's mother. "After we downloaded the Bible App for Kids, she has become more interested in the Bible. The Bible comes alive for her now."
One way Bible App for Kids equips the global Church is through the Bible Adventure Curriculum and supporting resources for parents, pastors, and church leaders. These resources are produced in partnership with Life.Church, the Oklahoma-based church that created YouVersion. As a digital ministry of the church, the entire Bible Adventure Curriculum is completely free through the Life.Church Open Network.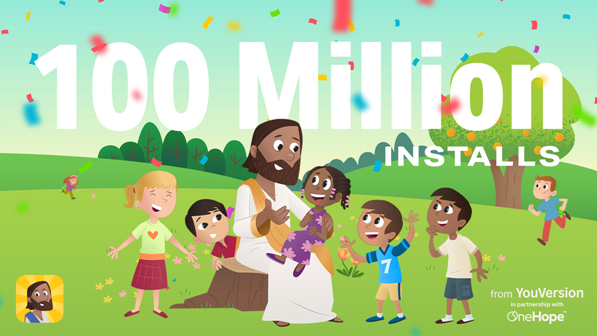 "We love using Bible App for Kids and the matching curriculum for our children's ministry," said Melissa Glynn from Life Valley Community Church in San Jose, California. "Just recently, I had a mom tell me that her 5-year-old ran through the house quoting Joshua 1:9! These resources are making a difference in our children's lives, and they're such a blessing to our congregation."
With a story from Bible App for Kids at the heart of each lesson, the easy-to-use curriculum is designed to help children ages two through kindergarten discover how the Bible impacts their lives. Each video lesson includes original music, memory verses with motions, and small group guides that enhances what they're learning through the app. Each Bible Adventure lesson also has a Parent Guide to give families tools to encourage their child's faith journey.
Visit bibleappforkids.com to learn more about the app as well as parent guides, church resources, and more.
About YouVersion
Created by Life.Church, YouVersion designs biblically-centered experiences that encourage and challenge people to seek God throughout each day. For more information about YouVersion, visit youversion.com.
About OneHope
Since 1987, more than 2 billion children around the world have received God's Word through the ministry of OneHope. Using research and innovation to create Scripture programs, OneHope partners with local churches to see every child in every generation experience the Gospel. For more information about OneHope, visit onehope.net.