"Fields of Faith is the one night of the year that I look forward to 364 other days of the year!"
For nearly 20 years, student-led prayer and worship has been taking place on cool autumn days or nights at schools across America.
Jeff Martin, Fellowship of Christian Athletes Executive Director of Campus Sport Ministry, gives us a glimpse of history: "In 2004, more than 6,000 students gathered on school athletic fields throughout Oklahoma, Texas, and Kansas for our first Fields of Faith event. That year, over 100 students made decisions for Christ. Since then, hundreds of thousands of people have attended Fields of Faith events—with thousands accepting Christ into their lives."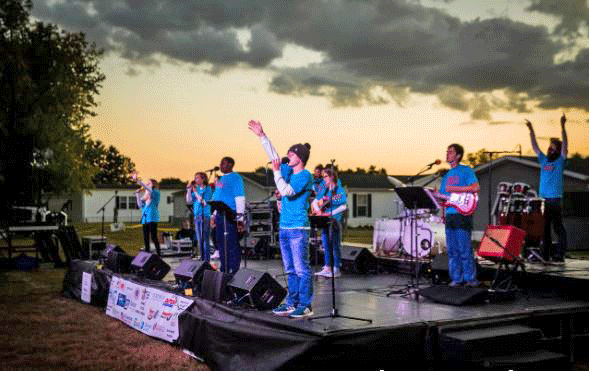 Bible Theme
This year the nationwide event is calendar-set for October 13, but with varying dates for individual areas. FCA's national Bible theme for 2021 is "Pursue," based on 1 Timothy 6:11:"Pursue righteousness and a godly life, along with faith, love, perseverance, and gentleness."
Update: For our story, we look at an established regional example of a large rally taking place in the Midwest. "Fields of Faith is the one night of the year that I look forward to 364 other days of the year!" Jeff Mosier is East Central Indiana Area Director, Fellowship of Christian Athletes. "It is an opportunity that every year they invite their peers that don't yet know Christ to come and hear the Gospel in a concert-type format." Their Fields of Faith was held this past week. Jeff tells us, "The Power of The Holy Spirit was very present in the stadium. Well over 100 responded to the altar call. 83 filled out cards. We will begin calling and texting each of them tomorrow. We will record the testimonies as they come in."
God Held Back the Weather
"We were praying The Father would change the forecast in Jesus name! Even as late as noon rain and storms were predicted during the event. By 2:00 the forecast had changed so that rain would arrive at 11pm. By 3:00 it said midnight. The sun began to shine!!! As I shut the light out to go to bed at 1:20am I heard thunder outside. Friends that live 25 miles to the south of us said it poured during our event."
(previous story with background)
Two of the students leading worship at the Indiana event are Kayla Patterson and Ethan Wolfe.
Kayla is the lead vocalist. She shares that two of the songs they'll be performing are "Awake My Soul" by Hillsong and "I Thank God" by Maverick City Music. I asked how she maintains her focus on God at such a public event. "Definitely a lot of prayer. A lot of prayer, and just giving it to God because sometimes it can be nerve-racking or distracting," but keeping in mind that "we're there for Him (God), it just kind of goes away."
Flashlight Altar Call
Something that Kayla will always remember happened at last year's Field of Faith. People were strategically separated in circles to conform to COVID-19 guidelines. And Kayla was the main speaker and had the privilege of asking people in the crowd to raise their hands to ask Christ into their lives, "but because everything was so dark outside, I couldn't see everybody that was raising their hands." She kept looking and then "I saw one person in the very back hold up a flashlight" with their hand. Kayla immediately got the message and asked those who wanted to know Christ to raise up their phone flashlight. "It was beautiful, like the whole field just lit up. It was like a ton of fireflies. It was probably one of the prettiest things I've ever seen." God is always working.
Also leading worship in Indiana is Ethan Wolfe. "God gives me this peace, in the calm of the storm," when it comes to being on stage playing one of the many instruments he's mastered. Ethan's vision for Fields of Faith? "A lot of life is going to be born-again. People will be saved who didn't even expect to be saved. We've heard stories of people coming with a friend and they just met God right there… and they're like 'whoa! That was a lot!'"
You can get to know Jeff, Kayla, and Ethan in our podcast just below. They share their hearts and hopes.