CEDARVILLE, OHIO – Eight Cedarville University graduates are providing the greater Columbus region with uplifting and encouraging programming. Although they may have different responsibilities, they all are focused on serving the region with life-changing music at 104.9 the River.
The River is a Christian radio station based in Columbus, Ohio. The station has been a staple for the Christian community for decades, and now with additional stations in Newark, Lancaster and Chillicothe; online streaming; and a strong social media presence, The River has the potential to reach a larger audience with encouraging content.
Leading the effort is president and CEO Bill Montgomery, who earned a degree in broadcasting from Cedarville University. Like the majority of his Cedarville colleagues at the station, Montgomery's love for broadcasting and ministering through radio was nurtured as a college student.
"I believe one of the common threads among The River's staff who graduated from Cedarville University is the mantra of excellence for gospel purposes," said Montgomery. "From attending chapel programs to watching the professional demeanor of Professor Jim Leightenheimer, we all came away well prepared for serving in broadcasting."
The success of The River's staff is directly connected to Leightenheimer, one of four professors in Cedarville's broadcasting and digital media program who also serves on the board of directors for 104.9 the River. So, in many ways, Leightenheimer is still influencing his former students.
"We strongly encourage students to get jobs in media on campus," said Leightenheimer, who started the university's student-focused Resound Radio station and played key roles in the former WCDR station that blanketed Ohio with inspiring programming for decades.
Today, The River is well respected among Christian radio stations across the country. In fact, this past year it was voted the No. 1 large market Christian radio station by Christian Music Broadcasters (CMB).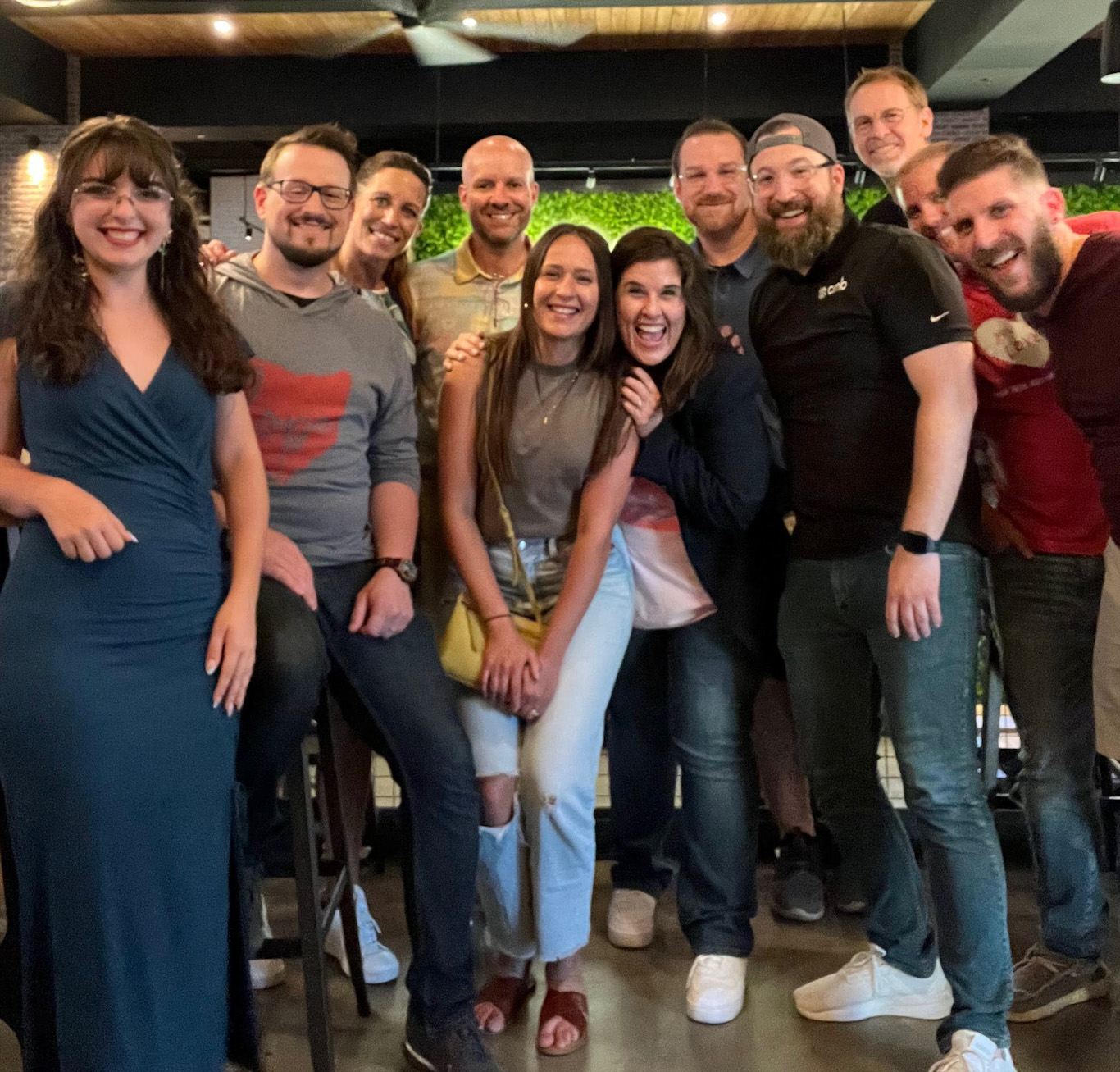 This success can be traced back to the various Cedarville alumni — whether they are on-air personalities or work in promotions, marketing or fundraising.
"Our staff brings exceptional skills each day that benefit the people who listen to our programming," added Montgomery. "It's a great joy to work with so many gifted broadcasting professionals, and knowing they all graduated from Cedarville University makes it even more special for me."
Among the group from Cedarville, only Scott Thomson earned a degree other than broadcasting and digital media. He completed a degree in finance and accounting and serves The River as chief financial officer (CFO) and human resources director. The remaining graduates, including Dave Stephens, Josh Evans, Eric Stroud, Craig Bennington, Alyx Vissing, Shannon Farmer and Montgomery were mentored by Leightenheimer in broadcasting and digital media.
"Our students and graduates have a lot of the qualities and skills that employers are looking for because they bring a high character with competency to the profession," said Leightenheimer. "Cedarville students develop skills in audio and video production, writing, law and regulation, web analytics and SEO. These skills set our graduates apart and give them a distinct competitive edge in the workforce."
The listeners of 104.9 the River are benefiting from Cedarville's impact.
One listener wrote, "Sometimes God speaks to us through songs. I'm thankful The River was there in my struggling and growing moments." Others have expressed their appreciation, saying they love The River because it is "always there" with the "right song at the right time."
"Cedarville graduates, whether in broadcasting and digital media or other academic disciplines, take care of each other," said Leightenheimer. "We're a big family that embraces excellence in all that we do." And you can see that excellence down at The River, too.
Located in southwest Ohio, Cedarville University is an accredited, Christ-centered, Baptist institution with an enrollment of 5,082 undergraduate, graduate, and dual enrolled high school students in more than 175 areas of study. Founded in 1887, Cedarville is one of the largest private universities in Ohio, recognized nationally for its authentic Christian community, rigorous academic programs, including its Bachelor of Arts in Broadcasting, Digital Media and Journalism, high graduation and retention rates, accredited professional and health science offerings, and the #4 national ranking by the Wall Street Journal for student engagement. For more information about the University, visit cedarville.edu.