K-LOVE News – by Rafael Sierra, Jr. (complete podcast available)
When a Birmingham, Alabama pastor asked his homeless friends to come to church, they said no. So, he did the next best thing and took the church to them.
Each Sunday morning, a church literally 'rolls-up' into a parking lot to share breakfast together with the homeless, to talk with them about their problems, but most importantly, to share with them the goodness of Christ.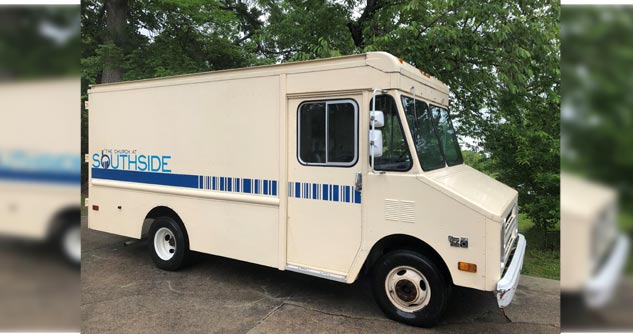 Pastor Keith Akins began the Church at Southside a few years ago wanting to serve the homeless. At first no one came. But when the word got out about his rolling church, his mission began to grow
"It was donuts and juice and then it grew from Coleman camp stoves and we would just cook up a little breakfast" says Akins. He says they bought a bigger griddle and would cook meals out there and now it's grown so much that families from the church prepare meals in their home just to bring that family atmosphere together.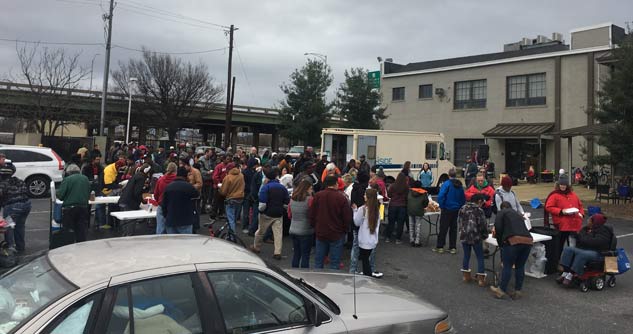 Pastor Akins admits the first time they pulled up to the parking lot, no one showed. Then a couple showed up and wound up giving them all the food that day to share with their friends. Then after weeks of trying, people from all walks of life began to stop stop by. And while feeding the people is his goal, Akins says Jesus is what brings the people together.
"We have a short service and time of worship together, and after that, folks can grab stuff off the truck; supplies like canned goods, toiletries, different things like that for the week as they need." He says that every person that attends has a seat at the table. He believes one of the most intimate things one can do is break bread with someone else. He says, "you see Jesus do that all in the New Testament and so it's like, man, just come share a meal."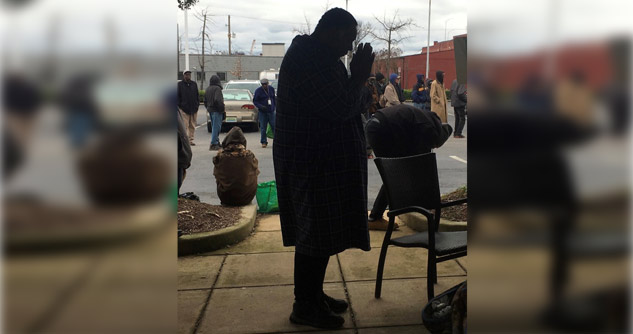 Akins believes food scarcity is a big deal says Akins. So, the idea of buying a food truck and packing it full of canned goods, toiletries and other items they can take with them is helpful. Akins is pleased to know that when people leave, he's given them a home cooked meal and something they could even use during the week.
Today, more than 200 show up every Sunday and more than 10,000 meals have been served to those who are hungry. They've even added a mobile baptistry for those who want to commit to Christ.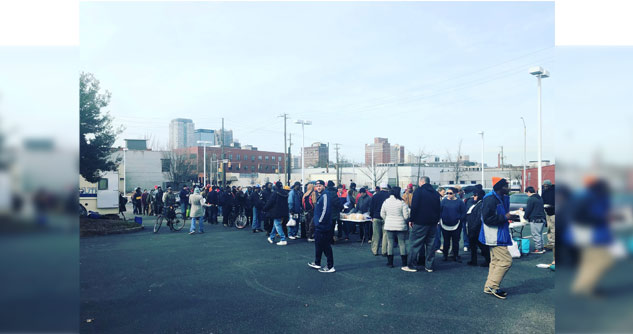 "When we've had people make decisions for Jesus and they want to follow through with baptism, we obviously make that available." He adds, "Because we meet outside, it's actually opened us up to some really cool things that have happened out there, one being, having a lot of folks that may have never even been a part of seeing a baptism and getting to see that out in a parking lot that, that was an amazing day."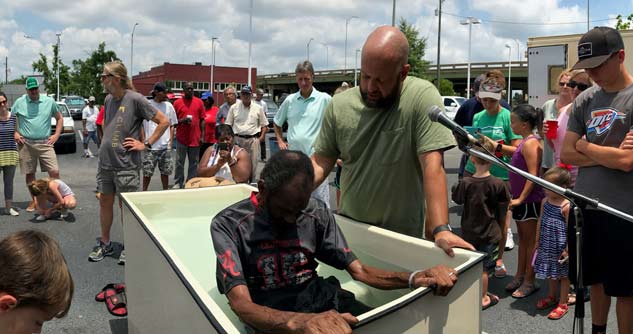 Pastor Akins says his mobile church has been life changing. His mission is to feed the homeless and remind those who don't have a home that God loves them, cares for them and has made a way.