(Atlanta, GA) - The last thing self-described 'homeless hippy' Paul Palmer expected when he walked in to an unfamiliar church was a miracle.
"55 churches in that neighborhood and they had a chalkboard--no electronics in 1979--they had a chalkboard with my name and my wife's name on it. And it was a prayer list. Every Wednesday, they would pray for those names on that board. A friend of ours got saved, and would write mine and Patty's name on that chalkboard. 55 churches in that neighborhood, and I walked into the one that was praying for us."
That church visit changed Paul's life. He and wife reunited, accepted Jesus and left the 'hippy' lifestyle they'd once embraced. Rather hear the story? Click here.
Paul became a pastor and after years of ministering on the West Coast, moved to Atlanta to found the Atlanta Dream Center.
The church became known for loving and accepting the homeless in the community. The outreach grew and today, all people are welcome--doctors, lawyers, and moms serve, worship and fellowship right alongside those without homes.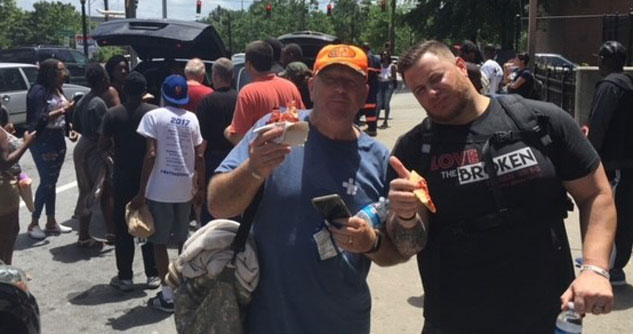 For the past several years, Pastor Paul has been celebrating his birthday with a very unique fundraiser. He spends time on the streets living as a homeless person. He takes only a Bible and $10 and lives out in the uncomfortable elements, sleeping on hard ground and in stairwells and fellowshipping with other homeless people.
Turning 70 this year, the pastor spent 70 consecutive hours on the streets to raise money for the center's ministries.
What's it like being homeless?
"Dirty, tired and the time slows down. 24 hours feels like 48." Pastor Paul says.
Pastor Paul's hope? To bring the love of Jesus to everyone he meets, make connections, fellowship and open the doors for help to whomever asks.