K-LOVE News – by Richard Hunt (complete podcast available) (more Positive People stories)
An entire generation grew up watching VeggieTales, which launched in the mid-1990s on VHS tapes, later as DVDs.
Co-creator, Phil Vischer, says videos, featuring Bob the Tomato & Larry the Cucumber sharing Bible stories, found their way into 65 million homes and churches!
New episodes of the Bible-teaching cartoons
But there was a big bump in the road as the company created by the original animation team went bankrupt. Larger secular companies tried to make a go of VeggieTales, but things just weren't the same.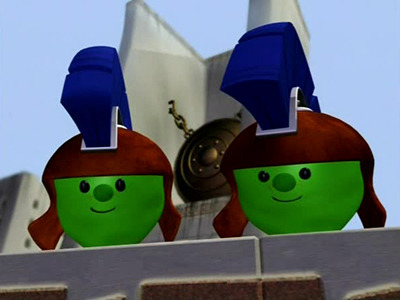 Before we get into the good news about the reset of the franchise, you might be interested in knowing how the concept of vegetables talking about God came to be.
Phil shares, "It came out of technological pragmatism, which is probably not where you expect. Some people have accused us of trying to get kids to eat more vegetables, and others have accused us of trying to get them to eat less vegetables, and it was really neither. I was a computer animator in Chicago back around 1990, way, way, like 150 years ago in the early days of computer animation, and I was trying to figure out how to make characters and tell my own stories."
Phil explains the birth of the VeggieTales characters happened in an unusual way. "But the technology of the day could only handle simple shapes. So, you couldn't do people. You couldn't do puppies. You could only do like the Scrubbing Bubbles commercials, which were little balls that race around a bathroom, making it clean.
'Okay, I need really simple shapes to tell Bible stories, what should I use?' And I thought, 'Well how about a candy bar?' And so, I made a little candy bar on the computer and I gave him eyes and a nose and a mouth and I thought, 'Okay, this could work. Kids like candy bars.' And then my wife walks by and said, 'You know moms are going to be mad if you make their kids fall in love with candy bars.' And I thought, 'Oh, she's right!'"
Accepting his wife's wisdom, Phil sidelined the candy bar characters. And the next character idea that popped into Phil's head was a cucumber, to eventually be named Larry, and also a tomato to be known as Bob.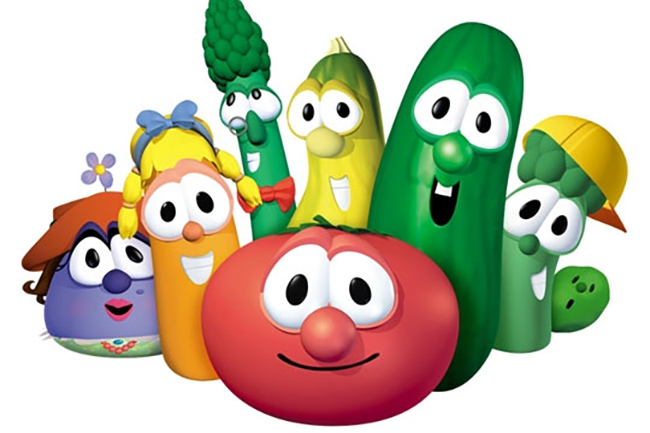 (Slight spoiler here: technically speaking, cucumbers and tomatoes are fruits, but a lot of people more or less regard them as vegetables, so who cares? Some later characters were obvious fruits, including Pa Grape and Madame Blueberry. But a cartoon called 'ProduceTales' doesn't seem to have the right ring.)
This brings us to 2019. VeggieTales is being reborn for a new generation of kids. Phil is writing and producing new episodes which will be shown by TBN, the Trinity Broadcasting Network, this fall.
In our podcast (above), Phil shares his excitement about the new cartoons, explains how they came up with "Silly Songs with Larry" on the original cartoons, and opens his heart to share some valuable lessons he has learned along the way.
Here's a glimpse of what you'll hear: "I think the biggest lesson I learned, and this was through, you know, the loss of the company – cause I had made the company my identity – you know, my ministry had become my identity - and what God needed to teach me was…the mistake I was making was, I had made the work I was doing for God more important than my relationship with God. So, I was too busy doing stuff for Him to just sit and rest with Him. And we don't find our identities when we're working for God, we find our identity when we're walking with God."
Phil admits he once thought, "I think God wants me to be Walt Disney. Or I think God wants me to be Jim Henson. I think God wants me to be somebody, just not Phil." He said growing up in church you hear the stories about people doing amazing things for God. So, he always wondered what amazing thing he would do.
But Phil has now learned, "God just wants to be with you. The work He has for you will come out of your relationship with Him - when it's time. You don't have to rush it and you definitely don't have to kill yourself trying to make it happen, cause that's not what He's asking! He's asking us to rest in Him and walk with Him and out of that will come the work He has for you when it's time."
On our podcast, Phil Vischer also offers some very-much-worth-knowing wisdom for college students or anyone seeking God's direction.