Years back, when he bought an inexpensive bike at a big box store, Randy Fry had no intention of creating a very active bicycle club with as many as 60 riders hitting the road.
But once he experienced riding on the roads and trails around Battlefield/Springfield, Missouri, Randy was hooked on cycling. "You know, when you're talking to somebody as you're riding down the road, exercise doesn't even feel like it's exercise a lot of the time." And, yes, he upgraded his bike.
The group, known as 2Frys Cycling Club, also involves Randy's wife, Tass. There's no membership fee.
Both Randy and Tass are Realtors, "but we don't talk about real estate on our bike rides...when somebody brings up real estate, we change the subject and say, 'let's talk about that when I'm not breathing so heavy,'" he chuckles.
His Christian faith "certainly influences how I treat them and how our events are handled…I'm a firm believer and I guess I'm very empathetic." Randy recalls, "my first group ride, I showed up. Didn't know anybody. And I remember how that felt, so when somebody shows up that's new…I try to introduce myself and get to know them a little bit before the ride starts, assure them" that they're welcome and it's natural to feel a little awkward at first. [listen to podcast]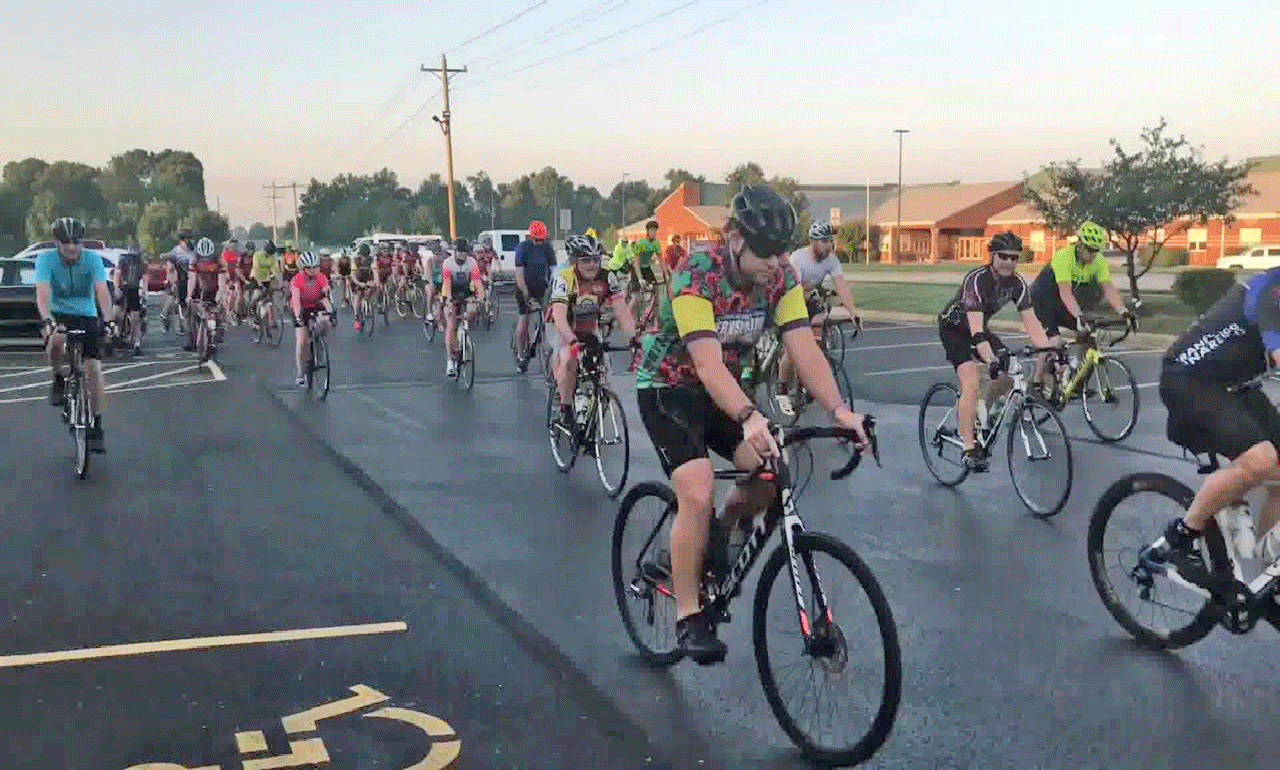 For beginner bikers, Randy knows it takes some time and practice to learn how to use a bike's gears. He's patient. Another encouraging thing, "Most of my rides are no-drop rides, which means we try to hang out together. We get separated, we stop at stop signs or whatever and re-group."
Randy's team also does fundraising rides for charities. One annual ride is called the "Can Can" ride, which benefits Ozarks Food Harvest, a food bank which serves thousands of people in 28 Missouri counties. They've also raised funds for a police officer who was injured in the line of duty. And they helped a young man, with learning disabilities, who had his bike stolen. Randy's riders made sure he got a new bike.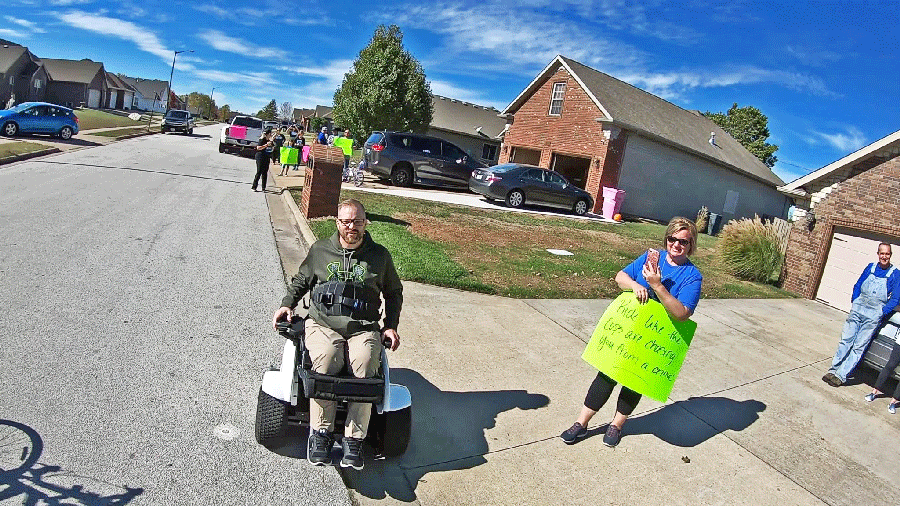 And after all that cycling, many riders work up an appetite, which is a perfect scenario for the "Taco Tuesday" ride. Or maybe Krispy Kreme. Hey, gotta replace those carbs, you know.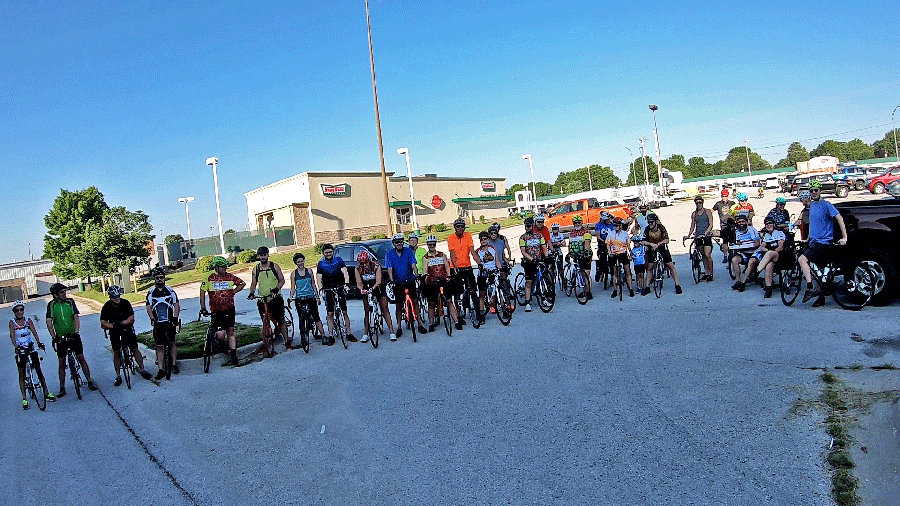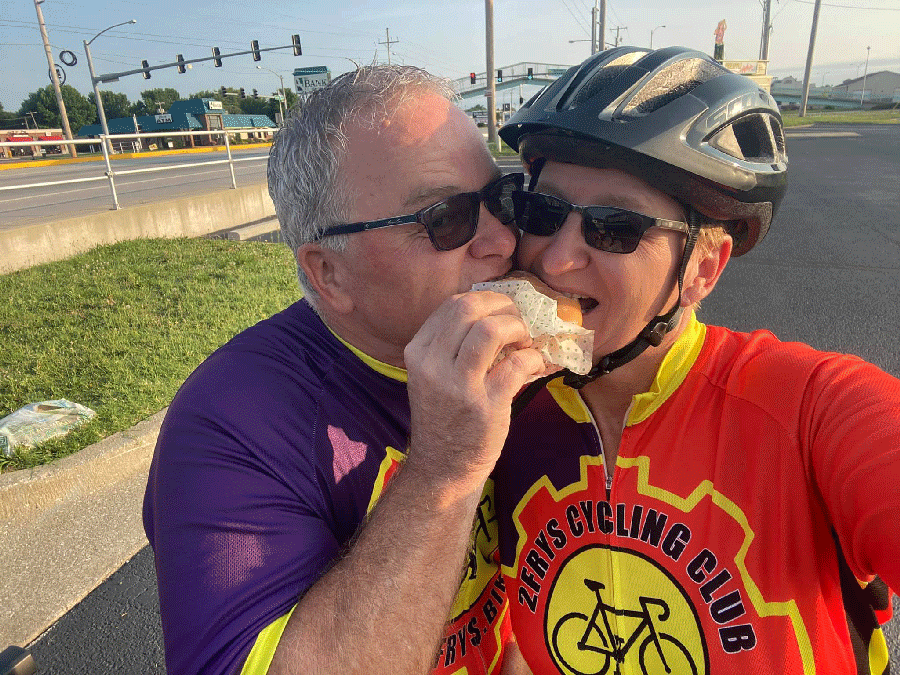 With colder weather coming, there will be fewer group rides, but the fun will continue, as possible, but Randy makes it clear "I don't ride when it's snowing, or hailing, or lightning."
Randy is well-known on the Strava athletic app, which allows cyclists and runners to clock performance times and share accomplishments. He has over 1,700 followers. And since he started tracking his rides six years ago, he's logged 36,000 miles, or as he says, "I've been around the world, one-and-a-half times," all in Missouri.
In our podcast below, hear how Randy had a serious bike wreck that broke his shoulder – and how he made a comeback. He also shares about 'raccoons and unicycles.' Hmmm. And he has some basic tips for people who want to start cycling safely.