The year was 1913:
The first Model T rolled off the assembly line in Detroit.
Woodrow Wilson replaced William Howard Taft as president.
The 16th Amendment was ratified, allowing the federal government to collect income tax.
Richard Nixon, Lloyd Bridges, Rosa Parks, and Vince Lombardi were born… and so was Geraldine Henry.
Geraldine would go on to graduate from Cedarville College (now Cedarville University) in 1934 and teach American History at two Ohio high schools. Now 108-years-old, Geraldine is many years past her teaching career, and lives in a care home. But her impact as an educator remains. And her landmark birthday was celebrated in low-key fun today.
(Video: By Mark D. Weinstein, Cedarville University - Above from left, J'Nell Boyd, nurse at Sisters on Elm, Jessica Patterson, friend, Cindy Gross, friend, Roscoe Smith, director of gift planning at Cedarville University, Diana Perkey, director of alumni engagement at Cedarville University, and Geraldine Henry)
How does Geraldine look at all this and her extremely long life? Due to her health, here are her thoughts through her Power of Attorney:
What does Geraldine think about her life? "I've just tried to be kind, stay involved and active, keep positive and happy, and look for ways to serve others. When I was a teacher, I heard people say I was firm but fair. When I was a younger woman, I took care of my older friends by taking them out for dinner and taking them to get their hair done. I served at my church, London First United Methodist church, as a Sunday school teacher and church historian. I did that into my 90s."
Thoughts about Cedarville and her time as a student "I so appreciated being able to get my teaching degree there, and I was glad that it wasn't too far from home. My dad was a farmer and when money was tight, he would pay part of my tuition in crops. I had many good experiences at Cedarville, and I have loved being able to give back to Cedarville because of all the school has given me, including how it affirmed my faith."
What does receiving these cards and the university remembering her birthday mean to her? "It means the world to me. My own whole career was around teaching, and it means a lot to receive these cards from the education students."
What does Geraldine say is her secret to living a long life? "Being kind, helping others, staying active, and having faith. And I enjoy eating. I like to tell people that I have the appetite of a farmhand. I still like to eat. I asked for a chocolate cake for my birthday with lots of chocolate icing. I've also received wonderful care at Sisters on Elm. I think part of my long life is a result of the excellent care I've received here. They are very caring people."
Now the backstory to this happy event:
This is where we introduce you to Roscoe Smith, Cedarville University's Director of Gift Planning. In looking at school records he determined that, "Geraldine Henry, to the best of our knowledge, is the oldest living alumnus of Cedarville University," class of '34.
Smith saw that her birthday was coming up and, in his heart, he wanted to do something special to honor her. But, "What can you do for somebody who's 108 years old? … I saw a note in our records that she enjoyed getting birthday cards." That triggered an immediate idea. "I thought, 'Wouldn't it be neat if we could bring her 108 birthday cards for her 108th birthday!'" He ran the idea past various university leaders and got the green light.
That emotional, remarkable presentation happened today.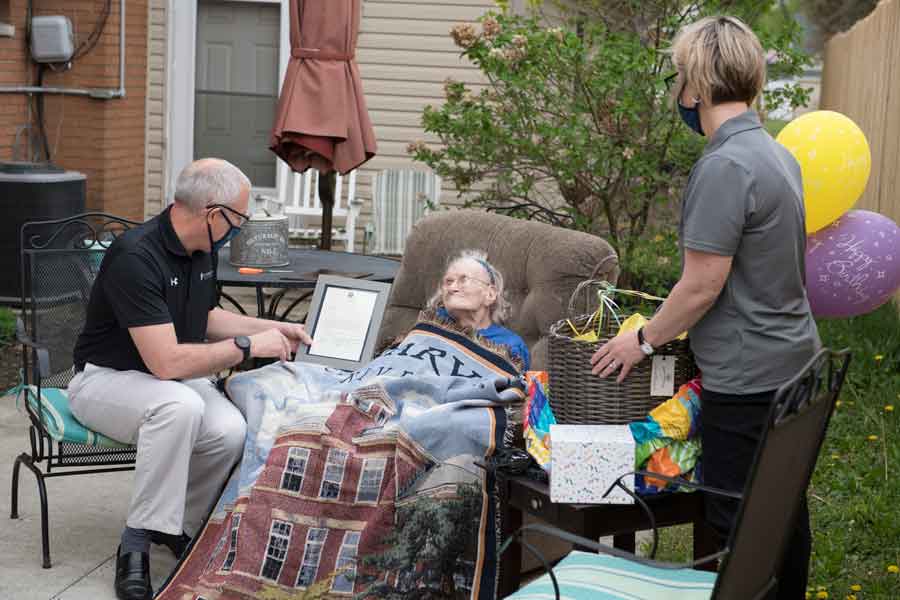 In just a matter of days, students at the School of Education had gotten onboard and handcrafted encouraging notes in the cards, which were given to Geraldine by Roscoe Smith and other leaders from the school. They also delivered a proclamation from Ohio Governor Mike DeWine.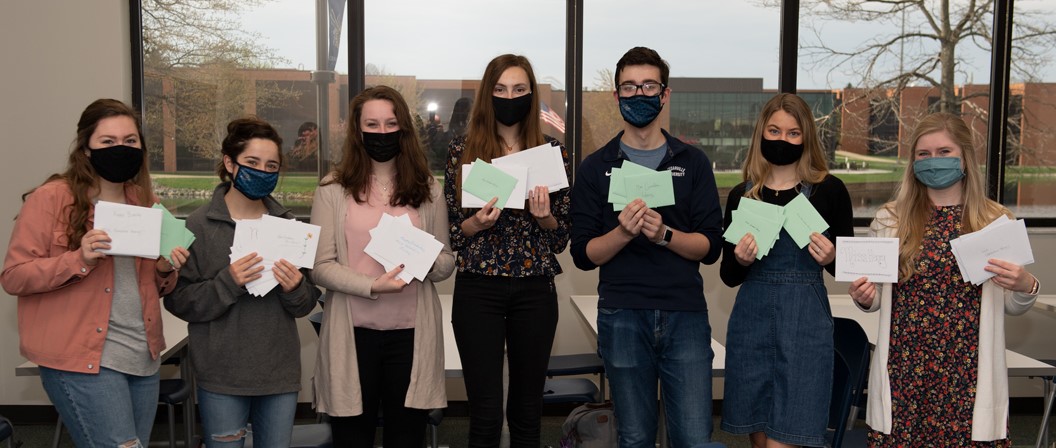 In our podcast below, you'll learn that well into her 90's, Geraldine remained an active supporter of Cedarville University. A tireless enthusiast. Learn more about this special person and the school's loving outreach to let her know she made a difference.