With new virtual reality technology, Cedarville University students studying in the Industrial and Innovative Design program at the International Center for Creativity in Dublin, Ohio, can now sketch designs without ever laying pen to paper. The new innovative learning method will further prepare the design students for future careers.
"We aim to create the future, to anticipate innovation rather than react," said Jim Stevenson, supporting instructor of industrial and innovative design and co-founder of the International Center for Creativity (ICC). "Over the last several years we have been surveying the development of VR in various industries and several of our graduates have gone on to work with VR in their jobs."
The Industrial and Innovative Design program (IID) began integrating the use of virtual reality headsets in the spring of 2022 and launched its new Blue-sky Lab, a space dedicated solely to VR design, this fall.
"The new lab was named after "blue-sky thinking," which is a term we use frequently around the ICC," said Stevenson. "It refers to thinking out of the box, to creating new solutions without constraints."
Students use virtual reality technology to "sketch" concepts in midair with a stylus, using control points to push and pull surfaces to create organic designs. Designs are seen through headsets and projected onto screens throughout the lab, allowing for collaboration despite the abstract nature of the sketches. Although the introduction of the new technology was slow, students have found the program has numerous benefits.
"There is a sharp learning curve," said Drew Willer, a senior from Piperton, Tennessee. "I was able to experiment with the new technology on a soft-goods project to create a backpack design last year. It was not until the automotive design project this year that I really got the hang of "sketching" with the program."
"While it takes time to understand, using VR quickly becomes intuitive," said Jacob Tesmer, a 2016 IID graduate and current classroom instructor at the ICC. "VR allows you to import hand and digital sketches and begin to build your CAD design on top of that sketch in a 3D virtual space. This gives the students the ability to go from 2D paper sketches to 3D models much faster than using traditional computer-aided design (CAD) software."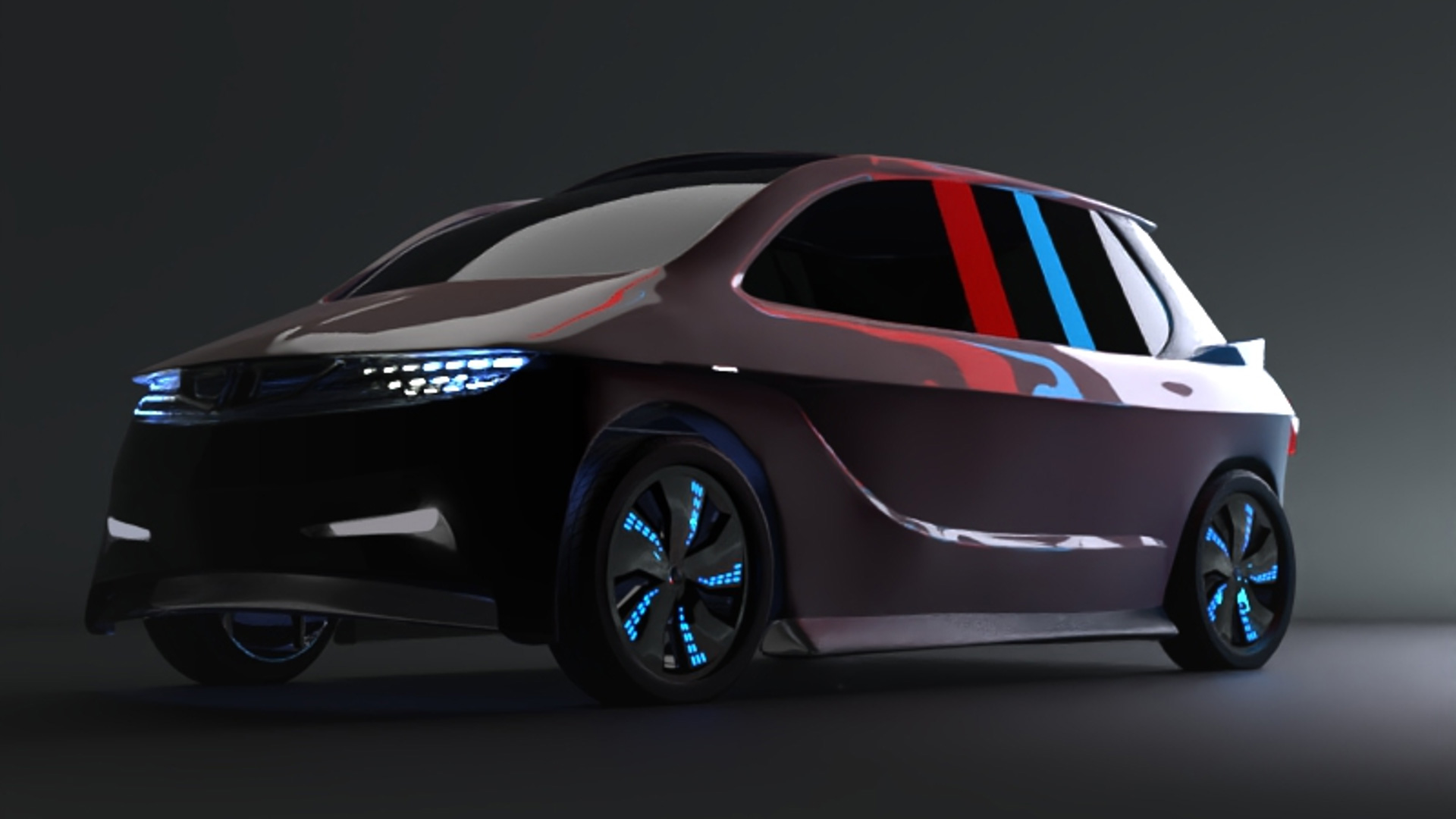 With the ability to import and export designs into VR, students can combine multiple CAD file types and designs efficiently to create a more complete model.
"For our automotive unit this year, my team was able to create more precise pieces, like gear shifts and steering wheels, in CAD, and then import those designs into VR to create a cohesive interior and exterior design," said Willer.
"This ability to ideate quickly in 3D allows the designer to create three-dimensional sketches that are closer to human scale and are created from the user's point of view," said Tesmer. "Students could draw as if they were sitting inside of the vehicle, which allowed for more interactive design. This allows them to pivot quickly if the design direction or user's needs change. Being able to see the new design from their point of view sooner allows for better design communication, quick iteration, and leads to new opportunities for innovation."
In addition to design benefits, the Blue-Sky Lab has allowed for more collaborative work experience.
"What a student is seeing and designing in the VR goggles is broadcast onto screens in the lab, which allows their group members to interact and give feedback on the design in real-time," said Tesmer. "Particularly in our automotive unit, we had students making clay models, students working on CAD, and students in VR — all on the same team — which meant that the whole process was approached from several different angles and much more interactive and collaborative."
With the automotive and fashion industries already incorporating virtual reality design in the workplace, the IID program is working to stay on the cutting edge of design technology.
"Learning new tools and techniques is par for the course in our industry," said Stevenson.
In future, Stevenson plans to continue to integrate VR into courses like architectural space design and consumer product design, with hopes of the technology having widespread use throughout the program.
"There is a lot of potential for VR," said Tesmer. "It is not just for gaming or entertainment. We have so much left to explore next year and I am excited to see where this leads our student's exploration."
Located in southwest Ohio, Cedarville University is an accredited, Christ-centered, Baptist institution with an enrollment of 5,082 undergraduate, graduate, and dual-enrolled high school students in more than 175 areas of study. Founded in 1887, Cedarville is one of the largest private universities in Ohio, recognized nationally for its authentic Christian community, rigorous academic programs, including the bachelor of arts in industrial and innovative design, high graduation and retention rates, accredited professional and health science offerings, and the #4 national ranking by the Wall Street Journal for student engagement. For more information about the University, visit cedarville.edu.