WASHINGTON — Ukrainian President Volodymyr Zelenskyy said his country's security service has intercepted communications of Russian troops that provide evidence of war crimes.
"There are soldiers talking with their parents about what they stole and who they abducted. There are recordings of prisoners of war who admitted killing people," Zelenskyy said in an excerpt of an interview with CBS' "60 Minutes" that aired Friday.
"There are pilots in prison who had maps with civilian targets to bomb. There are also investigations being conducted based on the remains of the dead," he said in a translation provided by CBS.
Zelenskyy said "everyone who made a decision, who issued an order, who fulfilled an order" is guilty of a war crime. Asked whether he held Russian President Vladimir Putin responsible, he said: "I do believe that he's one of them."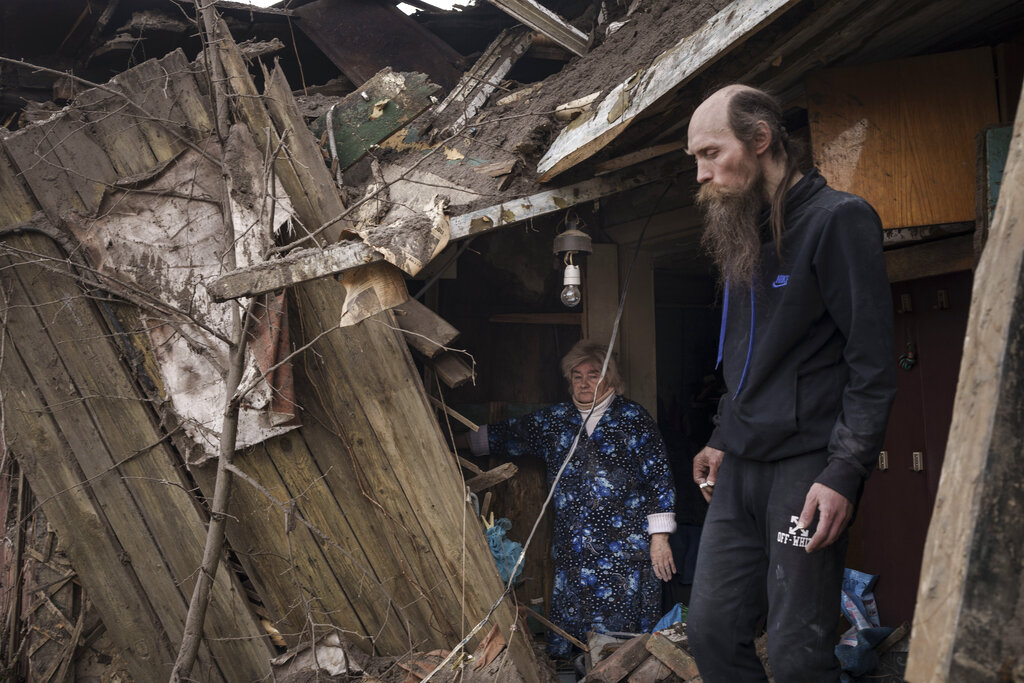 Elsewhere, in anticipation of intensified attacks by Russian forces, hundreds of Ukrainians fled villages that were either under fire or occupied in the southern regions of Mykolaiv and Kherson.
In the northeast's Kharkiv, Lidiya Mezhiritska (image above) stood in the wreckage of her home, with husband Oleg, after overnight missile strikes turned it to rubble.
"The 'Russian world,' as they say," she said, wryly invoking Putin's nationalist justification for invading Ukraine. "People, children, old people, women are dying. I don't have a machine gun. I would definitely go (fight), regardless of age."
Better news for Ukraine
A senior U.S. defense official says the Pentagon has determined that some of the Russian combat units that retreated from the Kyiv area in recent days are so heavily damaged and depleted that their combat utility is in question.
The official described these units as "for all intents and purposes eradicated," with only a small number of functioning troops and weapons remaining. The official, who spoke on condition of anonymity to discuss internal U.S. military assessments, did not say how many units sustained such extensive damage.
The official said some combat units that withdrew from the Kyiv area are beginning to move toward the Russian towns of Belgorod and Valuyki for refitting and resupplying before likely deploying to the Donbas region of Ukraine. The official also said the U.S. has seen thousands of additional Russian troops added to the combat force that Moscow has been using in and around the Ukrainian city of Kharkiv.
The official says that the U.S. believes Russia has lost 15 to 20 percent of the combat power it had assembled along Ukraine's borders before launching its invasion Feb. 24.