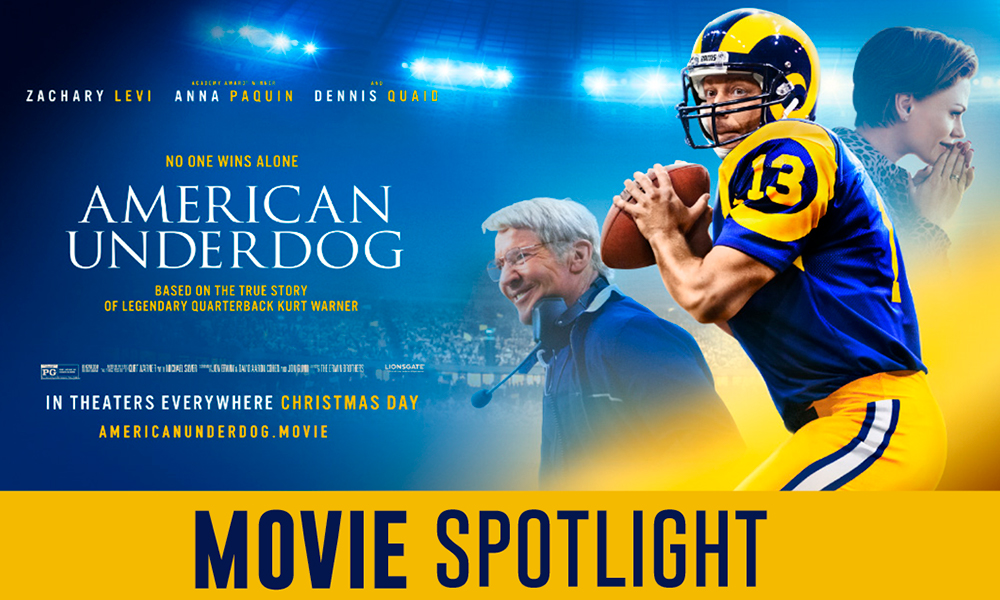 Every moment of glory has a backstory, and Kurt Warner's first Super Bowl win in 2000 certainly has a prologue. The aptly-titled American Underdog brings his story to the silver screen this Christmas. The Erwin Brothers—the same duo behind Christian music documentary The Jesus Music, @Jeremy Camp's I Still Believe, and @MercyMe's I Can Only Imagine—helm the nearly two-hour film based on the real-life struggles of the unlikely NFL MVP.
WATCH: American Underdog | Behind the Story
Yes, American Underdog is a movie about football—on the surface at least. But, more importantly, it's a movie about family. It's a film about perseverance, faith and the miracles that transpire when you never give up on a dream.
Warner, played by Zachary Levi (Shazam!, Tangled, Chuck) isn't the only underdog portrayed on screen, however. His wife, Brenda (Anna Paquin)—an ex-marine—is every bit the dark horse. Warner meets her at a point in time when Brenda's a struggling, tough-as-nails divorced mom of two, living at home with her mom and dad. Eventually, she also suffers the loss of both parents, whose lives are tragically taken in a tornado. From the moment her character's introduced, it's obvious she's a strong, self-reliant individual; and at times, even Warner can't scale the walls she's built to protect herself. Eventually, she learns to trust Warner, becoming his steadiest anchor and biggest champion.
Her son, Zack, is also an unsung hero as he valiantly learns to live and grow with a brain injury that caused permanent blindness as a baby. His character remains a tender force of emotion and strength for both Brenda and Kurt throughout the narrative as he works to overcome his own unique challenges.
Of course, Warner's story—the centerpiece of the film—sees him defy the odds over and over again as he rises from super market attendant to Super Bowl MVP. A masterclass in determination, American Underdog follows Warner's childhood dreams all the way to his humble athletic beginnings at the University of Northern Iowa. Never drafted, he has a false start with the Green Bay Packers before reluctantly joining the Iowa Barnstormers, an Arena Football League team. In the meantime, to make ends meet and provide for his family, he works the graveyard shift at his local grocery store while Brenda attends nursing school.
The film paints a realistic picture of years of dire financial hardship and far-reaching disappointment for the couple as Warner's dream of playing in the NFL stays out of reach. That is until the quarterback is recruited by the St. Louis Rams. Even then, it feels like he's too old, by industry standards, to be living out his dream. Yet, once again, Warner proves the critics wrong. That's where Dennis Quaid, who also starred in I Can Only Imagine, appears as his encouraging coach. And the rest is history. Warner becomes the only undrafted quarterback in the NFL to lead his team to Super Bowl victory, and he remains the only player to be inducted into both the Arena Football Hall of Fame and the Pro Football Hall of Fame.
No doubt, Warner's cinderella story is uplifting, as are the simultaneous stories of Brenda and Zack. But the bigger, more beautiful narrative is how this family is created, reflecting redemption from every side as Brenda gives herself permission to trust Kurt; and in turn, Kurt begins to love her kids as his own.
Each of these characters is undeniably flawed, yet relentless in their pursuit of excellence—even if it means hard work and sacrifice at every turn. There's an even greater lesson to be learned in the area of identity and self-worth as Warner realizes the empty trappings of winning mean nothing without the love and presence of the people he cares about most.
Faith is a part of the story, too. The Warners' faith is built upon belief in their God-given dreams, belief in themselves and belief in one another. It's Brenda's Christian background that sparks the film's initial spiritual undertones, coming up in conversation on one of the couple's first dates. As their relationship grows, so does Kurt's faith. He's quick to give God credit throughout his career as his faith evolves from a religion into a relationship—something his wife teaches him. Although there's an undergirding theme of faith, in different forms, woven throughout American Underdog, it's an element that's more subtle than in former Erwin Brothers biopics. American Underdog is more of an inspirational flick than a full-on traditional Christian film.
Warner's rags-to-riches tale will inevitably resonate with a wide audience. The accolades of the football legend might be enough to get fans to the theater, but they will likely leave thinking about the hardest parts of their own stories and the moments where grace met them in the midst of great struggle. Above all, movie-goers will leave with a sense that the way a story begins doesn't define how it ends. After all, American Underdog proves that, with enough resilience, anything is possible.
WATCH NOW: American Underdog | Faithful Trailer
In theaters Christmas Day, American Underdog is rated PG for some language and alcohol use. Get tickets here.