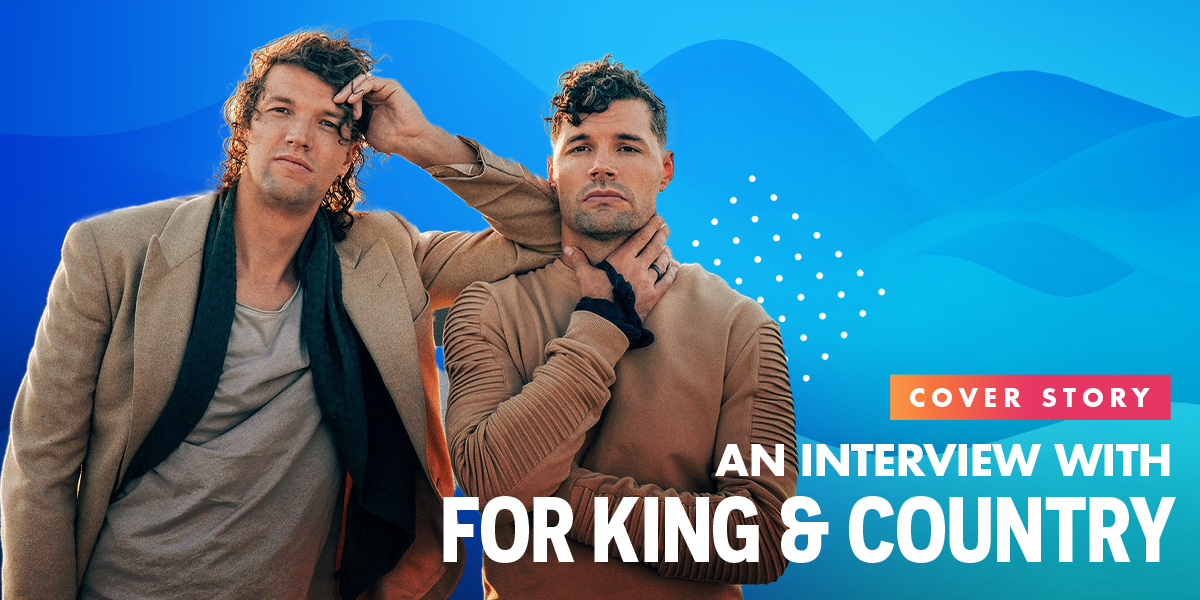 for KING & COUNTRY's Joel and Luke Smallbone explore the conversations behind their new album and how they're carrying on the family business.
@for KING & COUNTRY never intended to make a new album this past year. In fact, brothers Joel and Luke Smallbone were planning on making a movie. The film was set to be a companion piece to their first full holiday release, A Drummer Boy Christmas. Set in the Civil War era, the feature-length musical was poised to tell the story of two siblings who found themselves on opposing sides of the battlefield.
RELATED CONTENT: for KING & COUNTRY Reissues "Drummer Boy Christmas," Adds "Do You Hear What I Hear?"
"We'd scouted locations; we'd written the script; we'd written all the music. I'd done meetings with Hollywood and the whole thing, and then the pandemic hit," Joel reveals, adding, "It still will be made at some point, God-willing."
WATCH NOW: "Broken Halos" Official Music Video
Pivoting, the brothers scrapped plans for the movie and started writing songs. And for the first time in their career, they found themselves with a different backdrop for their creative endeavors — home.
"Every other album has been made in the back of a tour bus or in a dressing room on the road, and you just never really feel like you're doing anything well," Joel confesses of the tension they often experience while crafting new music. "You feel like you're sort of short-changing the people at the show because you're focused on the recording. And you're never quite present with the producer — whoever's out with you — because you're focused on doing the show."
Being forced off the road offered for KING & COUNTRY consecutive months in the studio and the chance to do nothing but create. The conversations in writers rooms in Nashville, and eventually LA, naturally gravitated toward the discourse happening outside their four walls. And those discussions led the duo to this singular realization: We're all more alike than we are different.
The songs on their new album, What Are We Waiting For?, beautifully reflect this ethos. But don't expect the collection's 13 tracks to provide straightforward solutions.
Get the album What Are We Waiting For? Here
"Look, music's not going to solve the world's problems, but it can solve a problem. It can help anyway, I think," Luke asserts. "This record takes you through a journey, and I hope this journey reflects what a lot of people have walked through over the last couple years."
The name of the project itself poses what is the first of many questions the brothers ask across the entirety of the LP. Fans looking for a title track, however, won't find it — and that's intentional.
"We really wanted this album to feel like the title was posing a question for the entire body of work versus one three-minute track," Joel explains.
WATCH NOW: "For God Is With Us" Official Music Video
In keeping with their tradition of writing for a broad audience, What Are We Waiting For? is rife with relational material, much of which focuses on family. No selection is more poignant perhaps than "Unsung Hero," a song dedicated to Joel and Luke's mom and dad. While their father, David, is more of a natural extravert and is out in the public eye regularly, given that he helps manage for KING & COUNTRY, it's the duo's mom, Helen, who remains the quiet, unseen backbone of the family.
WATCH NOW: "Unsung Hero" Official Music Video
RELATED CONTENT: The "Unsung Hero" Behind for KING & COUNTRY and Rebecca St. James Bows Her First Book
"A lot of the impact that she had on our life was done sitting on the end of our beds at night and talking about our day and imparting wisdom, and I will never forget those conversations," Luke recalls. "Those conversations have shaped the person I am today."
In truth, there would be no for KING & COUNTRY without David and Helen Smallbone. The couple moved their family from Australia to Tennessee on faith, paving the way for all seven of their children to excel at their chosen professions. It was actually David who suggested that Joel and Luke pursue a music career together as a duo. Aside from being their father, he had decades of experience in the Christian music industry, most notably managing his oldest daughter, @Rebecca St. James.
Furthermore, it was on tour with Rebecca where Joel and Luke learned the ins and outs of the family business. "We're really crew guys at heart," Joel affirms. "We do this band thing now, but our formative years were spent being the crew and the background vocalists."
Luke remembers working on the road at 8-years-old. By 10, he was running a spotlight. By 15, he was a full-blown lighting director.
"When I became a lighting director and Joel was a stage manager, we had to work in unison to actually get the show off the ground," Luke says. Those early roles taught the boys how to work together despite their often conflicting personalities and their two-year age gap.
"It's a joy for me to be able to work with my brother, Joel, but we are different people," Luke admits. "We have our moments, and in some cases, if we didn't have our moments, we wouldn't really love each other."
Joel isn't the only brother Luke has to get along with, however. for KING & COUNTRY remains a family affair. "My little brother, Josh, is our general manager; he's kind of my boss. He tells me the things to do, and I go do them. My dad has shepherded us all these years. My brother, Daniel, is still our art director and runs the visuals of what we do. Obviously, my sister kind of taught us just through the fact that she gave us a job out on the road. And my brother, Ben, does all of our music videos," Luke explains, emphasizing why conflict resolution is so vital to their whole operation.
"I've still got to do Thanksgiving; I've still got to do Christmas," he says, "and if I want to have community with those people, I have to resolve conflict." At the end of the day, the family surrounding the duo provides an ever-present compass, a North Star, when the applause gets a little too loud.
"You have to have people that'll tell you the truth; you have to have people that will ground you," Luke insists, "and I think family does that for me."
Although it's organically rooted in family, What Are We Waiting For? also touches on universal emotions, timely topics and shared experiences.
"I feel like we're coming into this new season in humanity where, for the first time at least in my lifetime, we have a universal suffering," Joel reflects. "Every color and creed and country has been impacted and affected somehow by the pandemic."
If "TOGETHER," for KING & COUNTRY's chart-topping collaboration with @Kirk Franklin and @Tori Kelly, was the duo's quarantine anthem, the album's lead single, "Relate," is their post-pandemic thesis. Working alongside longtime co-writer and producer Josh Kerr — primarily known for hits in country music, as well as co-writing the duo's smash single "God Only Knows" — and new friend, singer/songwriter/actress Tayla Parx, the brothers penned the poignant track that asks the second definitive question of the album: "Can you relate?"
WATCH NOW: "Together" Official Music Video
"You have two Australian guys; you have a guy who writes country music; and you have a pop princess with Tayla," Joel shares, setting the scene for "Relate." "We took all of our ethnic diversity and life experience and different beliefs and sort of put it into this one room, which created this song."
WATCH NOW: "Relate" Official Music Video
RELATED CONTENT: for KING & COUNTRY Celebrate Our Differences On "Relate"
Beyond identifiable lyrical themes, for KING & COUNTRY's latest effort continues to boast the kind of production value that has propelled them to the top of the charts 10 times. For the two brothers, how a song sounds is just important as what it's saying. "Sometimes, there's this rationale in Christian music that because we have the greatest story in the world to tell, we can mail in certain elements, we can mail in a little bit of creativity, we can mail in a song," Luke says, reiterating that for for KING & COUNTRY, excellence is the standard. "If we're not trying to hit world class," he says, "then I think we're selling ourselves short."
This mentality extends to their live show as well, which has become something of a trademark for the duo, whose concert production is on par with veteran mainstream acts. This spring, Joel and Luke will take their electric performances to 33 cities across the country. But they won't be entertaining simply for entertainment's sake.
"We want to be wildly entertaining so that people will listen, so that people will go, 'I see that story through a different lens. I hear that song, and it hits my heart in a different way,'" Luke says. "I want to be entertaining with a purpose, and we'll do whatever we need to do to try and and accomplish that."
"We always aim for our tours to kind of compound on themselves. We don't just do something and then scrap everything and start over again," Joel adds. "We're exploring and trying things and finding something that works and sort of adding to it."
He hints that surprises are in store for their upcoming run of shows, which is also set to feature opener @Dante Bowe, who appears as a special guest on fresh track "Unity."
"To have Dante come out — he's become a friend — just what he's going to bring to the night and the conversation overall, and even us in his show and he in ours, I think it's going to be really quite something, and I'm excited to explore what that could be," Joel says. "We really want to lift him up, as well, as an artist. I think he's got a lot to offer the world."
As do the Smallbone brothers. And What Are We Waiting For? is just a sampling of everything they bring to the table as artists, storytellers and bearers of the Gospel.
"I hope as people come into a new normal and try to reconcile the questions of the last two years, that this piece of music in its entirety can be a soundtrack while they work through what the next season of their life's going to look like," Joel contends of the group's new music.
Luke echoes his brother's sentiments: "I hope people see their stories in the songs. I hope people see the longings of their heart in these songs. My hope is that we put words to the rhythms of the hearts of people that listen to this music, that we put words to their concerns."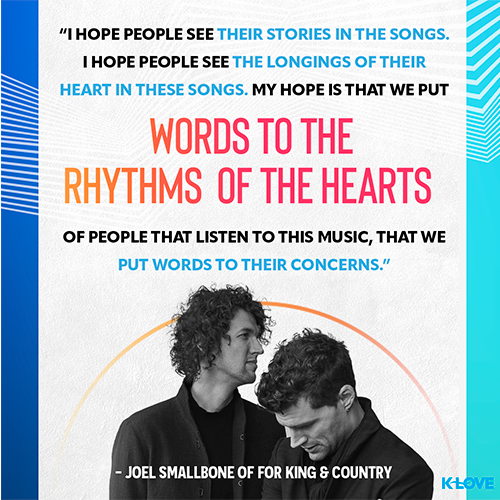 As four-time GRAMMY® Award winners and 13-time K-LOVE Fan Award winners, for KING & COUNTRY have some shiny accolades to prove their songs are resonating with listeners' stories. But with great success comes great responsibility, and the brothers bear that with a great deal of honor and humility.
"I feel the weight of writing something that doesn't add noise, the weight of writing something that matters," Luke confesses. "How many times have you seen that painting or heard that song that you just were in awe of because of its brilliance? I want to make that type of art, not so that people will look at me, but so they look at the One I'm in touch with."
---
Don't Miss a Beat & Sign Up for K-LOVE's Music Updates!
Get monthly emails with updates on new music, videos, and exclusives from your favorite Christian artists on K-LOVE!