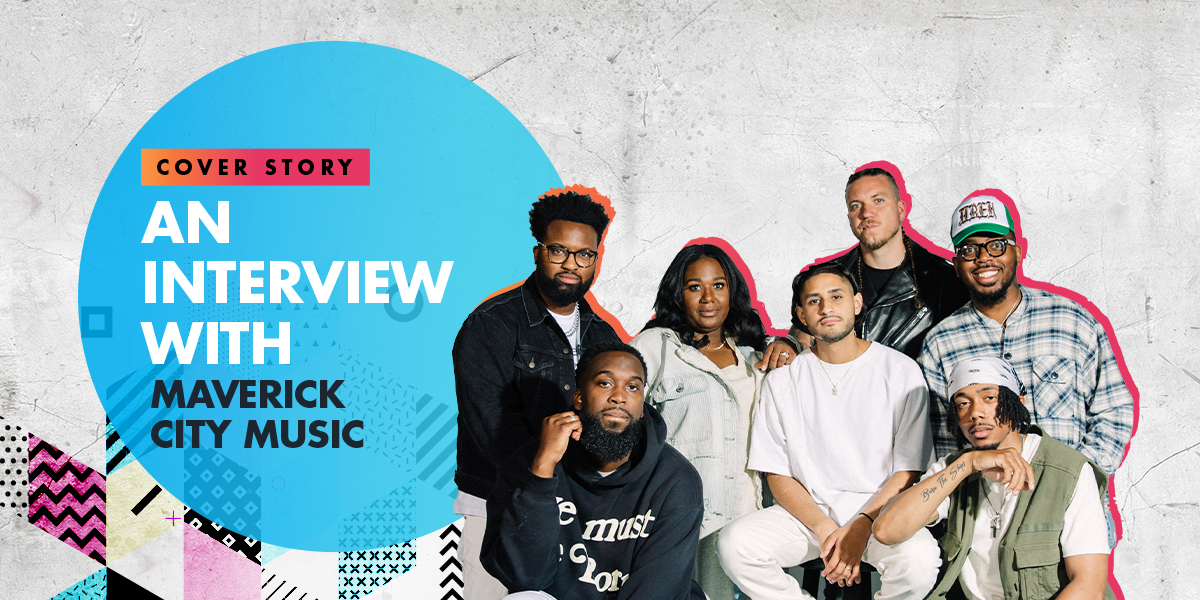 Meet the collective of artists and songwriters taking the worship world by storm.
Before @Maverick City Music was a household name, singer and songwriter Naomi Raine says she was reading lyrics off her phone and chewing gum in the first music video the collective ever shot. She's just grateful she had done her hair. Had she known that Maverick City Music would go on to become a cultural phenomenon, she would have—at the very least—learned the lyrics beforehand and forgone the stick of Double Mint.
When asked if she ever saw the tidal wave of popularity coming for the group, she replies, "Not one inkling. Not in the slightest. I'm very surprised by all of this."
Ask any other member of the collective, and they'll share a similar response. The group, established by Tony Brown and Jonathan Jay in Atlanta, Ga., simply began through a series of writing camps with the intent to give marginalized artists a microphone. "It started off as a production group of songwriters," Raine explains. "We would write songs together and then demo them in a real worship setting in the hopes that maybe worship leaders, worship singers and CCM artists would want to take these songs and record them. And so we did that, and that became the first album—that became Maverick City, Vol. 1. We started it before we had a name or anything. We were just singing together because we loved it."
If their approach to recording seems unorthodox, their release strategy is even more unconventional. Since their initial five-song debut in 2019, Maverick City Music has unveiled more than a dozen different collections of music, collaborating with UPPER ROOM, @Passion and @Elevation Worship, among other entities. Many of their songs hover around the 10-minute mark, like signature tracks "Man of Your Word" and "Jireh (You Are Enough)." Their offerings are wild and free, unpolished and untamed. Their full recordings feel less like LPs and more like mixtapes with no sign of the typical two-years-between-albums gap. In fact, in just two years, their discography now includes as many songs as that of a veteran artist.
WATCH NOW: "Man of Your Word" (feat. Chandler Moore & KJ Scriven)
Their collaborative set with Elevation Worship, Old Church Basement, launched them into an entirely different stratosphere when it broke streaming records and earned the two collectives an avalanche of award nominations. Honors from the Stellar Awards, the Dove Awards, the Billboard Music Awards and the American Music Awards followed. In addition, Maverick City Music was the most nominated artist at the 2021 K-LOVE Fan Awards.
WATCH NOW: "Old Church Basement" (with Elevation Worship)
Each of Mav City's members is an accomplished solo artist in his or her own right. @Brandon Lake and @Dante Bowe have joined the Maverick City Music ranks alongside Raine and up-and-comers Joe L Barnes, Aaron Moses and @Chandler David Moore, among many others. Moore even paired up with Justin Bieber for a high-profile worship set. Yet, they never set out to win awards or collaborate with mainstream pop stars. Their vision statement housed on the outfit's official website frankly breaks down their simple mission:
Maverick City started with a dream to make space for folk that would otherwise live in their own separate worlds; to break the unspoken rules that exist in the CCM and Gospel world; but…more importantly, to be a megaphone for a community of creatives that have been pushed to the margins of the industry of Church Music. What brings us together—and that sound that is vivaciously smacking you in the face the first time you hit play on a Maverick track—isn't the sound of a community that's centered around their deprivation, it's the audacious sound of true belonging: the beautiful harmony of long lost family.
WATCH NOW: Chandler Moore and Justin Bieber sing "Jireh (You Are Enough)" / "How He Loves"
That family continues to grow as collaboration remains an essential tenant of Maverick City Music. But the secret to their unprecedented success? That's something altogether unique.
"Authenticity always has an audience, and I think it resonates with most people because they love the honesty; they love the transparency about it," Barnes observes. "I think it resonates because we live in a world that now craves authenticity more than ever."
Barnes says fans of their music often comment that Maverick City Music writes songs they need. However, he admits the collective is actually doing just the reverse when they're in a writing session. "We wrote these songs to carry us through something," he concedes. "We wrote these songs because we were in spaces where we needed to hear these things sung over ourselves, and God used those songs to bring other people through."
Take "Promises," for instance. Barnes shares lead with Raine on the song that has become Maverick City's most-streamed track to date. Barnes walked into the co-write in the middle of a season that found him personally waiting on the promises of God to come to fruition. "I needed something I could sing over myself to encourage me in seasons of waiting when it's hard and it's difficult," he shares. "That's where the original idea came from, and it just so happened that God decided to breathe on it and use it all over the world."
WATCH NOW: "Promises" (feat. Joe L Barnes & Naomi Raine)
"Promises," initially released on Maverick City, Vol. 3: Pt. 1, dropped just before the pandemic, providing an anchor for people as they endured the coming storm. Suddenly, Barnes' brief moment of honesty evolved into a global anthem of hope. "We're all dealing with something," he offers, "and God uses our vulnerability and our transparency to give language to the hearts that are listening."
RELATED CONTENT: Maverick City Music Boasts of God's "Promises" in Popular Song
It's not always that easy. As a songwriter, setting your emotions to music can be a scary exercise. "Vulnerability is hard because you're putting your heart on the line and trusting people to not damage it or break it," Barnes admits, "but I think there's freedom in vulnerability."
There's a fine line, however, between hopeless vulnerability and hope-filled vulnerability. And Maverick City aims for the latter. They don't sugarcoat life's harsh realities, but they don't minimize God's faithfulness either.
"I think people have a hard time connecting with God because they think because God is good, their lives have to be good every second of the day," Raine observes. "There's a tension there that, as Christians, we have to be able to navigate. If we're not able to navigate that tension, we do a disservice to the people we are called to share the Good News with. You have to be able to say, 'Hey, the truth is life is pretty hard, and many things are bad, but here's the good news…' And I think that is literally our job as believers."
It's a hard truth Maverick City Music hopes to explore in their music, positioning the "Good News" as just that—good. "I believe a lot of Christian artists have missed that," Raine asserts. "I think we thought that giving hope to people meant we had to say, 'Everything is great. Give your life to Jesus, and all things will be wonderful.' And that's just not true. The older I get, the more I'm realizing life is hard, but God is good."
Barnes recalls some advice he received from revered songwriter and worship leader @Matt Redman that speaks to these competing realities. "He told me you have to be mindful of God's goodness in the eternal and in the day-to-day," Barnes shares. "There's goodness here, and there's goodness there. It's an interesting dichotomy."
Raine and Barnes glimpsed some of that present goodness on their first-ever headlining tour this fall. Most new acts start touring in small churches or intimate theaters. Maverick City Music, however, skipped the line and jumped right to playing in front of thousands at arenas nationwide.
"Traveling with my friends has been a blast. We're getting to do things with people that we love," Barnes says of the 24-city trek. "All these people we see out in front of us wherever we're leading, they weren't in that small room where the songs were written. And yet, they heard the record and they love it and they decided to come and worship all in one big room together. It's beautiful to see, because I feel like it's a small piece of heaven."
The audience each night of the tour also reflected a multi-generational rainbow of humanity—a mirror image of the colorful dynamic Maverick City has organically created. "The lights come up sometimes during the show, and you see the diversity in the crowd. You see every kind of culture you can think of, but also every kind of age you can think of—the smallest kids to really seasoned saints," Barnes adds. "It's a really amazing thing."
After a flurry of recordings and a massive tour, it would be natural to assume the collective's next order of business would be to rest. But Maverick City is already looking to the future, working on a new project that they're recording in various prisons across the nation in partnership with Maverick City Music Initiative, the group's non-profit arm that helps care for children of incarcerated parents, among other humanitarian efforts.
"I think we're trying to give God a run for His money," Raine jokes of their pace. "I think one of the great things about Mav is that there are so many of us that we don't have to really be exhausted. We can handoff. We have great people on this team who are working tirelessly to not just sing about Jesus but also be His hands and feet and kind of get in the streets and do stuff that matters."
It matters. The music, the ministry, the mission. All of it. And no amount of gum-chewing or lyric reading can thwart that. Not even the unexpected attention and surprising scrutiny around the group can derail what God is doing in their midst. And maybe it's not that surprising after all. People are rightfully curious, because Maverick City Music is doing worship in a way it's never been done before.
"We're trying to break down walls and barriers intentionally because we are actually all on the same exact team," Raine notes, adding, "There's a lot of spectacle around who we are, but we never intended to magnify us or to point at how good or how righteous we are. Our only intention and our only goal is to point to how good God is, and that's what we'll continue to do. I'm sure He has handpicked every person that's a part of this to do this work. We're not perfect; we're just lifting up the One who is."