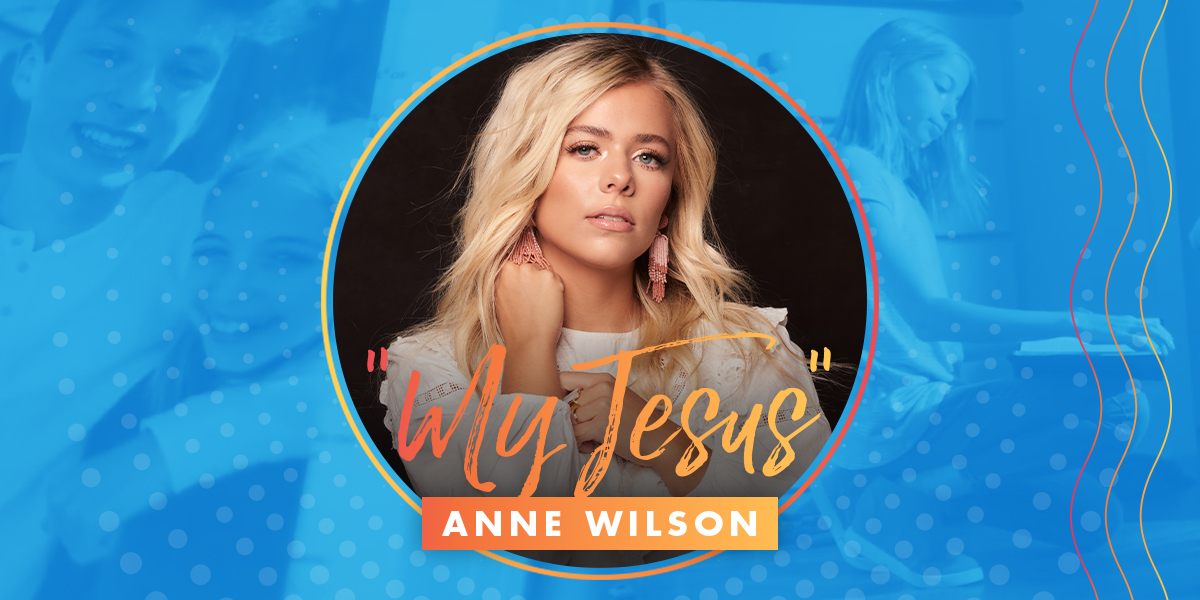 The story behind Anne Wilson's debut single, "My Jesus," is every bit as compelling as the song itself.
WATCH NOW: Anne Wilson "My Jesus" Official Music Video
If anyone had asked the Kentucky native what she wanted to be when she grew up, "recording artist" wouldn't have even been on her radar. Wilson always dreamed of becoming an astronaut and working for NASA. However, in 2017, her trajectory to space was redirected when her brother, Jacob, was killed in a car accident at just 23.
WATCH NOW: Anne Wilson "My Jesus" Story Behind the Song
In the midst of grieving the tragic loss of her older sibling, Wilson clearly recalls hearing the voice of God calling her to music. In fact, she even performed a worship song at Jacob's memorial service—her first time to sing in front of a large audience. As her family learned to live out a "new normal" on this side of heaven, Wilson's relationship with Jesus became personal. Simultaneously, the now 19-year-old began writing songs that reflected the meteoric shift in her walk with God.
Her first single, "My Jesus," was literally ripped from the pages of her journal as she soon realized that any time she wrote about her relationship with Christ, she always described Him as "My Jesus." For Wilson, Jesus is nothing if not personal. And her introductory song is a warm invitation for listeners to experience her Savior in the same intimate way.
LISTEN NOW: Anne Wilson's Personal Story
"When I came to know Him, I quickly realized that Jesus is a personal Jesus. Through losing Jacob, I saw that more than ever. Jesus was specifically there with us through every single moment. He was carrying us through every single second of tragedy, loss and grief," Wilson shares. "What I really want people to know and understand when they listen to this song is that Jesus can be personal for them, too. He can be their Jesus, too; and He's going to carry them through every tragedy and every loss they go through."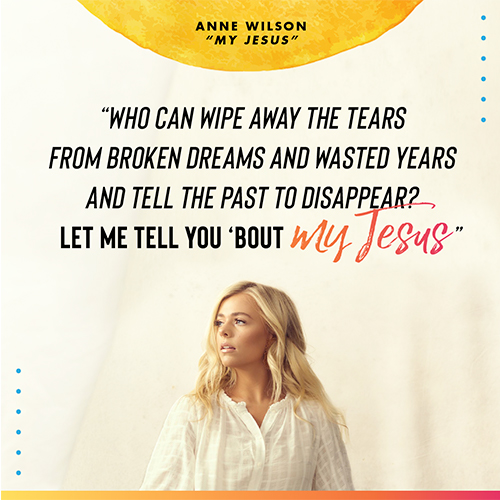 Rootsy instrumentation surrounds Wilson's captivating vocals on the deeply personal anthem she co-wrote with Jeff Pardo and Matthew West, reflecting her musical influences—the southern sounds of country royalty like Johnny Cash and Dolly Parton married with the heart-on-your-sleeve transparency of Steffany Gretzinger and Lauren Daigle.
Upon release, "My Jesus" made history with the biggest debut single launch in the genre since 2018. The song serves as the title-cut from Wilson's new three-track single, which also includes original tracks "Devil" and "Something About That Name."
Wilson will introduce her story and songs to audiences this fall on Big Daddy Weave's "All Things New Tour."