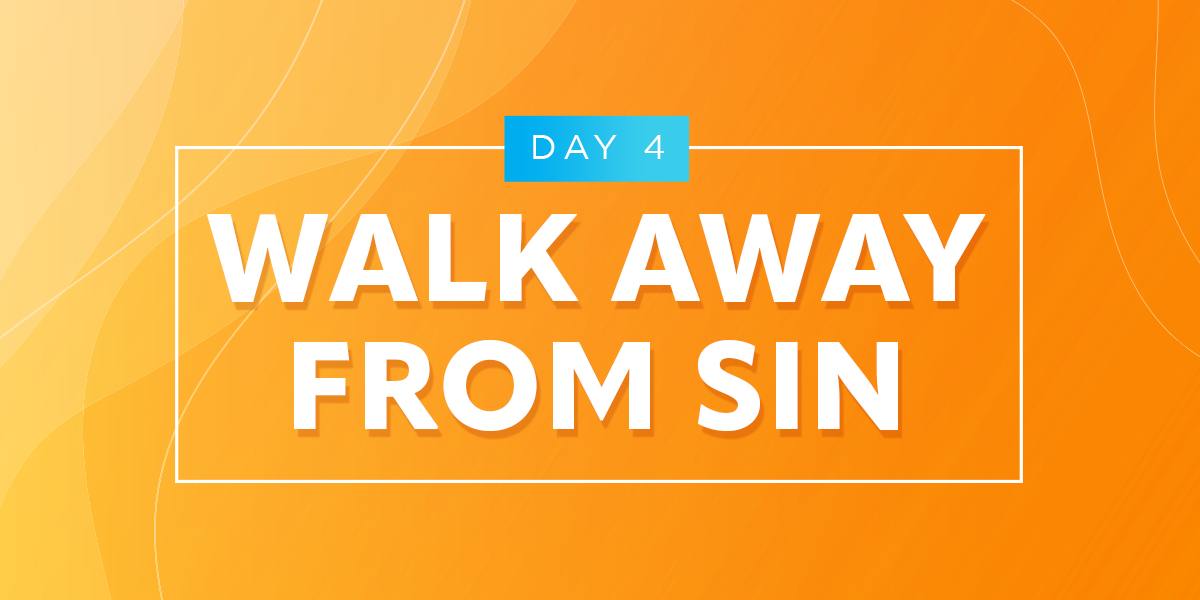 Walk Away From Sin
"Happy are those who remain faithful under trials, because when they succeed in passing such a test, they will receive as their reward the life which God has promised to those who love him. If we are tempted by such trials, we must not say, "This temptation comes from God." For God cannot be tempted by evil, and he himself tempts no one. But we are tempted when we are drawn away and trapped by our own evil desires. Then our evil desires conceive and give birth to sin; and sin, when it is full-grown, gives birth to death." (James 1:12-15 GNTD)
Have you ever asked yourself what's so bad about sin? More and more, I've noticed not only the world, but also those within the church justifying sinful behaviors. God is opposed to sin not because He's mean or doesn't want us to have any fun. God is vehemently against sin because He knows that it hardens us, creates distance from Him, and keeps us from becoming all that He wants us to be. Sin does not change God's love for us, but it does change our love for God by changing our heart towards Him.
A tragic example from the Bible showing the slow downward spiral of sin is found in the story of Saul. Saul was anointed by Samuel to be king over all of Israel and handpicked by God to establish His kingdom and ways among His people. Initially, God was able to use Saul to do mighty things on behalf of the people of Israel. But slowly disobedience crept in and sin began to change Saul's heart toward God. I bet Saul didn't even fully recognize the decline because that's what sin does—it deceives us. As Saul's heart was hardened, he began to care more about what the people thought of him than God. The rest of the story is tragic. He continued in the cycle of sin until jealousy, insecurity and pride led to his ultimate demise.
As depressing as this story might be, our outcome can be different. But the choice is ours to make.
"And those who belong to Christ Jesus have crucified the sinful nature together with its passions and appetites." (Galatians 5:24 AMP)
Just like Saul, King David made many mistakes. The difference was, he did not stay in sin. He recognized the gravity of his actions, chose to crucify His sinful nature, and bowed before the Lord in full repentance. David's heart stayed tender toward God and he remained more concerned with what God thought about him than others. As a result, David was considered a "man after God's own heart," and He was able to fulfill God's purposes for His life.
Hebrews 4:16 tells us that because of what Jesus did on the cross, we are able to "approach God's throne of grace with confidence, so that we may receive mercy and find grace to help us in our time of need." We should not feel shame about or try to excuse our sin. Rather, we can believe that God has given us everything we need to repent, overcome and choose a different way. I challenge you to keep your heart soft toward God and His conviction so you can experience the abundant life He promises and allow Him to fulfill His purposes through your fully surrendered life.