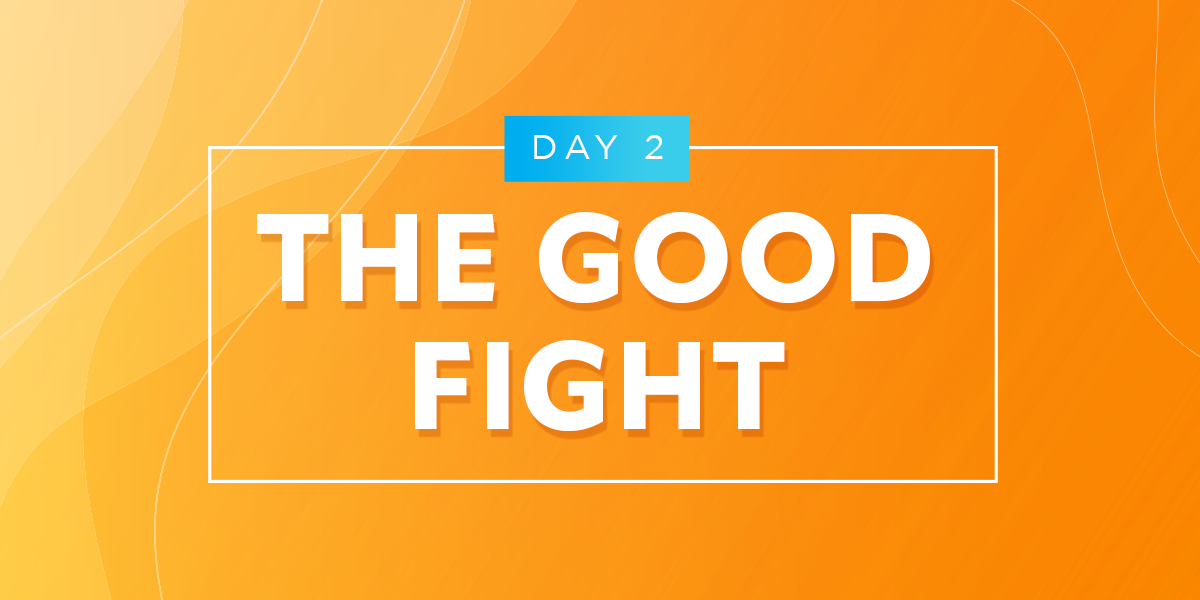 The Good Fight
"But you, man of God, run from these things, and pursue righteousness, godliness, faith, love, endurance, and gentleness. Fight the good fight for the faith; take hold of eternal life that you were called to and have made a good confession about in the presence of many witnesses." (1 Timothy 6:11-12)
Did you know that you're in a fight right now with the enemy of your soul, and he is after one thing—your faith!
Jesus paid the price for everyone's sin, but not everyone is saved. That is because not everyone has placed their faith in Jesus. No wonder Satan is out to take it! He knows that if he can rob us of our faith - to keep us from believing in God - then he can rob us of all the benefits that God has given us in His inexhaustible grace, and ultimately, even rob us of heaven.
It is so important that we believe what God's Word says about Him, and what He says about us, instead of relying on other people's interpretations of Scripture. Satan has convinced many well-meaning Christians that we have to work hard to earn God's approval and make it into heaven, when really it is so very simple.
Ephesians 2:8 tells us that, "For it is by grace you have been saved, THROUGH FAITH—and this is not from yourselves, it is the gift of God."
The thing about a gift is that it must be received. Faith is what connects us to the grace of God that was made available to us through the sacrifice of Jesus on the cross, if we are willing to accept it. And accepting that gift is the only thing that pleases God.
"And it is impossible to please God without faith. Anyone who wants to come to Him must believe that God exists and that He rewards those who sincerely seek Him." (Hebrews 11:6 NLT)
Faith is not only the thing that gives us access to eternal life; it is also what gives us access to the rewards–the strength–to fight the battles we face in THIS life. When we are instructed to put on the armor of God in Ephesians 6:10-18, faith is the element that "can extinguish all the flaming arrows of the evil one," and God's Word is our offensive weapon. When we are faced with temptation and dark times, God has given us the tools we need to overcome and stay strong. Faith helps protect us from the enemy's schemes, while Scripture is what we can use to fight him back, just like Jesus did in the desert. When we believe what God says more than the difficult circumstances we are walking through, Satan is stripped of his power.
Paul was a great example of this. You couldn't stop him! Though he was beaten and imprisoned, Paul's first response remained praise and worship. That is one of the greatest ways to express your faith. Even when you don't feel like it, faith stays focused on gratitude because it knows, beyond the shadow of a doubt, that God will work EVERYTHING out for the good of those that love Him (Romans 8:28).
"Be on your guard; stand firm in the faith; be courageous; be strong." (1 Corinthians 16:13)
This is my challenge to you today. First, make sure you are not being deceived by Satan, and have accepted the gift of faith from God. Next, carry that faith like a shield to protect you from whatever the enemy might throw your way. Finally, get grounded in the Word so you can use it as a weapon against his lies. We are literally in a fight for our lives, but the God of limitless grace has given us everything we need. There is no need to fear. The victory is ours for the taking!