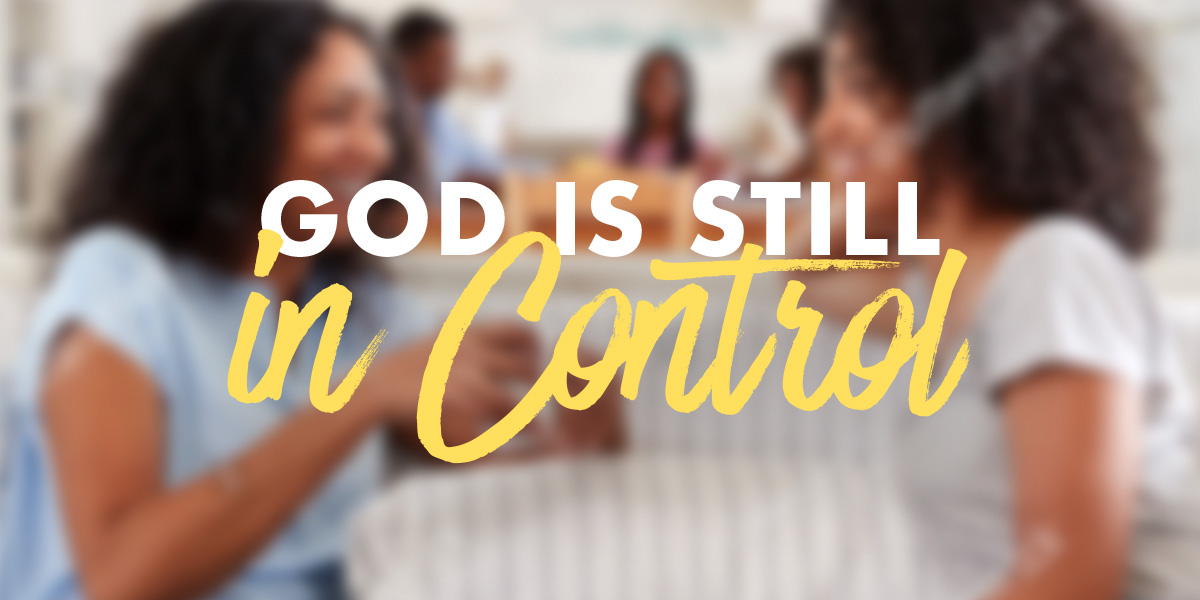 Three days ago, my wife and I had to cut our trip to Europe four days short. As I write this, I am in self quarantine.
I will never forget checking my phone at 5 a.m. with multiple text messages stating we had to leave the country. No taxis were available. I panicked. Fear set in. My stomach started to turn. When fear grips you, it often sticks for a long time. I couldn't seem to shake off the fear. Fear is a liar. It kept whispering to me-"You won't get home."
We packed our bags immediately and took a private taxi to the airport. I won't even mention the price! We arrived at the airport, and all we noticed was chaos and panic. My wife turned to me and said, "Let's give this to God." So that's what we did. We prayed and said, "Lord you are still in control, we give this to you." Three days later, we made it back home to the U.S.
Our world is gripped with fear. Updates are changing by the minute. Maybe you're like me in the airport, filled with panic and fear, only to be reminded that God is still in control. Schools closed, travel bans, sports seasons suspended, and shortage on toilet paper are raising people's anxieties. So as followers of Jesus, what is a proper response to the F.O.G. the Coronavirus has put our world in right now?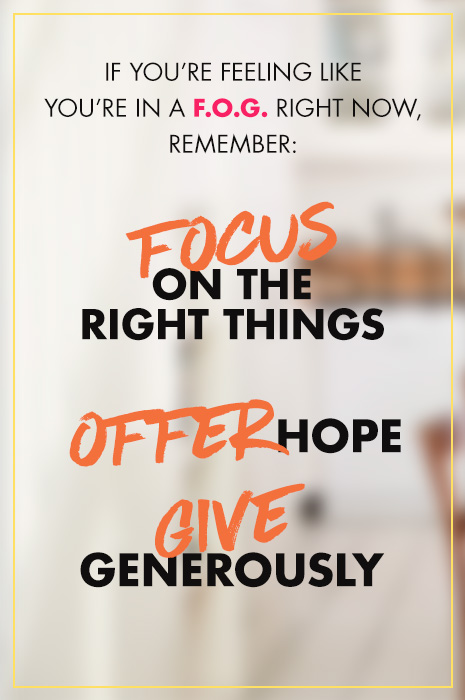 Focus on the right things.
Colossians 3:2 states, "Set your hearts and minds on things above, not on earthly things." In these trying times, it's vital we make it a priority to focus on the good. We must fill our minds with God's truth and God's promises. Does this mean we turn off the news? No, we are to make well-informed decisions, but we are also not ignorant of the schemes of the enemy. 2 Corinthians 2:11 states, "We are not ignorant of his schemes." This means that we are not ignorant of the enemy's ability to direct our thoughts. Think on the good. Remember how faithful God has been in the past. He hasn't changed, he is still in control.

Offer hope.
All around, people are seeking hope and as believers, we carry the greatest message on earth, filled with hope. May we share the gospel message with boldness during these trying times, reminding everyone of the hope we have in Jesus.

Give generously.
When the world gets darker, Jesus' church is called to shine brighter. Seek ways to serve your family and neighbors. Use the gifts God has given you to serve others. And finally, find ways to build community. Whether that is through a text message, phone call, or video chat, stay connected in creative ways. May times like this remind us of the importance of community. We need each other. These last few days, I've learned how contagious fear is. I've also learned how contagious a joyful, peaceful soul is, like my wife. Let us not forget we are a people who live by faith, not fear. So whatever comes our way, we can face it because our strength is sourced in Jesus. God is still in control. He alone is our refuge and strength.