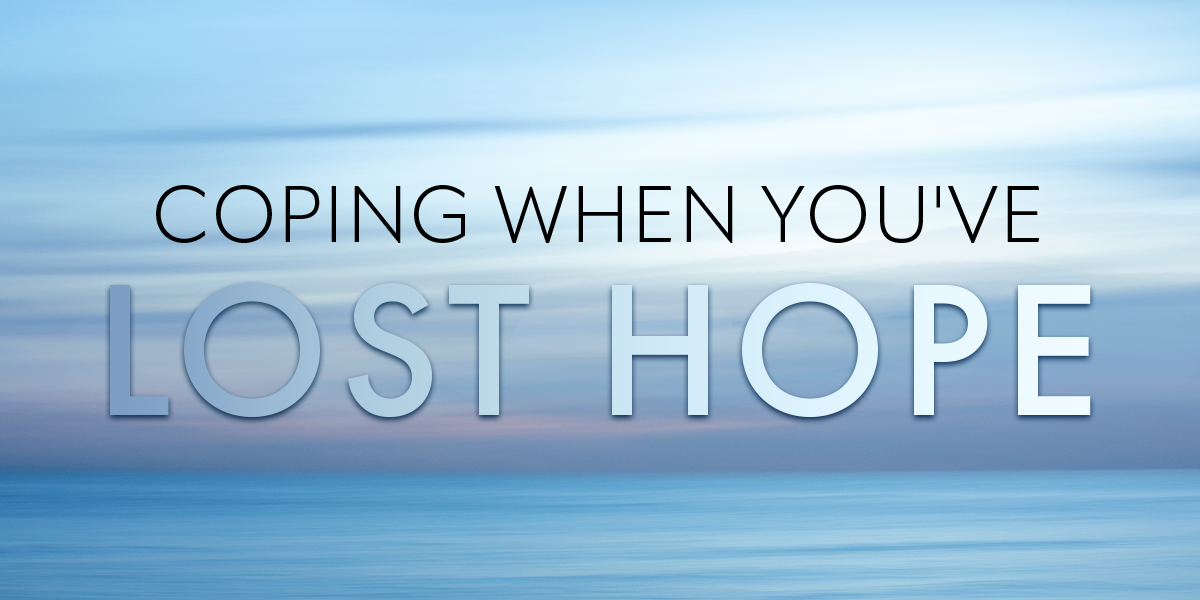 "I am counting on the Lord; yes, I am counting on him. I have put my hope in his word." - Psalm 130:5 (NLT)
Recently, my wife and I got some news no parent wants to receive. Our six-year-old son had been sick for a long time, so we took him to see the doctor. The doctor ran a series of tests and discovered our son's liver was shutting down. They rushed him to one of the top hospitals in our state, two hours away. A team of specialists was waiting for us when we arrived. They had to move quickly to save our son's life. It was probably the most terrifying moment of my life.
What do you do when you face terrifying moments that are out of your control? Where do you go when you're helpless to change your circumstances? What do you do when you've done everything you can do, but nothing is getting better? How do you move forward when it seems all the hope in the world has evaporated like water on asphalt during a July heatwave?
In 1 Kings 19, the prophet Elijah faced overwhelming obstacles and discouragement. The well of hope in his soul had run dry. Yet, despite his despair, God led Elijah to take four steps that helped him find H.O.P.E. again. I think these four steps can help us find it, too:
1. Heed your needs.
1 Kings 19:5 says, "Then he lay down and slept under the broom tree. But as he was sleeping, an angel touched him and told him, 'Get up and eat!'" The most expensive sports car in the world isn't going anywhere without a full tank of gas. Similarly, if your body doesn't have the proper rest and nutrients it needs, you won't ever get traction on your problems.
2. Open up to God.
In 1 Kings 19:10, Elijah cries out to God, "I have zealously served the Lord God Almighty. But the people of Israel have broken their covenant with you, torn down your altars, and killed every one of your prophets. I am the only one left, and now they are trying to kill me, too." Don't hold your feelings back from God. Get it off your chest. Be honest about your doubts, hurts, frustrations, and questions. Psalm 55:22 says, "Give your burdens to the Lord, and he will take care of you. He will not permit the godly to slip and fall."
3. Pursue His presence.
1 Kings 19:11 says, "'Go out and stand before me on the mountain,' the Lord told him. And as Elijah stood there, the Lord passed by…" Elijah had to move close to God to have a fresh encounter with God. How can we do that today? We can read Scripture, pray, listen to the teaching of God's Word, and make time to be quiet before the Lord daily.
4. Enlist help.
1 Kings 19:19 says, "So Elijah went and found Elisha son of Shaphat plowing a field…" Elijah reached out to other people for help. Likewise, God wants you to enlist others to help you with the challenges you face. Reach out to your family and friends. Join a church and get into a small group. Sit down with a pastor or Christian counselor. Gather with other believers in your workplace or community, and pray for each other regularly.
If you feel like you've run out of hope, know that God hasn't. He's available, ready to infuse you with His power and presence.
Digging Deeper:
What challenges are causing you to lose hope right now?
Which of the four steps to finding H.O.P.E do you need to take next? How will you begin to work on that this week?