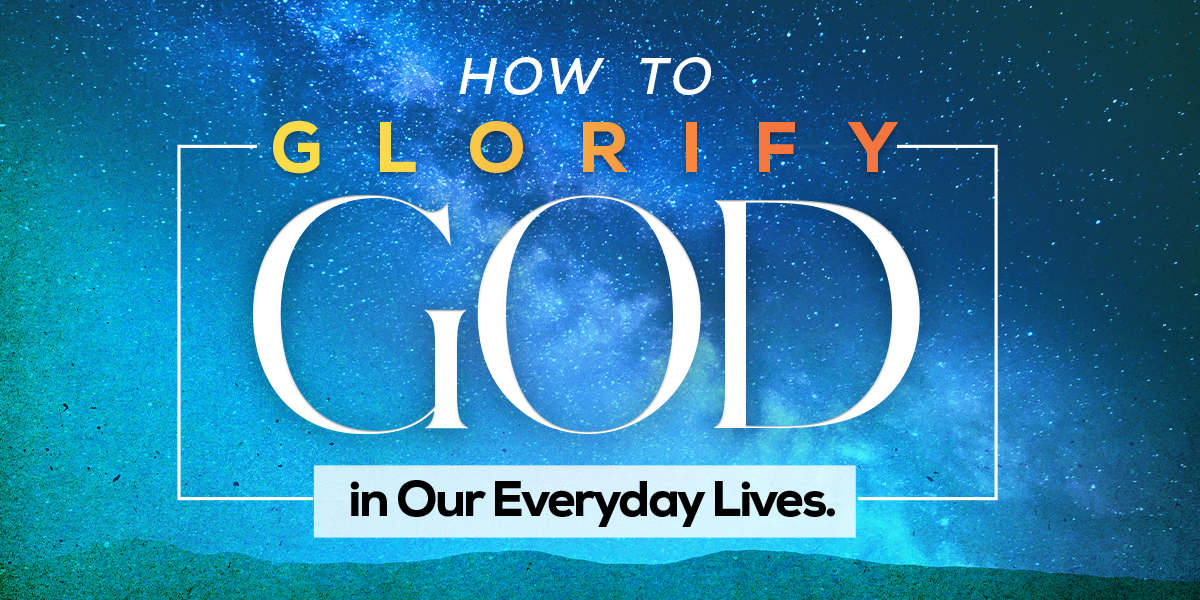 So whether you eat or drink, or whatever you do, do it all for the glory of God. – 1 Corinthians 10:31 NLT
What was one of your favorite things to play with as a kid?
For me, it was this little pocket mirror my parents gave me. I remember how soft the glass felt in my hands. During the day, I would take it to a nearby window and use it to reflect the sun's rays onto the walls of our house. I was enthralled with the various shapes I could make. It amazed me how the light from that tiny mirror could shine in the darkness.
I think that's a beautiful picture of what the Apostle Paul is talking about in today's verse when he writes, "So whether you eat or drink, or whatever you do, do it all for the glory of God" (1 Corinthians 10:31). When we do anything for the glory of God, we shine his light into the dark spaces of our world. We become a conduit for his love, mercy, and power to flow through us into the lives of others, building a bridge between them and our Heavenly Father.
As believers, how can we glorify God in our everyday lives?
We start by expressing gratitude to him joyfully. Thanking God for who he is and what he's done in our lives fuels our spiritual tank with joy. That joy will naturally overflow into every area of our lives as we focus on God's goodness, even during our challenging seasons.
We read and heed his word daily. Jesus said in John 15:14, "You are my friends if you do what I command." As a parent, my kids show respect to me when they do what I ask. The same is true in our relationship with our Heavenly Father. We honor him when we do what he asks, even when it's hard.
We connect with other Christians consistently. In Genesis 2, God said it wasn't good for us to be alone. If it wasn't good for humans to be alone in Eden, how much more so is that true on the Earth we live in today? We've got to plug into a local church for the encouragement and support we need (Hebrews 10:25).
We serve people lovingly. As Christians, love is our defining characteristic (John 13:35). Everyone you will ever meet is made in God's image, and someone, his son, died to save (Genesis 1:27 and John 3:16).
We must abide in Jesus persistently because We can't glorify God in our strength. Jesus is our ultimate power source. So, we've got to stay connected to him in prayer throughout the day to have the strength we need (John 15:5).
In The Pursuit of God, author A.W. Tozer writes, "What is the chief End of Man? Answer: Man's chief end is to glorify God and enjoy Him forever." Let's strive to be people who glorify God and enjoy him forever.
Five Ways You Can Glorify God with Your Life
Express gratitude to God joyfully.
Read and heed his word daily.
Connect with other Christians consistently.
Serve people lovingly.
Abide in Jesus persistently.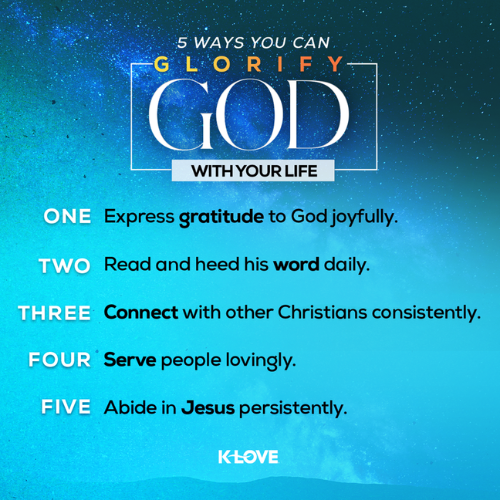 Dig Deeper
How does knowing that you can glorify God in everything you do change your perspective on the seemingly small tasks and moments of life?
Schedule time this week to get alone with God. As you spend time in prayer, Scripture, and silence, ask him how you can glorify him more fully in your life. Then, write whatever he tells you and act on what he's calling you to do.
RELATED CONTENT: 8 Prayers to Glorify God