"Always be joyful. Never stop praying. Be thankful in all circumstances, for this is God's will for you who belong to Christ Jesus." – 1 Thessalonians 5:16-18 NLT
To be honest, I used to think that praying without ceasing was a bit of an arduous task. Throughout history, some have taken this command to mean that we should spend our entire day praying. The written prayers of others have been prescribed during set times. For example, Hippolytus taught that Christians should pray seven times a day in his Apostolic Tradition. While there is nothing wrong with setting prayer times, this command could mean a bit more than a routine or schedule that includes prayer times.
Francis de Sales took this command to mean having an awareness that God is always present, and we should offer our moments to Him. We should accept whatever comes from the Lord. For Frances, our days are a continual conversation with God as His purposes are fulfilled in our lives.
I am a fan of reading Scripture in context. This command to "never stop praying" is sandwiched between an order to always be joyful and thankful. This command is more of an opportunity than a duty.
I have tried to make a practice of being thankful for all things in my own life. But how can you be grateful for unanswered prayers? How can you be grateful for suffering? How can we have joy when those that we love are hurting?
I discovered that times of sorrow and suffering are filled with prayer. While my daughter was in the hospital, I seemed to pray continually. When I was sick, my prayers were highly focused. I became thankful for the times when suffering was far from me. My joy was more prosperous and fuller as I experienced joyless times.
I desired to move from moments of crisis-driven prayer to a life driven by prayer and an acknowledgment of God in all the moments of life. Prayers before eating, prayers before travel, prayers at bedtime, and morning prayers all served as constant reminders of our dependence on God and our communion with him in the mundane moments of life. Every circumstance we find ourselves in can be an opportunity for gratitude and joy as we offer them to God and receive what He has for us in them.
Dig Deeper
What are the times that you can offer to God in prayer?
Do prayers have to be formal, or can we simply speak our hearts to God?
---
8 Prayers to Start Your Day
How we start, our day is just as important as how we finish it. Every new day brings the promise of God's faithfulness, favor, and love. The scriptures help us remember to rejoice in each new day. We are given the gift of time with each sunrise. We are granted the opportunity to release the anguish and mistakes of yesterday and begin again in the presence of God. Allow prayers to help you establish the course of your day by reminding you that God is good, faithful, and has a plan for you today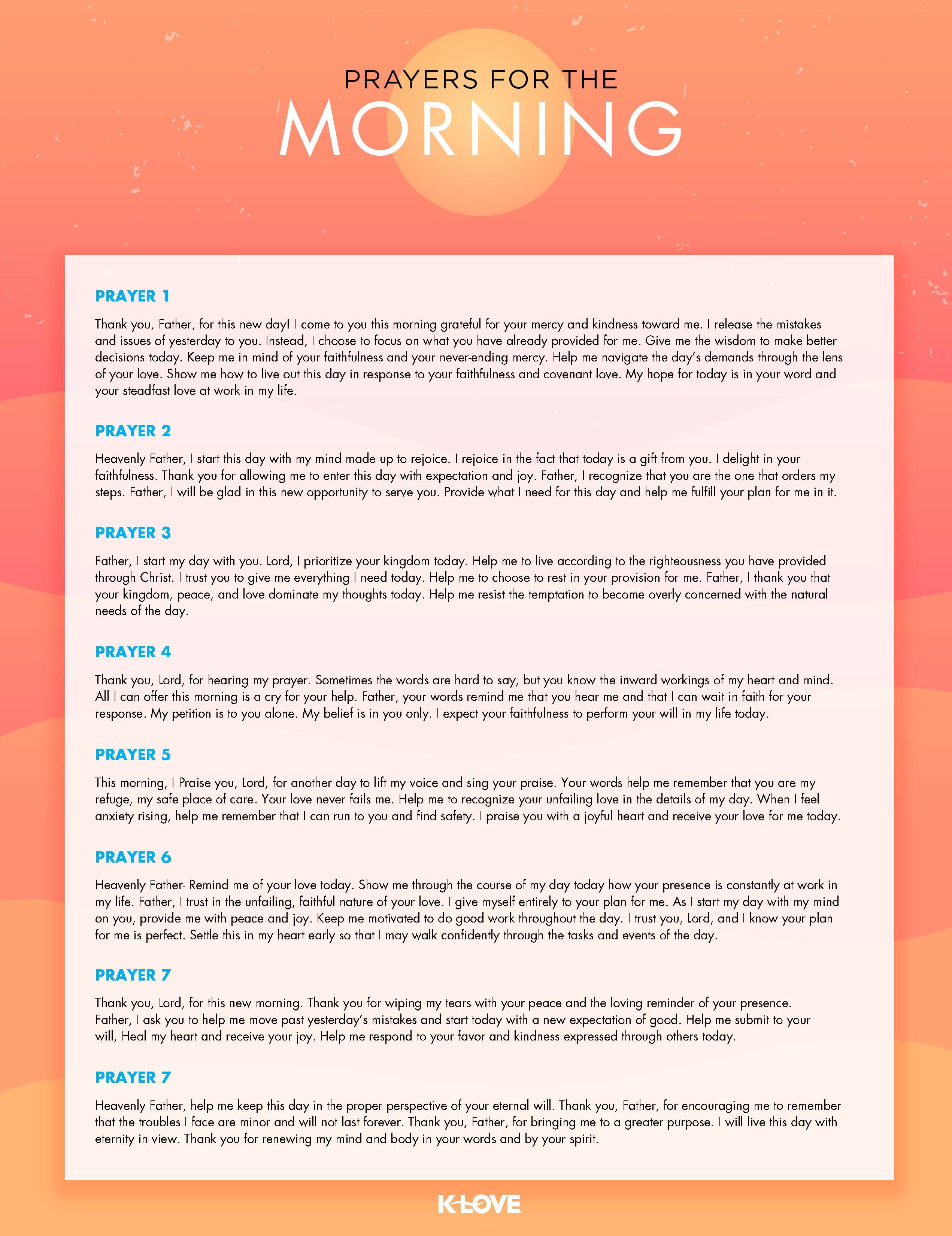 ---
8 Prayers for the Afternoon
Praying throughout the day is a tradition that goes back to the very earliest days of the church. The psalms offer prayer in the morning, noon, evening, and midnight. The Psalmist says, "I will praise you seven times a day because all your regulations are just." (119:164) The Apostle Paul said, "Always be joyful. Never stop praying. Be thankful in all circumstances, for this is God's will for you who belong to Christ Jesus." (1 Thessalonians 5:16-18) It was the Afternoon when Jesus died. And Scripture records that Jesus healed several people in the Afternoon. What better way to recenter your thoughts around Jesus than to offer up a quick Afternoon prayer?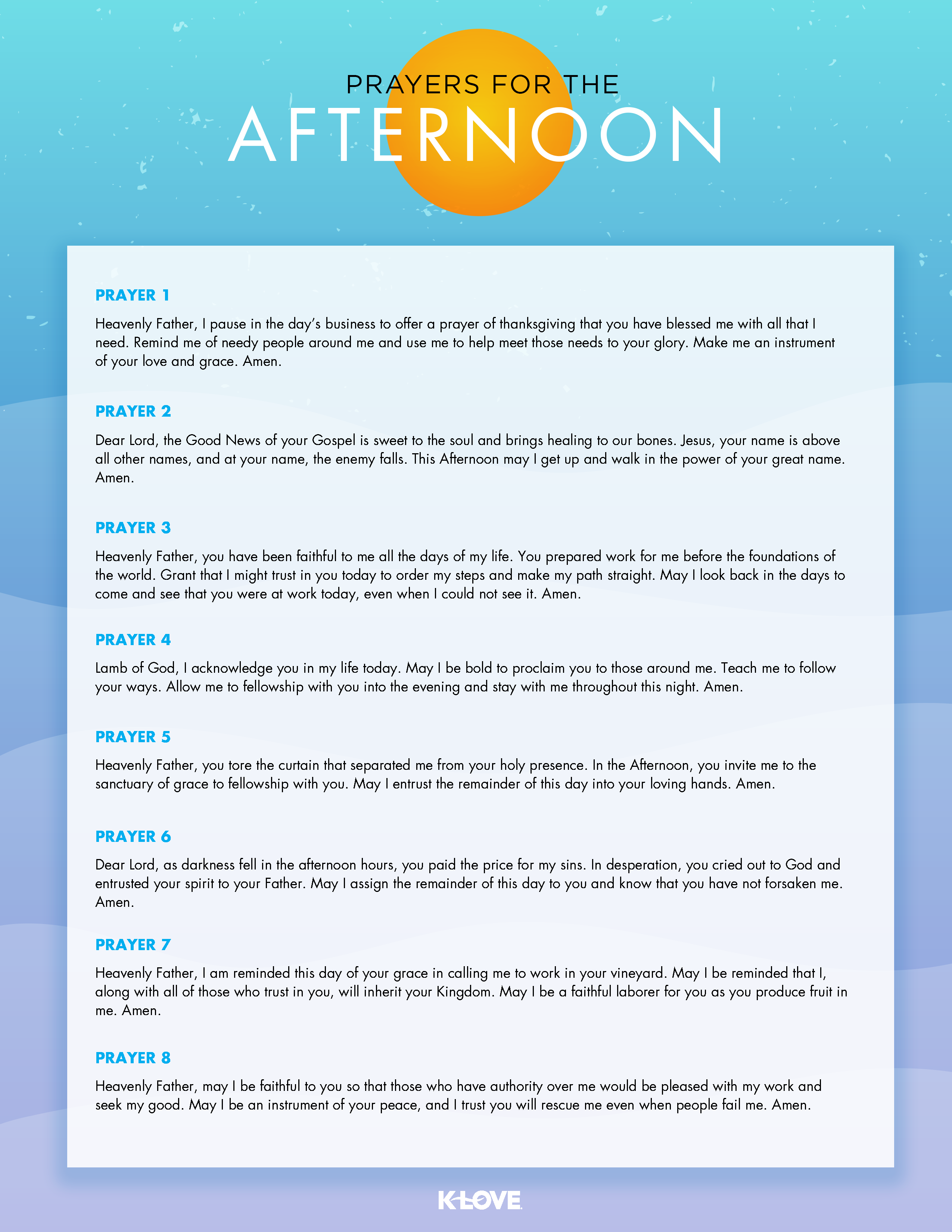 ---
8 Prayers for the Evening
I once heard a pastor say, "Sometimes sleep is the most spiritual thing you can do." Sleep plays a massive role in the life of a Christian. To sleep is to trust that God will refresh and sustain us. In Psalm 3:5-6, David says, "I lay down and slept, yet I woke up in safety." (NLT). We trust that God will protect us and provide the rest we need to take on the next day when we sleep. This is an excellent time to prayerfully reflect and give the burdens and anxieties of the day to the Lord. Take time to meditate on these scriptures and prayers. Be reminded of the gift of rest that God provides to his children. Sleep is God's gift to us.