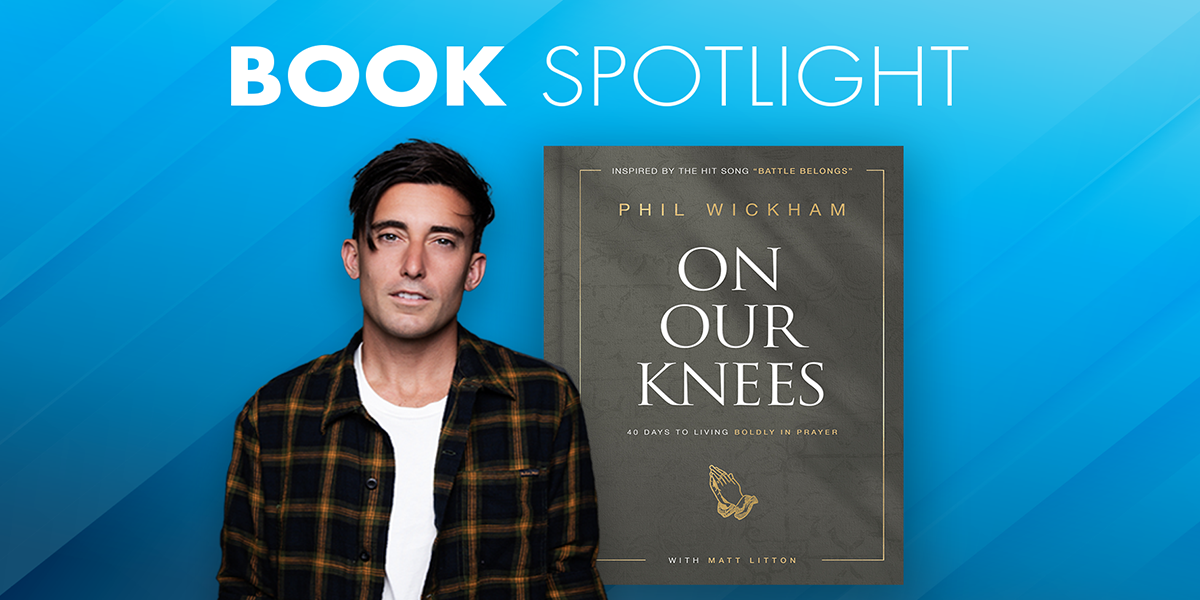 When singer/songwriter @Phil Wickham penned "Battle Belongs" with his friend and frequent collaborator Brian Johnson, he had no idea what God would do with that song. As 2020 dawned, and a global pandemic littered the world with uncertainty and isolation, "Battle Belongs" became a prayer uttered around the world. For Wickham, it became his family's fight song.
RELATED CONTENT: Phil Wickham Raises a Battle Cry on New Song
Story after story began to stream in from listeners boasting of the God-breathed power of the radio single that became the first of three No. 1 hits from Wickham's latest album, "Hymn of Heaven." As he saw the impact of the song unfold in real time, the lyrics he crafted for "Battle Belongs" slowly began to inspire the father of four to "fight on his knees" in a new way. The award-winning singer began to intentionally dive into the Bible in search of a richer prayer life. From Genesis to Revelation, he studied every passage of Scripture that spoke of the topic. Eventually, his own odyssey is what motivated him to write his first book, "On Our Knees: 40 Days to Living Boldly in Prayer" (K-LOVE Books).
RELATED CONTENT: Phil Wickham Brings A Glimpse of Eternity to Earth With "Hymn of Heaven"
"As I read, a fresh fire re-ignited in my soul, and my faith was strengthened in an Almighty God who wants to hear from me and speak to me," Wickham reveals. "I saw Him in new and bigger ways. As a friend who listens. As a shepherd who guides. As a Father who gives, and as a warrior who overcomes."
Presented in an easily digestible format primed for quick daily encouragement, Wickham's devotional finds him reflecting on 40 different passages of Scripture that offer new approaches to prayer, fresh perspectives on the vital spiritual discipline and easy ways to converse with the Father. He looks at the way Jesus taught the disciples to pray and how the early church wove this essential ritual into the fabric of their communities. In addition, he explores the stories of key heroes of faith like Moses, David, Joshua, Nehemiah, Solomon and Paul, among many others, to glean wisdom from their personal experiences with prayer. He observes how each of these biblical figures approached God in prayer and then carefully watches how God answered each of their humble requests. All the while, he leans into the truth of Ephesians 3:20: "Now all glory to God, who is able, through his mighty power at work within us, to accomplish infinitely more than we might ask or think."
Led by Scripture presented in chronological order as it appears in the Bible, "On Our Knees" is filled with Wickham's keen observations, practical application, sample prayers, simple activations and thought-provoking questions. Versatile in that it can be enjoyed individually or in the context of a larger community study or small group, the book brings all of the truths Wickham uncovered during his own journey to light. By putting his thoughts down on paper, he hopes readers' prayer lives will be enriched in the same way his prayer life was enhanced after searching the Scriptures for himself and learning how to pray bigger, bolder prayers.
"The process of writing this book changed my life, and I pray it does the same for anyone who reads it. I am far from perfecting this, and I am still on the journey, but writing this book set my heart on a new trajectory with God and I had to share it," Wickham says. "This 40-day devotional is not a text book on prayer, it's an invitation to join me on the journey into deeper faith and nearness to a God who loves us. Let's run the race together."