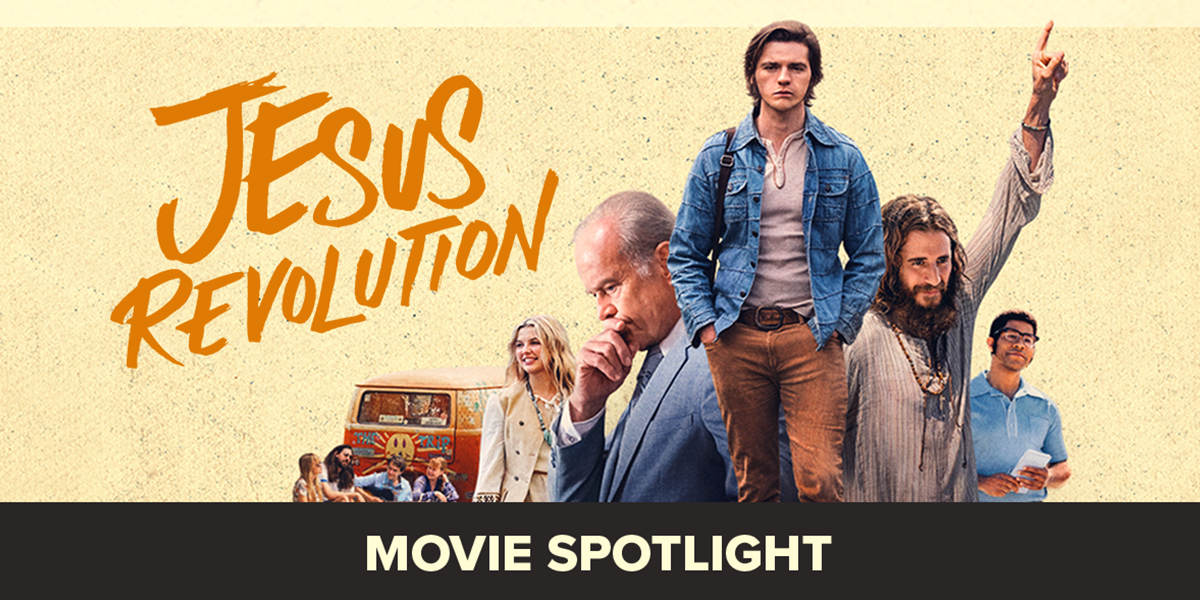 Jesus is alive and well and living in the radical spiritual fervor of a growing number of young Americans who have proclaimed an extraordinary religious revolution in His name. Their message: The Bible is true, miracles happen, God really did so love the world that He gave it His only begotten Son…"
These words appeared in "TIME" magazine in June of 1971 as the widely-circulated print publication's cover story dubbed the religious outbreak unfolding in Southern California "The Jesus Revolution." More than 50 years later, people are still talking about the movement that changed the course of history and the lives of countless individuals.
It was this "TIME" magazine story that inspired director Jon Erwin nearly a decade ago when he stumbled across a copy of the original issue on eBay. A storyteller at heart, Erwin couldn't get the movement out of his mind. "Over the course of making films like 'American Underdog' or 'I Still Believe' or even 'I Can Only Imagine,' it's been 'Jesus Revolution' that I've been dreaming of doing," the filmmaker confesses.
WATCH NOW: "Jesus Revolution" Official Trailer
Like its predecessors, "Jesus Revolution" is a movie based on a true story. While the real-life events of the hippie movement of the late '60s and early '70s provide a vibrant, retro-tinged backdrop for the period film, it's the real-life story of Greg and Cathe Laurie that carries the plot of the movie.
As the pastor of Harvest Church, Greg Laurie is now one of the most respected evangelists in the world. Once upon a time, however, Laurie was a lost soul. And that's where the story of "Jesus Revolution" begins.
Starring Joel Courtney ("The Kissing Booth") as Laurie and Anna Grace Barlow ("Supernatural") as his girlfriend and eventual wife, Cathe, "Jesus Revolution" explores Laurie's rocky upbringing. He was raised by an alcoholic mother — played by Kimberly Williams-Paisley — who had seven husbands and didn't even know who Greg's real father was. Feeling abandoned and unwanted, a confused Greg stumbles upon Cathe, who introduces him to a church called Calvary Chapel that welcomes hippies. Together, they embark on a journey of self-discovery.
"I think so many of us that were drawn into the hippie movement had sort of the same desires, the search for real meaning and purpose," Cathe shares. "And it wasn't just a rebellion against the establishment just for the sake of wanting to be different. I think we really were searching for a better way to live a more purposeful life. There had to be something more out there than what we saw in our homes."
Running parallel to Greg and Cathe's quest for meaning is the fascinating narrative of the unlikely friendship between conservative pastor Chuck Smith, played by Kelsey Grammer ("Fraiser"), and hippie-turned-street-preacher Lonnie Frisbee, played by Jonathan Roumie ("The Chosen").
On the brink of losing his job and his waning church, Smith is introduced to Frisbee via his teenage daughter, and his neat and tidy world is turned upside down. When Smith opens the doors of his church to Frisbee and his legion of hippie friends, that's when things really start to get interesting.
Much to the disbelief and utter horror of the church elders, Smith and Frisbee are soon baptizing scores of hippies down at Pirate's Cove, inviting hippie-fronted "rock bands" like Love Song to play for their worship services, and helping finance a place for the hippies to live. Meanwhile, droves of bohemian teens, high on LSD, are encountering Christ in a real way. And two of those teens are Greg and Cathe Laurie.
"This is a significant story that changed our nation and, in many ways, changed the world," Greg offers. "My hope is that not only will you be entertained and see a great movie, but I hope you'll find hope for your future and open your heart to a relationship with God."
More than simply a redemptive story or an accurately historical account of a religious movement, "Jesus Revolution" is an invitation for moviegoers to make a personal decision for Christ. In fact, Laurie even walks theater guests through a simple sinner's prayer after the credits roll. Yet, this is a film believers and non-believers alike can find themselves in. With a star-studded cast, a finely crafted script that captures the Lauries' imperfect love story and a colorful backdrop of '70s nostalgia, "Jesus Revolution" possesses all the elements of a blockbuster hit.
In many ways, the film serves as a companion to acclaimed 2021 documentary "The Jesus Music." Smith's church is credited as the birthplace of Christian music, as he and Frisbee welcomed a radical new form of worship that included guitars, drums and barefoot, long-haired lead singers. These new worship leaders looked and sounded more like rock 'n' roll frontmen than the buttoned-up choir directors of the day, but their lyrics were all centered around their newfound faith.
The film's soundtrack, beautifully scored by co-director Brent McCorkle, mimics the authentic sounds of the times — heavy on guitar, synthesizer and drums. Additionally, @Anne Wilson recorded a brand new original song for the movie called "Living Water" that can be heard at the conclusion of the movie.
WATCH NOW: "Living Water" Official Music Video
Against the backdrop of the sights and sounds of a decade known for its groove-laden rock, peace signs and bell-bottoms, the characters are deeply flawed, and their relational dynamics are extremely nuanced, making "Jesus Revolution" one of the most relatable faith-based films of this generation. Considering the revival that has recently broken out at Asbury and the post-COVID world we're experiencing, the timing of this film feels divinely orchestrated. While broad themes of love, acceptance and forgiveness all abound within its two-hour run-time, from the start, "Jesus Revolution" unabashedly points to its namesake as the ultimate way, truth and life.
"I'm at a loss for words. Other than 'The Passion of the Christ,' I have never seen a movie blatantly share the Gospel with such beauty," @MercyMe frontman Bart Millard shared after attending an advance screening for the film. "Church, I implore you to go! It's the movie we have been waiting for."
Fans can catch "Jesus Revolution" in theaters nationwide Feb. 24, 2023, with early access screenings in select cities Feb. 22. The film is rated PG-13 for drug use, a scene depicting an overdose and some thematic elements that may not be suitable for young children.