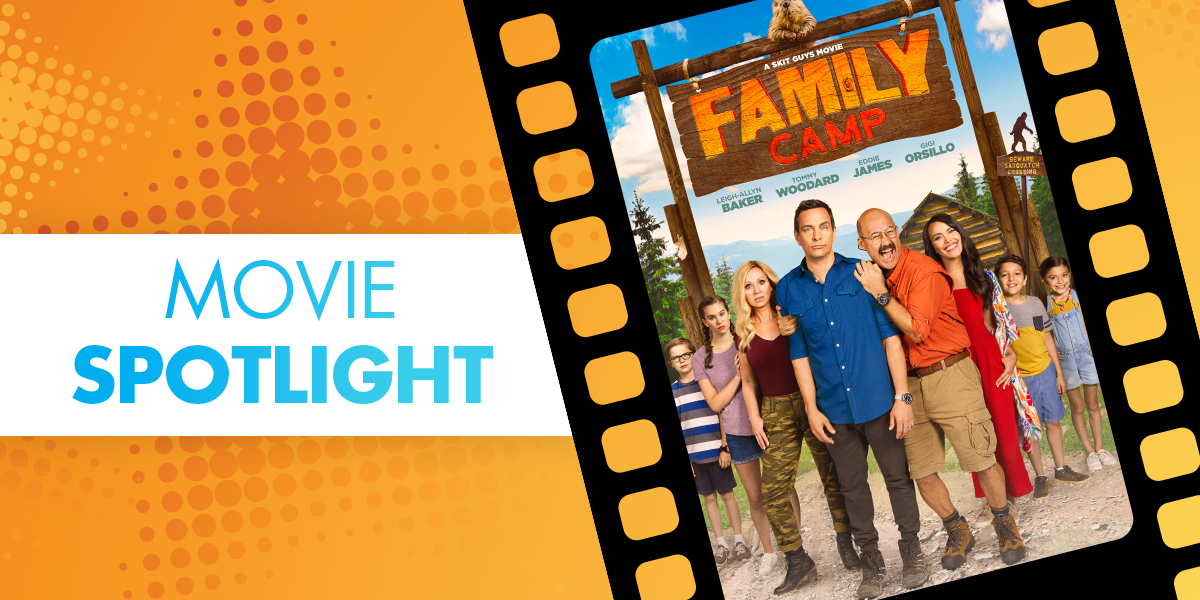 In their first feature-length film, The Skit Guys bring their signature antics to the big screen with Family Camp. Known for their kid-friendly series "Bedtime Bible Stories"; their debut K-LOVE Books title, Smells Like Bacon; and their podcast on AccessMore, "Laugh More," Tommy Woodard and Eddie James have made a career out of sharing the Gospel message through the vehicle of humor. Family Camp continues this effective tradition.
Although The Skit Guys have maintained a close friendship in real life for upward of 30 years, in Family Camp, their relationship gets off to a rocky start. "My character's very overly religious," Eddie explains. "Mine's very underly religious," Tommy adds.
The two men and their respective families end up at church camp together sharing a yurt, a circular cabin that puts the fathers and their broods in close proximity. Tommy's character (Tommy Ackerman) — a businessman intent on climbing the corporate ladder — is initially coerced to sign up for a week away at camp by his wife, Grace, played by Leigh-Allyn Baker (Good Luck Charlie, Will & Grace, Charmed). Through a series of unexpected events, he forges an unlikely friendship with Christian chiropractor Eddie Sanders and discovers a truth that will sustain him for the rest of his life: Nothing is more important than family.
RELATED CONTENT: The K-LOVE Cover Story with The Skit Guys on Their new Book "Smells Like Bacon"
Throughout the feature, Tommy's cynicism is constantly countered by Eddie's over-the-top Christianity. Following a series of high-stakes activities that pit the competitive men and their families against each other, the two fathers embark on a hike that quickly turns into an adventure of epic proportions when they get lost in the woods. Forced to lean into their faith and rely on one another, The Skit Guys eventually find their way back to True North, but not before comedic hijinks arise.
RELATED CONTENT: The Myth of the "Perfect" Family: A Family Camp Devotional
While Family Camp preaches to the choir as it pokes harmless fun at Christian culture at every turn, "church kids" of all ages will appreciate the tasteful humor that evokes plenty of laugh-out-loud moments simply because they've lived a similar version of the outlandish scene The Skit Guys are acting out on screen. Family Camp is clean Christian comedy at its finest — a rare thing in today's current film landscape.
"It's hard to find good comedies where parents aren't going, 'I don't know what's going to be said in this movie. I'm taking a chance.' We've taken all the guesswork out for you. You're going to laugh; you're going to enjoy it. And, hopefully, comedy ensues and lessons are learned and God is glorified through it," Eddie concedes. "Humor will break down walls for truth to enter, and hopefully when you're driving away from the theater, you'll go, 'You know what, I need to work on that. That's something I need to think about.'"
Tommy echoes a similar sentiment. "When we were kids, there were some really great family comedies; and now, you either have to watch a cartoon or you've got to watch a movie that afterwards you're telling your kids, 'Hey, we don't say those words.' And so we felt really burdened to make a movie that the whole family could go to, and I think we've done it," he says. "I'm really proud of the movie."
For all the funny scenes Family Camp boasts, it serves up just as many heartwarming moments, filled with plenty of food for thought that viewers will be chewing on long after the credits roll. There's a lesson fit for every member of the family if movie-goers look deep enough as the film tackles a variety of relational dynamics from different perspectives, including marriage, parenting teens and the crucial bond between a father and son. In the end, after a week at Camp Katokwah, Tommy, Eddie and their wives and kids are challenged to rearrange their priorities after discovering what really matters — family, faith and friendship.
RELATED CONTENT: Roadside Attractions, K-LOVE Films, and Provident Films Announce Release Date for FAMILY CAMP
While The Skit Guys take center stage, Family Camp also stars Gigi Orsillo (Sleeper Agent), Cece Kelly (Halt), Robert Amaya (Courageous, Moms' Night Out), social media sensation Heather Land and a cameo by recording artist @Rhett Walker.
Family Camp hits theaters May 13, 2022. Purchase tickets here.