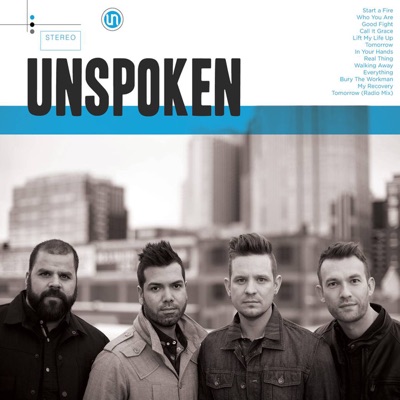 Artist Info
Unspoken first came together after lead singer Chad Mattson met guitarist Mike Gomez on a mission trip in the Dominican Republic. Chad had been struggling with drug and alcohol addiction for years, and decided to go on a mission trip to re-build his relationship with God. It was there in the Dominican Republic where Chad's eyes were opened and he came to know Christ in a powerful way.
After Mike moved to Chad's hometown in Maine, the two began playing music together, and performing live shows. Bass player Jon Lowry and drummer Ariel Munoz from Puerto Rico, later joined the band and Unspoken was born. After working for years as independent artists, and opening for band's such as Casting Crowns, Third Day, and TobyMac, Unspoken released their first studio album Get To Me (June 8, 2012), a record that focuses on the journey of coming back to Christ- similar to what Chad experienced in the Dominican republic.
Their song, "Who You Are," off the album Get To Me, is about God's ability to change anyone regardless of their past. "It's a song that was written for the believer, that was written the prodigal son, that was written for the lost, for the person who doesn't know Jesus," Chad explains. "It just says that if you come to the cross, that God meets us where were at and that he does this supernatural life changing work in us."
Unspoken remains committed to using their music as an outlet to reach people. The band is involved with Celebrate Recovery, a 12-step recovery program for substance abuse. "In the early days of the band, God reminded me that there are thousands of singers better than me and thousands of guitar players better than Mike, but He chose us to do this for Him. We have been chosen to bring a message to the Church…wake up, find your contentment and satisfaction in Him, hang out with Him, and have a real relationship with Him," says Chad. "Yes, we love music and we love people but more than anything we want to see people reach their full potential in Jesus."