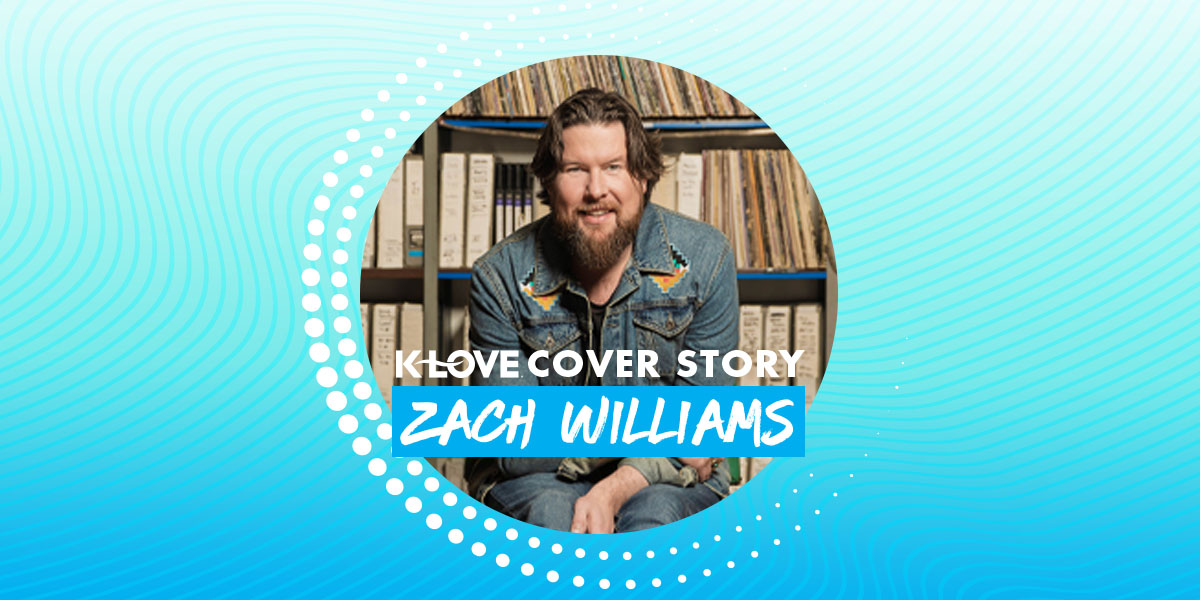 @Zach Williams was a high school dropout. As an 18-year-old kid, he took the GED and started working for his dad's construction company. His superior height and skill on the basketball court, however, garnered the attention of college recruiters; and a year later, while playing in a men's basketball league, Williams was offered the chance to walk on to a team and earned a full scholarship to a college three hours away from his hometown of Jonesboro, Arkansas.
Far from home and free of all parental supervision, Williams' teenage penchant for drugs and alcohol escalated. "I found myself partying every day, trying to outdo all the guys I lived with or hung out with," the GRAMMY winner reveals. "Every day was just a competition to see who could party harder, and I carried that into my life for probably 13 years."
Williams might have been the life of the party, but his athletic aspirations were quickly shattered when he tore five ligaments in his ankle before he even played the first game of the season his freshman year.
While redshirting, he gravitated toward his roommate's guitar. "As soon as I picked it up, I was like, Man, there's something here with this guitar. I can just feel something," Williams remembers. "I started playing that guitar, and I just fell in love with music."
WATCH NOW: Zach Williams "Chain Breaker" Official Music Video

College poetry classes helped him shape lyrics as he began writing his own songs, while also working toward an art degree. His passion for music continued to grow, but so did his partying. When he started fronting a southern rock band, his self-described "reckless lifestyle" went into overdrive. "I'd decided I wanted to be this rock star, but I thought to be a rock star, you had to live a certain lifestyle," he confesses. "I kind of took on this persona and thought, Man, if I'm going to do it, I'm going to do it 110%."
In his late 20s, the singer met his now wife, Crystal, who already had two young children. Five years into their marriage, with a daughter of their own on the way, Williams hit rock bottom. It was 2012. He was living the proverbial "rock star life" on the road, touring with his band across Europe. He awoke one morning in Spain, thinking about his baby's impending birth, and knew something had to give in order for him to become the husband and father he ultimately wanted to be. Having grown up in church as a kid, he found himself praying, "God, I know You're real, but I just need You to prove it to me."
That day, he and his bandmates had an eight-hour drive ahead of them. As the bus driver scanned stations on the way to their next tour stop, the radio divinely landed on a song called "Redeemed" by @Big Daddy Weave. "I had grown up listening to Christian music because my dad played it on his job site every day," Williams shares. "The song just stopped me dead in my tracks. When I got to my hotel room, I looked that song up, and I listened to it over and over. Then I called my wife, and I said, 'I'm done. I'm done playing music. I'm coming home. We're going to find a church, and I'm going to get my life together.'"
On the cusp of landing a record deal and getting his big break in the mainstream music world, with little explanation, Williams left the tour, exited the band and headed back home to Arkansas. True to his word, Williams and his family began attending church together, and little by little, he started cleaning up his life, putting an end to years of hard partying, rebellious actions, and unhealthy habits. Within a year, the church asked him to start leading worship for a new campus they were launching—a congregation they hoped would attract people with backgrounds similar to Williams'.
WATCH NOW: Zach Williams & Dolly Parton "There Was Jesus" Official Music Video

"That was when I felt like God started to turn the wheels and go, 'OK, this is why you've lived this life. This is why you've had the journey you've had—to get here,'" he says.
Williams began leading worship and eventually writing songs for the new church plant—a motley crew of recovering addicts. It wasn't until his wife convinced him to join her on a visit to a local prison that he realized the power his own songs possessed. She encouraged him to bring his guitar along, and there, in a women's prison in the middle of Arkansas, he played a new song he had just written called "Washed Clean." That day, more than 30 incarcerated women committed their lives to the Lord.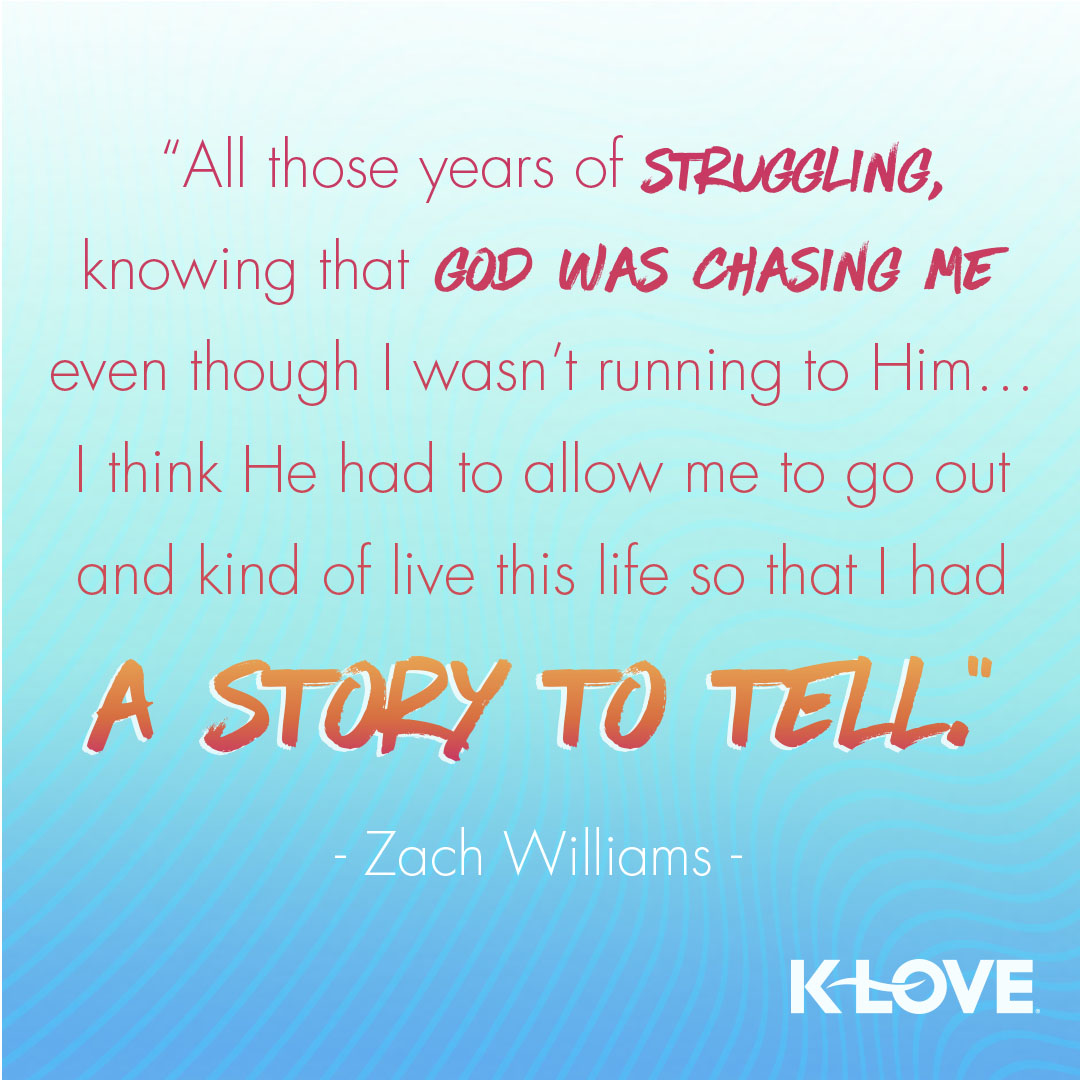 "It was something I'd never experienced before," Williams says, "and I just felt like God was saying, 'OK, this is your a-ha moment, Zach. If you need it, here it is.' I felt like He just said, 'These are the songs. These are the people. These are the places that I want you to play your music.'"
It wasn't long after his transformational prison ministry experience that Williams received an invitation to write with well-known Christian songwriters Jonathan Smith and Mia Fieldes in Nashville. During their co-write, they penned a song called "Chain Breaker," which went on to earn Williams his first GRAMMY nod and a K-LOVE Fan Award for "Breakout Single of the Year."
"Chain Breaker"—the Platinum-certified hit that started it all—became the title track of his debut LP, officially introducing him to Christian music fans worldwide. In 2018, he was able to return to his prison ministry roots, recording his six-song Survivor EP live at Nashville's Harding Prison. Soon, Williams became the first artist in Christian music history to jumpstart his career with two back-to-back No. 1 singles, which skyrocketed the soulful vocalist to popularity thanks to the hit parade that followed with powerful songs like "Old Church Choir," "Fear Is A Liar" and his recent chart-topping duet with Dolly Parton, "There Was Jesus." In 2019, he had the opportunity to perform the Gold-certified song alongside the country music icon live at the 53rd annual CMA Awards.
RELATED STORY: Zach Williams Resolves to Be More Like Jesus in 2021
On the heels of the massive crossover hit, Williams recently released his latest offering, "Less Like Me," his third single from his sophomore album, Rescue Story. "I think a lot of times as a Christian artist, people put you on this pedestal, like if this is what he does for a living, then everything in his life must be in order," Williams says when asked about the message behind the acoustic-driven track. "I felt like I needed a song that reminds people I'm no different than anybody else I meet on a day-to-day basis. I have good days; I have my bad days. I miss the mark for the most part, probably more than I hit it."
This summer, Williams will take all of his hits straight to the fans, as he embarks on a 50-city drive-in tour with former @Third Day lead singer @Mac Powell and new sibling trio @CAIN. He's slated to resume his rescheduled "Rescue Story Tour" this fall with @We The Kingdom and CAIN. Watching the tall, lanky, soft-spoken singer—part cowboy renegade, part rock 'n' roller—take the stage, it's hard to imagine the life he led before his "Redeemed" moment. Looking back, it's difficult for Williams himself to piece it all together.
"All those years of struggling, knowing that God was chasing me even though I wasn't running to Him… I think He had to allow me to go out and kind of live this life so that I had a story to tell," he reasons. "Honestly, every day I wake up, and I look around, and I can't believe this is what I get to do. I get to write songs and share them with the world, so it's pretty cool. If God can do it for me, He can do it for anybody."