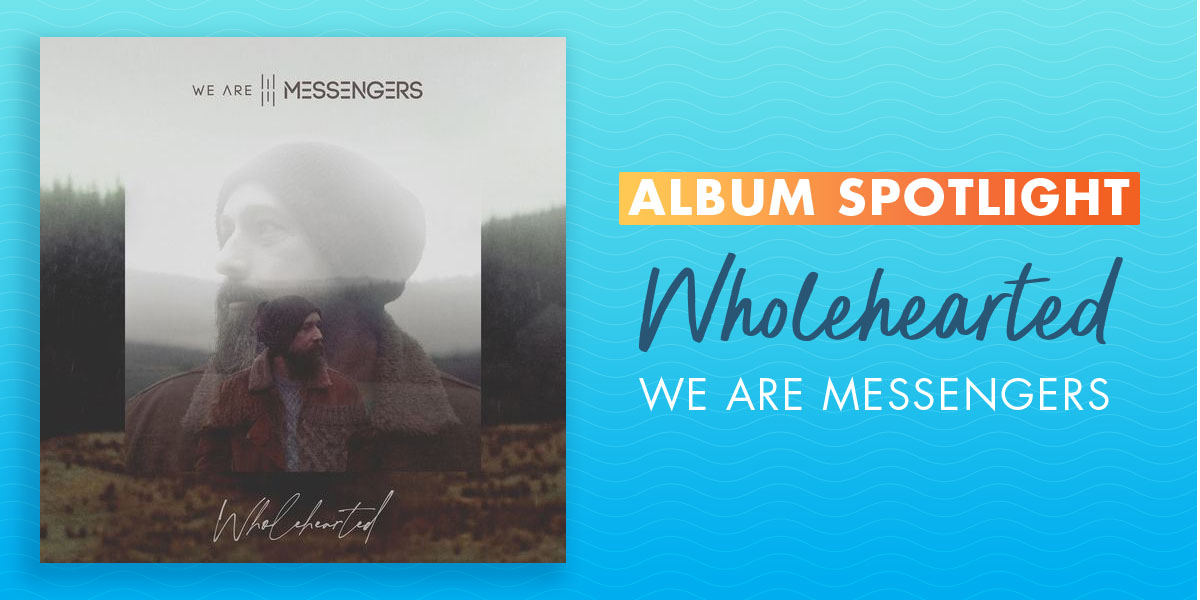 @We Are Messengers has built a career forged by vulnerability. And their third full-length effort is no exception. Wholehearted was crafted in the midst of the global pandemic and finds frontman Darren Mulligan laying the entirety of his heart on the line as the title suggests.
It wasn't that long ago that We Are Messengers was recording their sophomore album, Power, which released about six weeks before COVID made its show-stopping appearance. So, instead of sharing those new tunes—like the smash hit "Maybe It's Ok"—in a live setting as originally planned, Mulligan and his friends headed back into the studio in an attempt to capture their emotions in real time.
WATCH NOW: We Are Messengers - Maybe It's OK (Official Music Video)
"Like most artists, our world kinda fell apart when touring got shut down. So we did what every good songwriter should do. We catalogued every feeling imaginable and tried to make sense of a strange new world. We danced in the darkness, wrestled with doubt, reconnected with God in a really authentic way, and found the beauty in the forced simplicity of our lives," he explains. "We gave ourselves fully to the process of telling the truth again and not caring what the world thought of us. The album captures the heart of a follower of Jesus in one of the most wonderful and horrific times we have faced in modern history. We went all in, held nothing back. This one is Wholehearted."
While Mulligan is a credited writer on every song, he joined forces with some of Christian music's best lyricists, including @Phil Wickham, Adam Stark and Jordan Phillips from @Apollo LTD, Benjamin Backus from @for KING & COUNTRY's touring band, Ryan Ellis, Ethan Hulse and longtime collaborator Kyle Williams, among others.
Lyrically, Wholehearted continues We Are Messengers' tradition of raw writing. Case in point, one of the album's best lines lies in "Now It's Our Turn": "Mercy's not a pretty word. It gets down in the dirt. For better or for worse." Or this gem buried in the purpose-in-the-suffering "Close": "Maybe the 'why' just don't matter. What if it's not for me to know? Maybe the point is just to trust You, find the faith to let it go. 'Cause sometimes falling feels like flying. It's the only way I know. So I won't hurry through the heartache if it's what it takes to draw me close."
Sonically, however, the collection is the group's most pop-centric offering yet. The dozen arena-ready tracks are primed for packed singalongs as the band gets back on tour. Both the title-cut, focused on God's freely-given grace, and the explosive "Now It's Our Turn" are especially poised for an energetic crowd.
The album's triumphant lead single, "Come What May," declares the band's unwavering belief in Romans 8:28—a timely anthem in the wake of the past year-and-a-half. Meanwhile, the steady "God You Are" contains the record's lone artist feature courtesy of Josh Baldwin. (For those who stream the expanded edition, Wholehearted +, a special version of "Come What May" featuring Cory Asbury is also included, as well as We Are Messengers' previous collaboration with Vince Gill on "Image of God.")
WATCH NOW: We Are Messengers - Come What May (Official Music Video)
While the recording as a whole is deeply personal, the autobiographical "Friend of Sinners" might be the most intimate, revealing song Mulligan has penned to date. The track provides a three-minute glimpse into the Irishman's story of transformation. Stuck in a destructive, dangerous pattern of depression and drugs, Mulligan met the Lord at his lowest point thanks to his wife, Heidi, who introduced him to Jesus before they got married.
The subtle swagger of "Holding On" that morphs into a closing electric guitar solo gives off serious John Mayer vibes. Meanwhile, final track, "The Parting Glass," begins with a spoken word confession from Mulligan before transitioning into a modern-day Irish hymn of blessing.
Moreover, We are Messengers has gifted fans some beautiful visuals for each song on Wholehearted, filmed in the Irish town where Mulligan grew up. The stunning, cinematic clips are worth a YouTube deep dive.
RELATED CONTENT: We Are Messengers Releases Faith-Affirming Song "Come What May"
Fans can hear new tracks from Wholehearted and hits from We Are Messengers' previous two albums on @Newsboys' "Step Into The Light Tour" this fall.