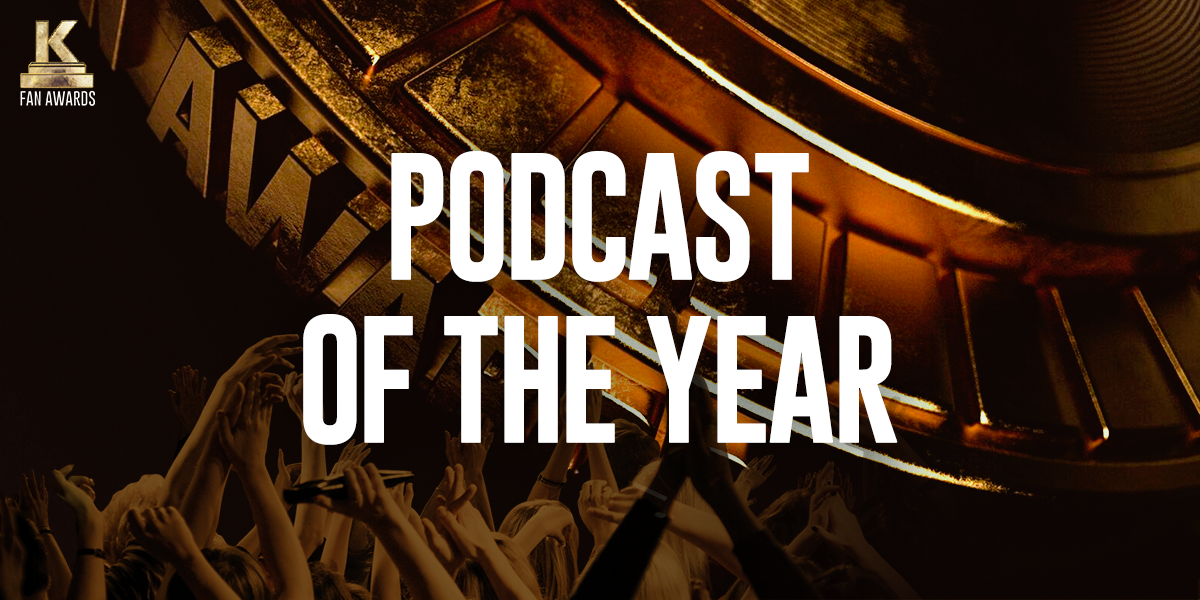 Sadie Robertson Huff's "WHOA That's Good" show took home the inaugural Podcast of the Year award when the category debuted last year. Members of her "Duck Dynasty" family join Bob Goff, Levi & Jennie Lusko, Lisa Harper, Jennie Allen, Lysa TerKeurst, Alisa Childers and Candace Cameron Bure to flesh out the slate of 2023 nominees in the newly minted category. Faith-based podcasts remain a growing area of Christian entertainment, leading meaningful conversations about topics that matter to you. Fans will select a winner from eight different contenders to determine who will receive this year's Podcast of the Year accolade.
Hosted by CAIN, the 10th annual K-LOVE Fan Awards will air exclusively on TBN Friday, June 2, 2023, at 8 p.m. ET / 7 p.m. CT / 5 p.m. PT.
Cast your vote for Podcast of the Year now.
---
"Dream Big Podcast with Bob Goff and Friends," Bob Goff
Avid dream-chaser and bestselling author Bob Goff hosts conversations with people you know and love, who have seen their big dreams come to fruition thanks to a big God. Goff's natural enthusiasm and penchant for whimsy shine through in every episode of the "Dream Big Podcast with Bob Goff and Friends" as he talks with individuals from all facets of life. Recent episodes have featured singer/songwriters Steven Curtis Chapman and Brandon Lake, authors Mark Batterson and Ann Voskamp, and Hollywood leaders DeVon Franklin and Roma Downey.
---
"Hey! It's The Luskos," Levi & Jennie Lusko
Husband/wife team Levi and Jennie Lusko let listeners in on their marriage, family life and ministry on "Hey! It's The Luskos." The candid podcast revolves around the couple discussing relevant topics from a biblical perspective. Episodes often just feature the two of them exploring specific subjects — ranging from navigating relationships and seeking God's voice to surviving grief and personal trauma. In addition, the Luskos regularly invite friends to help them flesh out each episode's unique theme. Past guests include pastor/author Chad Veach, singer/songwriter Kristian Stanfill (Passion) and his wife, Kerri, and counselor Sissy Goff, among others.
---
"Lisa Harper's Back Porch Theology," Lisa Harper
A second-time nominee, Lisa Harper brings listeners a little slice of Southern hospitality on "Lisa Harper's Back Porch Theology." Just like she does when she's speaking at a church or a conference, Harper employs personal anecdotes, easy humor and Scripture-backed lessons to help listeners understand God's plans and purposes for His children. With each episode, the respected teacher and theologian dives deep into the Bible, unearthing practical ways we can apply ancient truths to our lives today.
---
"Made For This," Jennie Allen
IF:Gathering founder and bestselling author Jennie Allen tackles the burning questions she receives from women around the world on her "Made For This" podcast. The mother of four releases two episodes weekly — a shorter offering that showcases her real, accessible approach to teaching and a longer listening experience that features Allen interviewing a special guest. Recent friends of the podcast have included missionary/author Katie Davis Majors, pastor/podcast host JP Pokluda and ministry leader Kathryn Maack.
---
"Proverbs 31 Ministries Podcast," Lysa TerKeurst
Proverbs 31 Ministries president and previous K-LOVE Fan Award winner Lysa TerKeurst hosts the official "Proverbs 31 Ministries Podcast." With a tagline that reads "biblical truth for any girl, in any season," TerKeurst, who's also nominated in the Book Impact category, comes alongside moms, newlyweds and singles to help them navigate everything from anxiety and comparison to parenting and finances. With the empathy of a mother and the experience of a woman who has been tested and come out on the other side, TerKeurst opens the door for relevant discussion and candid dialogue about issues that apply to all women, regardless of age, relationship status or stage of life.
---
"The Alisa Childers Podcast," Alisa Childers
Some might remember Alisa Childers as a member of all-female trio ZOEgirl. Today, Childers is a respected worship leader and apologetics expert who bravely answers questions about all things religion and spirituality on "The Alisa Childers Podcast." Each hour-plus episode digs into sometimes politically divisive topics at the forefront of American culture with Childers harnessing each subject from a biblical point of view. The podcast host has been praised for taking a bold Christian stance on issues deeply shaping culture and inevitably influencing the next generation.
---
"The Candace Cameron Bure Podcast," Candace Cameron Bure
Popular actress, author and entrepreneur Candace Cameron Bure leans into her life experience, Christian values and Scripture-led moral compass for conversations centered around themes that influence the life of every believer: the character of Christ, prayer and purpose. A mix of interviews, candid chats and personal reflection, "The Candace Cameron Bure Podcast" gives listeners more in-depth time with the beloved personality and outspoken follower of Jesus, who brings her sunny demeanor and thoughtful, Christ-centered outlook to every episode.
---
"Unashamed with Phil & Jase Robertson," Phil & Jase Robertson
Former "Duck Dynasty" stars Phil and Jase Robertson — along with Phil's oldest son, Al —share unscripted family stories, hilarious anecdotes and practical wisdom on "Unashamed with Phil & Jase Robertson." Regularly inviting additional members of the Robertson clan to join in on the fun, the podcast takes God's Word outside the four walls of the church to apply its timeless truth to real people, real struggles and real life.
---
Ready to Vote?
Select your favorite artists, songs, films, books, podcasts and more across 10 fan-voted categories.