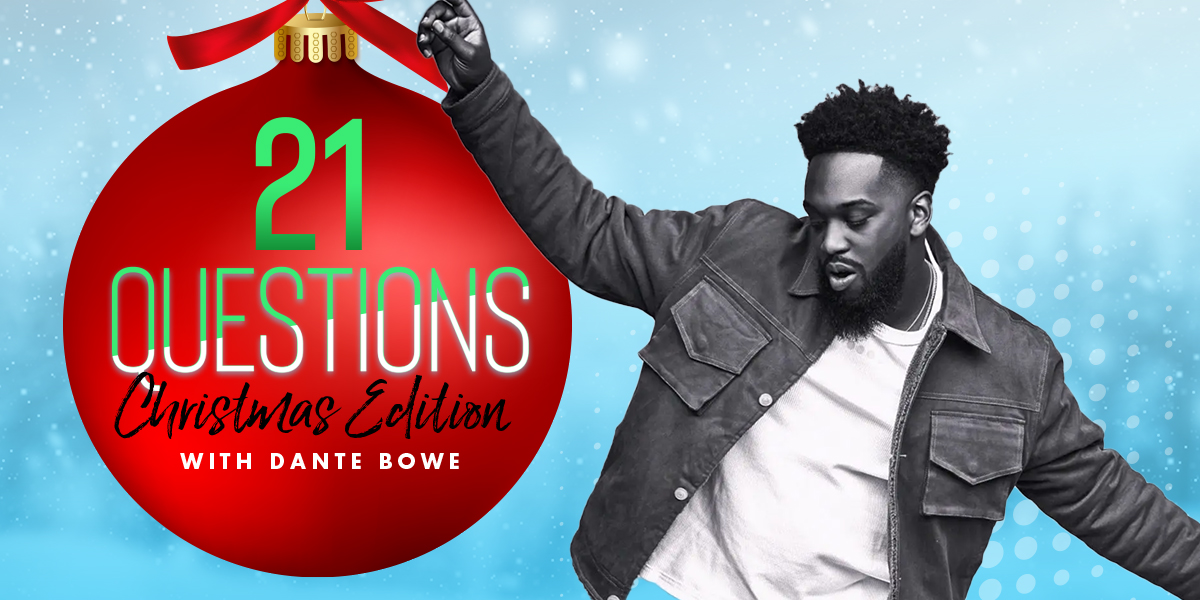 @Dante Bowe was just nominated for an astounding five GRAMMY® Awards, including a nod for his smash hit, "Joyful," which will be vying for "Best Gospel Performance/Song" at the ceremony in January. The singer has been repping his friends in @Maverick City Music lately, co-writing songs for the collective, guesting on their records, and touring with them this fall on their first-ever headlining trek. All of this is in addition to his solo career and the recent release of his sophomore project, circles—an album centered around his family. The up-and-comer will debut new music from circles live next year on tour with @for KING & COUNTRY, but until then, he'll be ringing in the holiday season on the 2021 K-LOVE Christmas Tour. Joined by @Casting Crowns, @Mac Powell, @CAIN, @Jordan St. Cyr and The Skit Guys, Bowe will hit 13 cities through Dec. 19 when the celebratory outing wraps in Cedar Park, Texas.
WATCH NOW: "Joyful" [Official Music Video]
RELATED CONTENT: Dante Bowe Debuts "Joyful" New Single
KLOVE.com recently tracked down the GRAMMY® nominee for a Christmas edition of "21 Questions." The busy singer had to head out early to tour rehearsals, so he only had time to answer 19 (close enough!). However, he didn't leave before telling us about his grandmother's holiday smorgasbord, the one Christmas he spent in Israel, and the part of the Nativity story that always makes him laugh.
---
K-LOVE: Favorite Christmas memory of all time?
Dante Bowe: Every year gathering with my family. It always seems special when we just get to be together after a long year.
K-LOVE: Best Christmas gift you've ever received?
Dante Bowe: Those little mini motorcycles my mom got me, my brother, and my cousin when we were younger. Those were really cool! They were electronic; so we could sit on them and relax.
K-LOVE: Christmas song you wish you'd written?
Dante Bowe: "The Christmas Song." That's a really good song, and it's classic.
K-LOVE: One Christmas movie you watch every single year?
Dante Bowe: I don't watch movies every single year, so I don't know. There's not a movie I watch religiously on Christmas.
K-LOVE: Favorite Christmas food?
Dante Bowe: Soul food. But, ultimately, it's just my favorite food.
K-LOVE: Christmas tradition you wish you had carried into adulthood?
Dante Bowe: We didn't have many traditions, but I've carried the Christmas spirit throughout adulthood. That's what I felt our family really did well—just being festive!
K-LOVE: Most meaningful ornament on your tree?
Dante Bowe: You know, I don't have one of those. We get different ornaments every year pretty much. Growing up, my mom liked to decorate the tree differently. Every year it was different colors, different themes, and stuff like that. We never had that one ornament we had to have. For a few years, we did have a black angel at the top of the tree. That was something I remember seeing every year.
K-LOVE: Family recipe or treat that's only made during the holidays?
Dante Bowe: My grandmother will fix food and treats that she fixed the entire year. It's just like one big meal collab—kind of like all the meals we ate the entire year. Everything she makes on the holiday she just makes period! We ask for it on the holiday, because it's a special day.
K-LOVE: Strangest place you've ever spent Christmas?
Dante Bowe: Israel. I spent one year in Israel. That was actually great.
K-LOVE: Finish this sentence. It's not Christmas until...
Dante Bowe: I've purchased all my gifts for my family and friends. Then I feel like, "OK, it's Christmas," and I can relax.
K-LOVE: All-time favorite Christmas song?
Dante Bowe: "The Christmas Song," that's a good one.
K-LOVE: Artist you're most excited to get to know on the K-LOVE Christmas Tour?
Dante Bowe: All of them. I'm excited to get to know everybody that's on tour, from the artists to the sound people to the tech people. I'm just excited to meet new people.
K-LOVE: If you can't be home for the holidays, the only place you'd rather be?
Dante Bowe: Probably the studio for the holidays, maybe working on a project. I wouldn't rather be there, but if I had to choose, I'd say the studio.
K-LOVE: Favorite passage of Scripture from the Christmas story?
Dante Bowe: I don't know if I have a favorite Scripture from the Christmas story in and of itself. I love the story of Mary and Joseph and the birth of Jesus. My favorite line in the Christmas story is when the angel came and told Joseph to "fear not." I always love when angels would come and startle people and then tell them, "Don't be afraid. I'm just an angel from heaven." I think that's funny.
K-LOVE: Christmas music before or after Thanksgiving?
Dante Bowe: I vote Christmas music all year! Whenever you feel like it. 'Cause sometimes it just gets you in a good mood, and it's some classic music.
K-LOVE: Artist you'd most love to record a Christmas duet with?
Dante Bowe: It would probably have to be Michael Bublé, and maybe a crazy arrangement of "Silent Night." That would be cool!
K-LOVE: Christmas record you have on repeat all December?
Dante Bowe: Lauryn Hill. I keep her on repeat all year. I don't really listen to a bunch of Christmas music on repeat, because you don't have to. You can just walk into the mall, walk into the restaurants, walk on the streets—you hear Christmas music everywhere. Whatever the streets are playing is what I'm listening to all December.
K-LOVE: White lights or colored lights?
Dante Bowe: Both! White lights if you are trying to keep it clean, sleek, and classic. Colored lights if you've got some kids, and things just need to be fun. You don't have to be so serious. Do some color, especially if you've got kids!
K-LOVE: What Christmas means to you?
Dante Bowe: Laughter. Joy. Peace. Reflecting on all the good things, because that was the point. Jesus came to save the world. I think He is the center-point of Christmas. Everything revolves around Jesus: goodness, love, peace, laughter, family, all that good stuff!
Grab your tickets to see Dante Bowe live on the 2021 K-LOVE Christmas Tour here.
RELATED CONTENT: Casting Crowns, Mac Powell, CAIN, Dante Bowe and Jordan St. Cyr Take Joy & Hope on the Road for the 2021 K-LOVE Christmas Tour
---
Don't Miss a Beat & Sign Up for K-LOVE's Music Updates!
Get monthly emails with updates on new music, videos, and exclusives from your favorite Christian artists on K-LOVE!
Stay Informed
Go behind the scenes of Christian music, culture and entertainment.