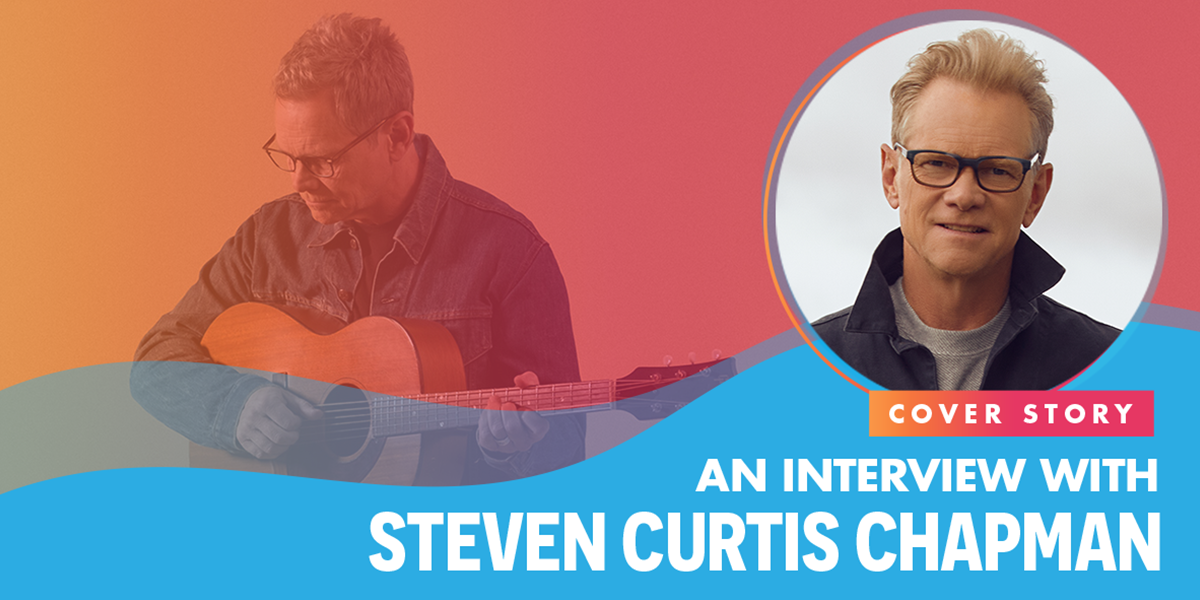 He might be one of the most successful Christian artists in history, but just like the rest of us, @Steven Curtis Chapman suffers from insecurity. Three-and-a-half decades into his iconic recording career, the beloved singer/songwriter approached his latest album, "Still" — out Oct. 14, 2022 — with a bit of trepidation. It seems tremendous success presents its own unique set of challenges. Although Chapman has 49 No. 1 hits to his name, one question loomed in the back of his mind as he set out to craft his first collection of original music since 2016's "Worship and Believe:" Can I do it again?
"It's kind of ridiculous how many things you can wrestle through, but I had to battle a lot of voices in my head," the father of six admits. "I don't want to sound like a whiner. Gosh, the fact that I have 35 years worth of music where people say, 'Man, that record changed my life' — that's just an incredible blessing. But it's a double-edged sword sometimes, because people will hear a new song and say, 'Hey, that was really great. Cool song. But you know, there's never going to be another 'Great Adventure' or another 'Speechless.'' And I started thinking maybe they were right."
Ironically, it was a series of recent losses that ultimately pushed Chapman to write, record and release an album of all-new material. His longtime keyboard player and music director, Brian Green, died of COVID in 2021. Then, just months after being diagnosed with brain cancer, his brother-in-law passed away unexpectedly at 62.
Chapman is no stranger to devastating loss, of course. In 2008, his five-year-old adopted daughter, Maria, was tragically killed in an accident at their family home. It's a searing grief that will haunt the singer for the rest of his life. "Until we go home to be with Jesus and see our daughter again, we're going to be processing that loss, that grief," he says, "and all of that was brought back to the surface again with all the loss around us and all that's happened in the last few years."
One might assume, by now, Chapman knows how to navigate death better than anyone. Yet, when fellow artist @TobyMac lost his son to a drug overdose in 2019, the singer says he felt unqualified to dispense advice. "Sometimes I feel like I might be the last person he would want to talk to, because if I'm honest with him, which I'm going to have to be, I'm not going to say, 'Hey, hang in there this many years, and it's all going to be way better,'" he says. "What we know, maybe more than most, is how long of a journey this will be and how many answers you wish you had that you don't have."
The recent BMI Icon Award recipient notes that no two deaths are the same. Toby's experience of losing Truett didn't mirror the loss of Maria. They were two very different, very complex situations. Regardless, Chapman and his wife, Mary Beth, did their best to encourage those closest to Toby's family with the one piece of advice they've learned firsthand: "They're going to need you as much in five years as they need you right now."
"Grief is just a tearing, ripping thing that leaves wounds," Chapman shares. "People kind of cocoon you in when something like that first happens, but then life speeds back up. It's not anyone's fault. Life gets back up to speed for everyone else, but you still carry that sadness. Mary Beth and I talk about that a lot. And honestly, because of that, there are seasons of time when in some ways we're not the most fun people to be around. We know there were a lot of times we were pretty miserable to be around."
Despite unspeakable loss, Chapman remains convinced of the goodness of God. And that is why he eventually silenced the inner-critic in order to do what he was born to do.
"I finally just pushed those voices back," he affirms. "I sat down with my guitar or at the piano, and with tears flowing down my cheeks, I thought, 'You know what? Whether these are the best songs I've ever written or not, who's to say? But I know they're moving me, and I need to say these things. And if I need to say them, I bet there are some people who need to hear them.'"
RELATED CONTENT: Steven Curtis Chapman Implores Listeners: "Don't Lose Heart"
"Still" serves up a dozen tear-stained tracks that beg to be heard, songs that communicate Chapman's heart in poetic form. His vocal audibly wells with emotion on selections like lead single "Don't Lose Heart" and the title-cut. When delivered by a man who has shouldered his share of heartache, lyrics like the ones from the album's autobiographical namesake hold even greater weight: "I've wrestled, then I've rested, and I've trusted, then I've tested God's patience like a foolish man… It's been beautiful and terrible, more painful, more wonderful than I ever could have known, but even so, still, I'm going to sing."
WATCH NOW: "Don't Lose Heart" Official Music Video
Like he always does, Chapman distilled his emotions into "Still," crafting the project with a small, handpicked group of trusted collaborators he refers to as "the dream team." His lineup of MVPs included longtime friend and producer Brent Milligan (@Tauren Wells, @Rebecca St. James), who's steered Chapman's most recent efforts; revered producer Ben Shive (Colony House, @Brandon Heath); and new co-collaborators Bryan Fowler (@TobyMac, @Anne Wilson) and Micah Kuiper (@Jeremy Camp, @Newsboys). To round out the group, Chapman called on his sons, Caleb and Will — members of alternative rock band Colony House and both talented musicians in their own right. In the midst of recording a new Colony House record, the boys carved out a couple weeks back in January to join their "Pops," as they call him, in the studio. Caleb plays guitar on the album, and Will plays drums; both boys hold co-writing credit on several selections.
Chapman, who's often spotted sporting Colony House merch, sees a lot of himself in his adult children. "Honestly, the stuff they come up with in their band is so creative and so much cooler, I think, than anything I would ever come up with," he says. "Caleb will invite me into the process sometimes, like, 'What do you think?' And I'm always very careful about even any suggestions or ideas that I give, but I will offer them if he asks. Usually, he'll take what I suggest and mull it over, spin it around in his head, and then he comes out with something way cooler."
His sons brought youthful energy to "Still." Fowler and Kuiper added fresh perspectives, and Milligan and Shive contributed the sure and steady prowess of seasoned veterans to produce a well-rounded project that's authentically Chapman from front to back.
Sonically, some of the album's more upbeat songs hearken back to his "Dive" days. The 59-time GMA Dove Award winner was inspired to add a little more groove back into his sound after his drive-in theater tour with @Michael W. Smith and @Mac Powell during the pandemic. Unable to bring out a full slate of musicians, the three established artists formed their own house band in a sense — performing together on stage and singing one another's hits. It was an exercise that encouraged Chapman to incorporate some offerings into his latest batch of songs with his live band in mind.
He's planning a headlining tour for spring, where he's excited to share new material. Yet, he recognizes fans buy a ticket to hear the hits, and he's planning a setlist that will serve to honor both the current chapter and previous eras of his career.
"I love getting to see the songs that represent mile markers on so many people's journeys of faith," Chapman says. "I will see couples with a lot of battle scars in the audience holding each other with tears in their eyes when I sing 'I Will Be Here' going, 'Hey, remember when that song was sung at our wedding however many years ago?' And that's an incredible gift."
RELATED CONTENT: Steven Curtis Chapman Interview with Skip & Amy
While he enjoys looking back, he looks forward with a great deal of courage and hope, too, despite the deep valleys he's walked through. "I still love making albums. I love taking people on a journey, and this album does that," he says of "Still." "I can't not sing these songs. I can't not record these songs and write these songs because God is still faithful and true. I am going to choose to anchor my heart in this truth, because I have seen it. I have experienced it over and over. There's a whole lot of life that's changed and a lot of things I don't know. But what I do know is I am as compelled as ever to sing about these things and tell these stories."
Chapman simply hopes the new stories he tells on "Still" will resonate with hearts, offering hope to those, who like him, are simply trying to figure life and faith out day by day. After all, his songs continue to be rooted in everyday life. Perhaps that's been the secret to the Kentucky native's success all along. Turns out, he's grappling with the same insecurities everyone else is; he's just wrapping a melody around his wrestling.
These days, there's a lot of life outside the confines of his own head to spark the next "Lord of the Dance" or "Heaven in the Real World." Officially empty nesters, he and Mary Beth spend most weekends he's not on the road at Bryant–Denny Stadium where their daughter, Stevey Joy, cheers for the University of Alabama. And their calendar's also littered with Little League games, school musicals and dance recitals courtesy of their six grandchildren, who are already giving Chapman "Cinderella"-level inspiration.
"If I know me, I'll probably have more things to write before it's all over with," he confesses. "I never imagined I was going to have the success or all the things that have come with these songs. From day one, I've always just sat down to write saying, 'God, I've got something stirring in my heart.' And songs have always been the best way I know to process it. So, ultimately, if someone somewhere says, 'Man, I just needed that song so much; I needed to hear that,' then mission accomplished."
---
Don't Miss a Beat & Sign Up for K-LOVE's Music Updates!
Get monthly emails with updates on new music, videos, and exclusives from your favorite Christian artists on K-LOVE!