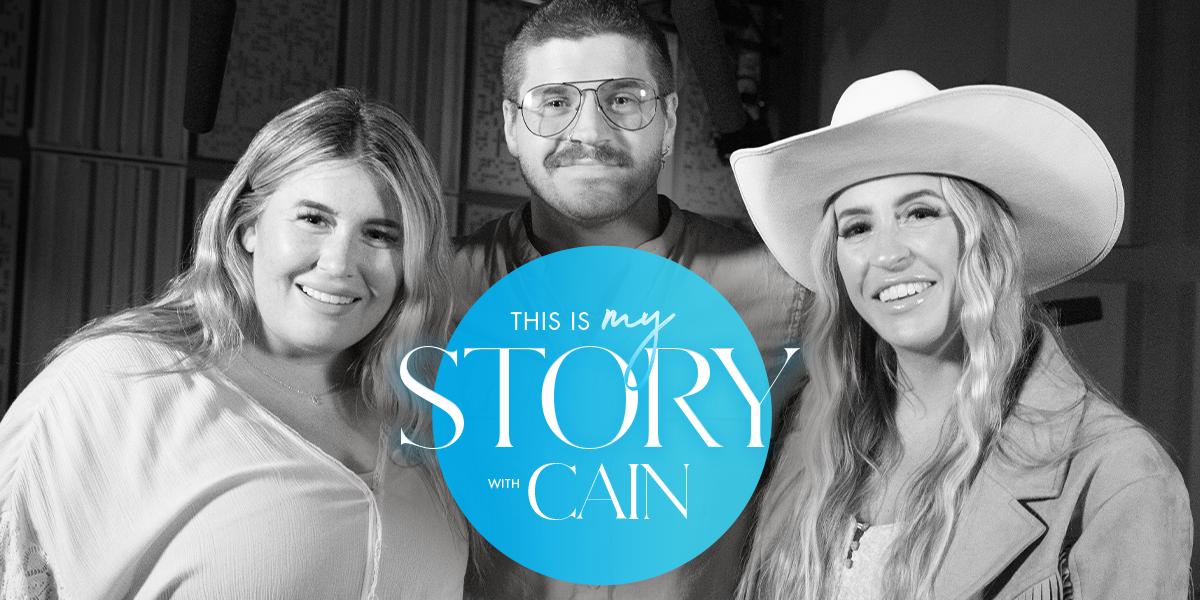 "I want to say this because I've never said it on camera - everything that we are giving to the world, the best that I have to offer, is not enough. And that was like the deepest root of the whole problem."
The Cain siblings had reached a crossroads.
Madison, Taylor and Logan, who make up the band aptly titled with their family's surname, @CAIN knew something had to give.
For five years, they had been traversing around in a van, playing bars and singing songs, trying to make it in Country music. Successes weren't absent, but they weren't plentiful, either.
Eventually, the dream seemed to be all but gone.
"We finally had to call it what it is, right?" Madison recalled. "That we were unsuccessful. There's nothing coming down the pipeline for us."
WATCH NOW: "This Is My Story with CAIN"
The music began to flow at an early age from their family home in Alabama, and with parents as pastors, the melodies were present in the church, too. Taylor, the oldest, Logan, the youngest, and Madison are all within a few years of age – and are about as bonded as three siblings can get. They shared a bedroom in their childhood house before later residing in a duplex during their college days at Troy University.
They knew they could carry a tune, but the Cains had never seriously pursued music as a career. But that latter stop together in college was when the trio made a discovery of their own.
"We were sitting in our living room, we were just messing around, and we found this three-part harmony," Madison said. "It's like, 'How have we been doing music for so long before we found that we could do this together?'"
Around that same time, one of Taylor's friends had mentioned a contest with a spot opening a show for @Dave Barnes as the grand prize, and the three were interested. A homemade music video with the siblings covering Whitney Houston's ever-popular "I Wanna Dance With Somebody" garnered enough attention to eventually lead them to win the entire thing.
Their grandfather, who was in the Country music publishing business, thought the siblings might have a chance to make something out of their talent, which had now become readily apparent.
"He approaches us after this concert and says, 'Would you guys want to give this a go?'" Madison recalled. "It was the first open door of anyone saying, 'I think you can do this.'"
RELATED CONTENT: Family Matters: 21 Questions with CAIN
But just playing music is one thing – making it in the business is entirely different.
They put their heads down and got to work, eventually getting a song on Sirius XM's The Highway and later playing a CMA stage as well. But each high only turned into another low, and five years later, they weren't sure any of it was worth the exertion.
"When it's time to make money, when you're pursuing Country and you don't have a record deal, what that means is you play in bars," Madison said. "And I had gone from never being in a bar to doing four-hour sets in bars, driving through the night in a van."
"After five years, you're like, 'There's nothing rewarding about this experience,'" Logan said. "Why am I still chasing this?"
The siblings say they were depressed and dealt with anxiety over the whole experience as they began to realize there was nothing coming for them - at least in that realm.
"In retrospect," Madison said, "I feel like God was teaching us that our best effort was never going to get us where we were supposed to go."
They didn't know it at the time, but that's exactly what He was doing.
After getting off the road, the Cain siblings returned to church, but they wanted to lay low and keep their instruments stowed away for a bit. Eventually, they led a worship service, and they had decided if that opportunity was the best chance they'd have in music for the rest of their lives, that was just fine with them.
But God had so much more in mind.
The trio's big break came when their now manager – Ron Smith, who was in the crowd that day – said he had one shot to take their recording to a friend of his and get it in front of a label. That session delivered a phone call asking the band to come in "immediately" for an in-person meeting. The trio's track sparked interest in playing the song for the Country side of the label, but there was a Christian option as well.
"So, we sit down, and we're like, 'Let's just try to write a Christian song,'" Madison said. "The joy was immediate."
RELATED CONTENT: CAIN Unveils "The Commission"
"And so, by God's grace, we got a meeting with the label," Taylor said. "We walked in, and we got to play the song that we had written – five minutes and all – but with so much heart, so much joy, and we were set free from all those years of just the heartache… Three weeks later, we were offered our first record deal ever as CAIN, the band."
The siblings now realize that all those years on the road in a van traveling to places they didn't really want to be weren't wasted – God was just preparing them for the lives they live now and the joy they bring to the world through the music they were always destined to create.
And now, those three-part harmonies are heard in living rooms near and far.
"This is the testimony of God's faithfulness," Logan said. "In all of our attempts to get away from it, music remained in our lives and God was preparing us for the life we live now."
"When God calls you to lay something down, it's all you have, so it feels like it's a lot," Madison said through her emotions. "But compared to what He's about to give you, there's so much more freedom in doing it God's way."