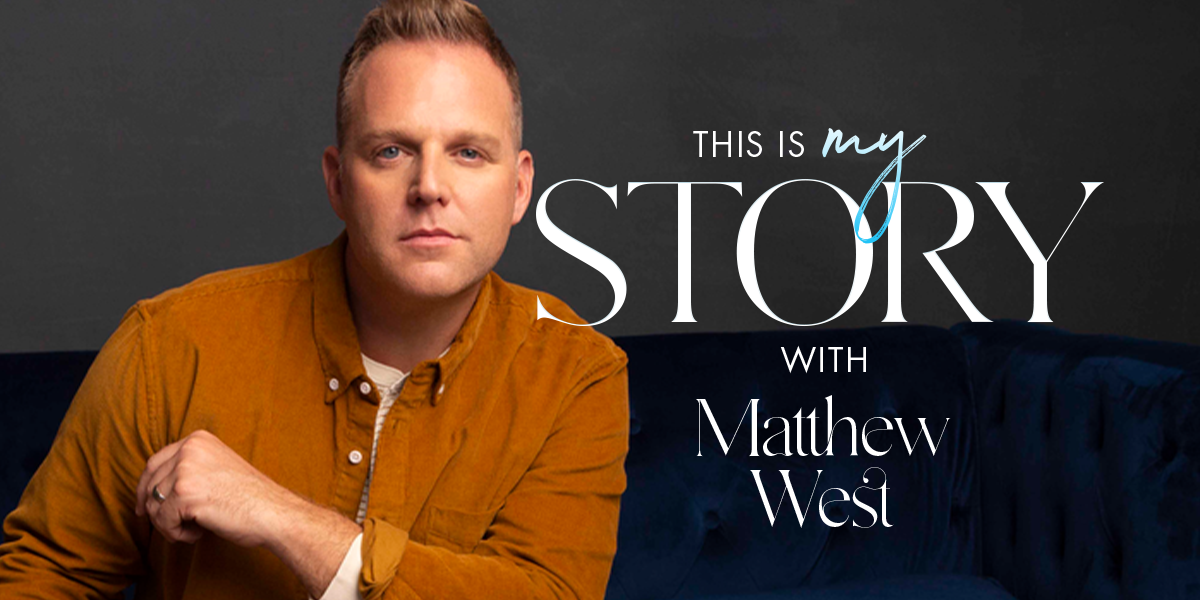 @Matthew West thought he'd be hitting home runs and turning double plays in the major leagues.
In fact, seeing his name in print as a senior in high school while growing up in the Chicago suburbs caused him to believe he didn't need to worry about anything else.
"The Chicago Sun-Times newspaper put out a list on the back page on the sports page of all the top college prospects, and I saw my name at the top of the list for first baseman," West recalled. "So, I remember I cut that article out, took it with me to all my classes and when my teachers asked me why I wasn't doing my work, I slid that article across the desk and I said, 'It's because I'm going pro.' It turns out I was so good at baseball that I'm sitting here talking about how I got into music.
"So, I'm thankful for the dream that didn't come true."
Instead, that latter tract began to work out just fine - until his most important tool was almost taken away from him.
"It kind of put some really negative thoughts in my head," West said. "Like, 'Oh, OK, so just like my dream of baseball is over, now this thing that I was chasing after is over."
WATCH NOW: "This Is My Story with Matthew West"
As he matured and the path of becoming a professional athlete began to dwindle, West turned more and more often to music, a journey that was beginning to provide numerous successes. But just as his career really began to take off, West knew something wasn't right with his voice.
"Instead of getting on stage somewhere and doing what I was born to do, I was being wheeled in for surgery at Vanderbilt Hospital in Nashville … and the doctors had warned me that even with this surgery – it was just to make sure that I could talk again – but there was a high likelihood that my singing voice would never be the same."
West had to sign a waiver prior to the procedure, and he says the contents of the document were serious enough that his mind wandered to a dark place with thoughts of never being able to speak – let alone sing – again.
"I'm sure that in the moment God was trying to teach me some powerful lessons," West said. "There are some times in your life where if you're just being honest, you don't want to receive the lesson. You just are in the moment of, 'What the heck?' I was using my gifts for God, and yet, it was being taken away. I was in a pretty dark spot."
Following the procedure, doctor's orders were to spend several weeks in total silence, not necessarily an easy task for someone who makes a living with their voice. But, West obeyed, and the songwriter in him titled the period his, "Season of Silence," a time the father of two says was often filled with discouragement and depression.
West says he spent hours writing in his journal while spending time by himself, and eventually, he began to embrace the situation.
"I felt like Psalm 46:10 [which reads, in part:] "Be still, and know that I am God!" was coming to life for me in a whole new way. And it is such a struggle for me to see striving like the Bible tells me to, to be still and be reminded who's in control. And so, I look back now, and perhaps it's one of the most – if not the most – precious seasons in my journey of faith were those times that I had with the Lord where I was physically unable to do this, because I like to do this."
RELATED CONTENT: Matthew West Tells A Story of Ultimate Sacrifice On "Me On Your Mind"
West does all of "this" – the talking, singing and bringing fans closer to Christ through his music – rather well. But along the way, West came to the realization that maybe he needed to stop and listen for a moment, too.
"I'm thankful for that conviction in my life because those are the moments where I've gone, 'OK, Lord, forgive me if I've perfected the art of talking about you, but I forget to be plugging in and spending time with you.' Because that's my lifeline and that's the truth."
Now a five-time GRAMMY nominee and multiple ASCAP Christian Music Songwriter/Artist of the Year award winner, West has come to embody that truth in his work and his everyday life. Even though most see him on stage when he's at his best, West also wants his fans to know he's more like them than he may appear.
"[The last thing] a lost and hurting and broken and searching world needs to see is a good Christian pretending he's got it all together, and yet that's exactly what we're attempting to do every single day," West said. "You don't have to be a singer to feel that way. I guess these days I'm on a mission to find the most authentically flawed version of me and then write songs from that place and hope that people can hear that song and go, 'OK, I'm not the only one who's still figuring it out. I'm not the only one who's still messing up and falling down. But thank God for His life-changing grace.'"
The kid from the Prairie State thought he'd be inspiring others with his work on a baseball diamond. Instead, he does so with his voice, his heart and his faith.
And for someone who thought he'd be well-known for a different kind of trade, West now knows God had a plan all along.
"I feel like the Lord has shown me that we focus so much on the best things that ever happened to us, but a lot of times I can look over the course of my story and think about the best things that never happened to me," West said. "The door that closed is what led me to God's true calling from my life."