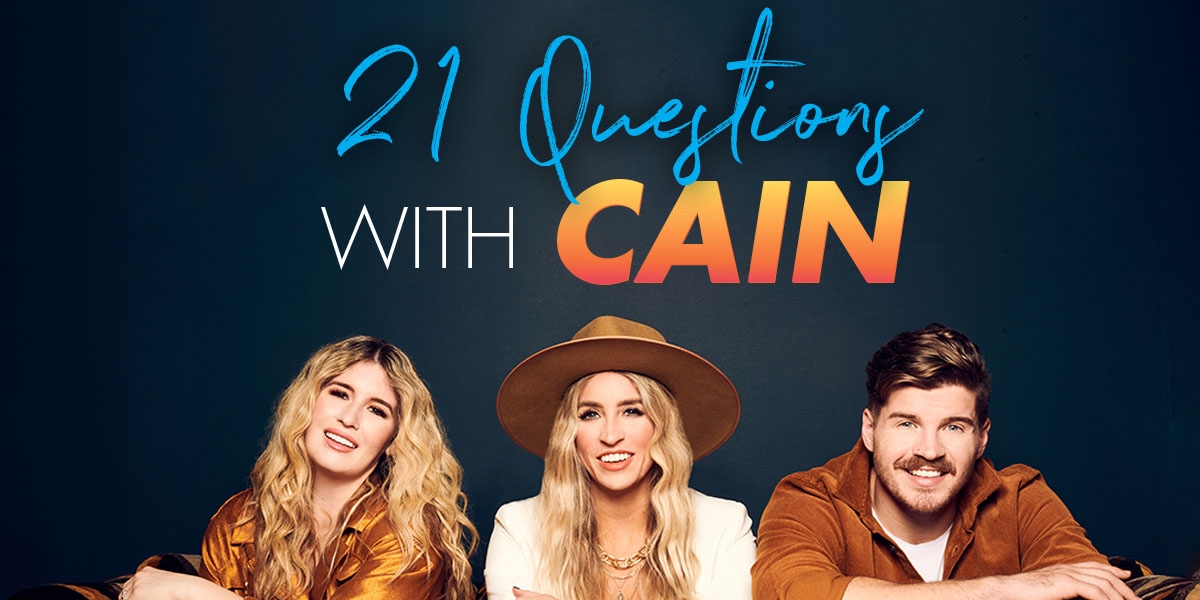 New sibling trio @CAIN—comprised of Taylor Cain Matz, Madison Cain Johnson, and Logan Cain—have a hit on their hands with the debut single "Rise Up (Lazarus)." The song comes from their six-song self-titled EP, which released earlier this year officially introducing listeners to the group's familial three-part harmony.
The preacher's kids grew up sharing a room in Alabama, where they developed their voices by harmonizing when they weren't homeschooling together. They're currently opening select socially-distant shows for I Am They, and they're scheduled to reprise the "Rescue Story Tour" with @Zach Williams and @We The Kingdom next year.
KLOVE.com threw out 21 questions to the rising act where CAIN gushed over their favorite bands, shared memories from high school, and reminisced about their recent trip to Joshua Tree to film their first-ever music video.
WATCH K-LOVE ON DEMAND: CAIN Live at The Ryman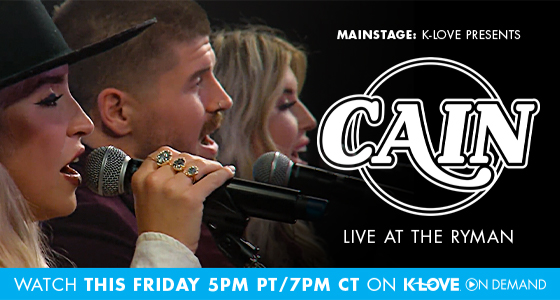 1. Favorite lyric from "Rise Up (Lazarus)"?
Every time I hear "the voice of Jesus calling us out from the grave like Lazarus," it makes me so proud. I always want to glorify Jesus' name in every way, so to have the opportunity to literally sing His name gives me so much joy. —Logan
WATCH NOW: "Rise Up (Lazarus)" Official Music Video
2. Favorite thing about former (and future) tour mate Zach Williams?
We were blown away by how much he included us. Right from the jump, we circled up with him and his band to pray before the show. He watched our shows and encouraged us afterward. We all ate together. As a new act—the opener's opener—we weren't expecting that level of inclusion. He is the real deal! —Madison
3. Best memory of growing up in Alabama?
Friday night lights! Every fall Friday night in high school was magical. My senior year, specifically, was so fun, because all three @CAIN kids were in high school together. Friday nights around 7 p.m. consisted of Logan hustling on the football field, while Madison and I cheered him on. What a dream. Go Tigers! —Taylor
4. Bible verse that's personally impacted you?
2 Corinthians, chapter 5 in its entirety is really wonderful to me. But verse 21 especially, because I'm always trying to think about how someone who wasn't raised to be a Christian might read the Bible. That verse sums up the Gospel so well to me: "For God made Christ, who never sinned, to be the offering for our sin, so that we could be made right with God through Christ." —Logan
5. Most memorable concert you ever attended?
I am a huge @NEEDTOBREATHE fan. One time when I was in college, I drove to see them on a Wednesday night, then drove home through the night to make it back in time for my 8 a.m. class. I fell asleep during class, but I'll never forget that show. —Logan
6. Favorite new artist you're currently listening to on repeat?
Chandler Moore [@Maverick City Music]! If you haven't listened to his buttery smooth voice, then you gotta do it now! —Taylor
RELATED STORY: CAIN Releases Official Music Video For "Rise Up (Lazarus)"
7. What you'd be doing if you weren't pursuing a career in music?
Ahh, the question I asked myself for years while questioning if music was ever going to work out. While pursuing this crazy career, I drove for Uber; I was a receptionist, and I edited freelance videos. If music hadn't panned out, I would probably work in marketing, graphic design, or video editing… because that's what I do now for the band. —Madison
8. Best aspect of leading worship at your local church?
Leading worship at The Hills Nashville is such an honor. No single voice or instrument stands out; we all sing as one! It brings me back to the meaning of why I do music at all...Jesus. Using my God-given gift to bring people into His presence, now that's just special. —Taylor
9. Three words that describe your fashion sense as a band?
'70s, colorful, monochromatic. —Madison
10. Favorite career moment to date?
Our first night on tour with @Zach Williams and @We The Kingdom. We had worked for seven years to get to that point. The room was full of emotion and the night full of expectation. When we sang our last note, the crowd erupted; and I saw something I never expected—a standing ovation. That was such a wonderful experience and an indescribable feeling. —Logan
11. Favorite album cut from your debut EP?
"The Commission." Wow, that song still makes me cry every time I sing it. I started watching a TV show called "The Chosen." This show really portrayed the life and ministry of Jesus in such a real way. I was so inspired by it. We decided to take a passage of Scripture like "The Great Commission" and turn it into a story about Jesus saying goodbye to some of his best friends. It just made the Bible come alive for me again. How amazing that we get to not only write songs about Jesus the King in power but also about Jesus the man, who felt every human emotion you and I feel. —Taylor
12. Item you never tour without?
I have a neon green sweatsuit that works for any tour situation. I can sleep in it, soundcheck, go explore new cities in it. If we need to do a quick photoshoot, no big deal because I'm wearing my neon suit. It hasn't quite made it to the stage, but I'm working on getting Taylor and Logan one, too. —Madison
13. Most significant lesson you've learned since signing a record deal?
I cannot say enough about how wonderful our team has been to us. But I'll admit, my perspective on everything has changed so much since signing. Signing a deal really meant gaining a business partner. For lack of a better analogy, the label is NASA, but I still have to provide the rocket. Signing really means the beginning of the work, not the finish line. —Logan
14. Favorite Nashville restaurant (and what you order there)?
Favorite restaurant is Virago! I order way too much. Start out with Crispy Brussels, Coconut Jasmin Rice, and THE BOMB sushi roll. —Taylor
15. Best thing about 2020?
Honestly, when my husband and I got COVID-19. The first few days were hard. We felt really cooped up, but we played games together. We took walks. We watched all kinds of movies. There was literally nothing we could do but spend time together. I owe God a lot of apologies. This year has turned out to be one of my favorite years. I wish I could learn at some point to trust Him, thank Him, and believe that He truly is working everything out for good. —Madison
16. Best part about singing with your siblings?
I absolutely wouldn't have pursued music if I had to do it alone. Having the girls by my side makes all of the difficult days easier. It is so vital to have people with you who can constantly remind you of why you're doing what you're doing. Without vision the people perish, right? We have to be there for each other in the moments when the vision gets blurry. —Logan
17. Song you'd like to cover on Instagram?
We just did an in-studio cover of "Egypt" by @Cory Asbury... I would love to present that to Instagram in a live performance. —Taylor
18. Other band names you considered?
They were all Cain-based. We've always been known as "The Cains," "The Cain Family." We had no idea the dust it would kick up in the Christian music community. I never thought of people thinking we were siding with Cain from the Bible. We are definitely on Abel's side. We just like our last name. —Madison
19. Most vivid memory of the day you shot your first official music video for "Rise Up (Lazarus)"?
Toward the end of the first day, we were shooting our final scene on top of the mountain at sunset. Our director (Josh Harrison) stopped us and said, "Just look at where you are right now." I was so thankful to be working with a crew that allowed us to stop and take in that moment. It was one of the most beautiful things I'd ever seen, and it was a perfect visual representation of where we are in life. I can confidently say we have been surrounded by God and blessed in ways we couldn't have imagined. —Logan
RELATED STORY: Sibling Trio CAIN Calls Listeners to Rise Up With Debut Song
20. The downside of being in a band with your siblings?
Oh boy. The reality of being in a band is that we ALWAYS represent each other. If Taylor says something, it's as if I said it. Whatever choices we make reflect on the other two. So there's a temptation to make your siblings say and do things EXACTLY like you would do them. So we walk that line every day. —Madison
21. Three artists who have inspired you the most?
@Steven Curtis Chapman, @NEEDTOBREATHE and Fleetwood Mac. SCC is a legend, and I grew up listening to his music from the early age of two. He is a storyteller and made me fall in love with writing songs about Jesus and the journey of a believer. @NEEDTOBREATHE, wow! We have loved every single piece of music they put into the world. Their harmonies, melodies and stylistic production make them stand out among the rest. We draw so much inspiration from them. Fleetwood Mac did a great job of blending male and female voices together. They are geniuses when it comes to background vocals and harmonies and organic instrumentation. I love their sound, and we get compared to them often. —Taylor