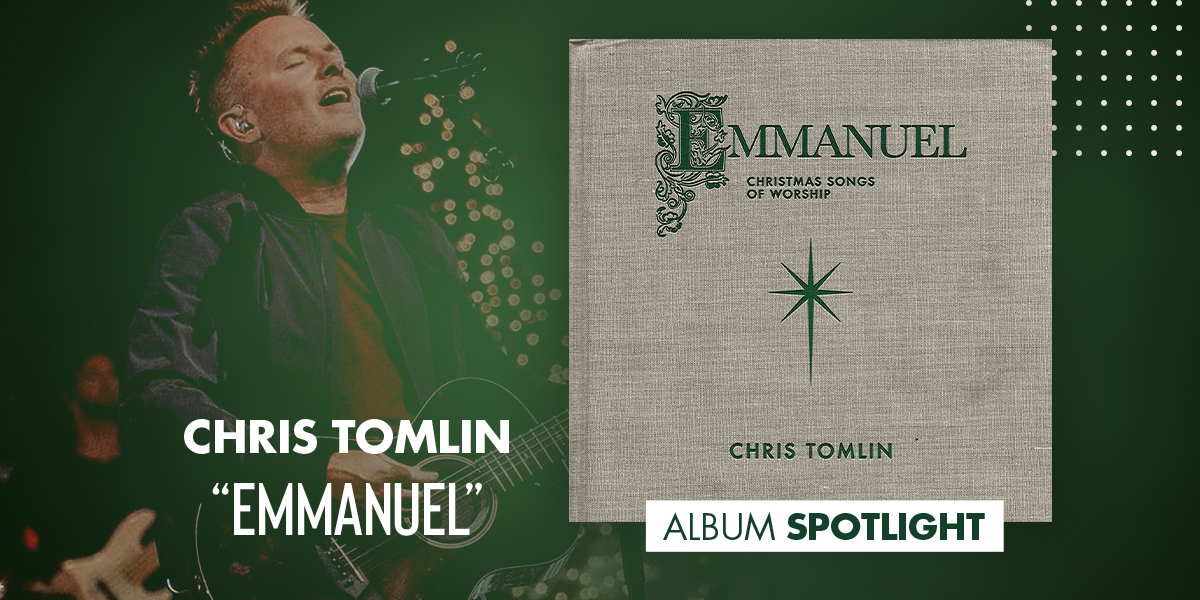 In recent years, @Chris Tomlin has become as synonymous with Christmas as he is with worship. The revered songwriter has a tradition of releasing new holiday music each year right before he embarks on his annual Christmas tour. For 2021, Tomlin released a reverent 12-track collection that draws on previous work and introduces a few brand new songs.
Emmanuel is his third installment in a series of "Christmas Songs of Worship" records that continue to cement him as a leader in the holiday music space—an appropriate position for an artist who has given his life to writing songs that usher people into the presence of the baby in the manger year-round.
The live album—produced by longtime Tomlin collaborator Ed Cash (@We The Kingdom)—was recorded at Nashville's Ocean Way Studios, a Music Row recording studio that was once a church. Four of the selections are borrowed from 2020's Miracle of Love EP, but this time, Tomlin gives each track an expansive live treatment. Tracking the project in real time in the same place where he captured 2009's Glory in the Highest and 2015's Adore make the welcoming Emmanuel feel all at once both familiar and new.
The congregational-friendly title-cut, "Emmanuel, God With Us," and the bluesy "Hallelujah," featuring Blessing Offor, serve as the collection's two brand new originals—both notable additions. Offor, Tomlin's latest signing to his label imprint Boyer & Bow, is just one of the many talented guests Emmanuel highlights. As is his custom with previous Christmas offerings, Tomlin enjoys giving fellow artists a moment in the spotlight.
WATCH NOW: "Emmanuel, God With Us"
We The Kingdom joins him for the triumphant "Christmas Day," written by all five members of the family band. The cornerstone track is also featured on We The Kingdom's very own A Family Christmas EP that dropped in October. The incomparable @CeCe Winans lends her powerful voice to a soaring rendition of "O Holy Night." And singer/songwriter @Matt Redman joins Tomlin for a Christmas edition of "Crown Him," giving the traditional standard a festively regal arrangement led by two of the most well-known worship leaders in the world.
WATCH NOW: "Christmas Day" with We The Kingdom
WATCH NOW: "Crown Him (Christmas)" (Live) feat. Matt Redman
Elsewhere, Tomlin himself adds his gentle, serene vocal to classics like "I Heard The Bells On Christmas Day," "O Come, O Come Emmanuel" and "O Little Town of Bethlehem."
The father of three will perform 12 Christmas concerts in 10 cities throughout the month of December before embarking on the epic "Tomlin United Tour" in 2022. In addition, the award-winning artist will appear on "CMT Crossroads Christmas" with Brett Young and friends on Dec. 8 before closing out the year with a performance of "Christmas Day" on "Good Morning America" Dec. 22.
RELATED CONTENT: Chris Tomlin is Staying Home for Christmas, Welcoming a Child, and Collaborating With Country Superstars
Currently, fans can catch a special one-hour event that features videos from the live recording of Emmanuel: Christmas Songs of Worship, an exclusive acoustic performance of "Silent Night," and an interview with K-LOVE DJ Lauree Austin on K-LOVE On Demand.
Stay Informed
Go behind the scenes of Christian music, culture and entertainment.