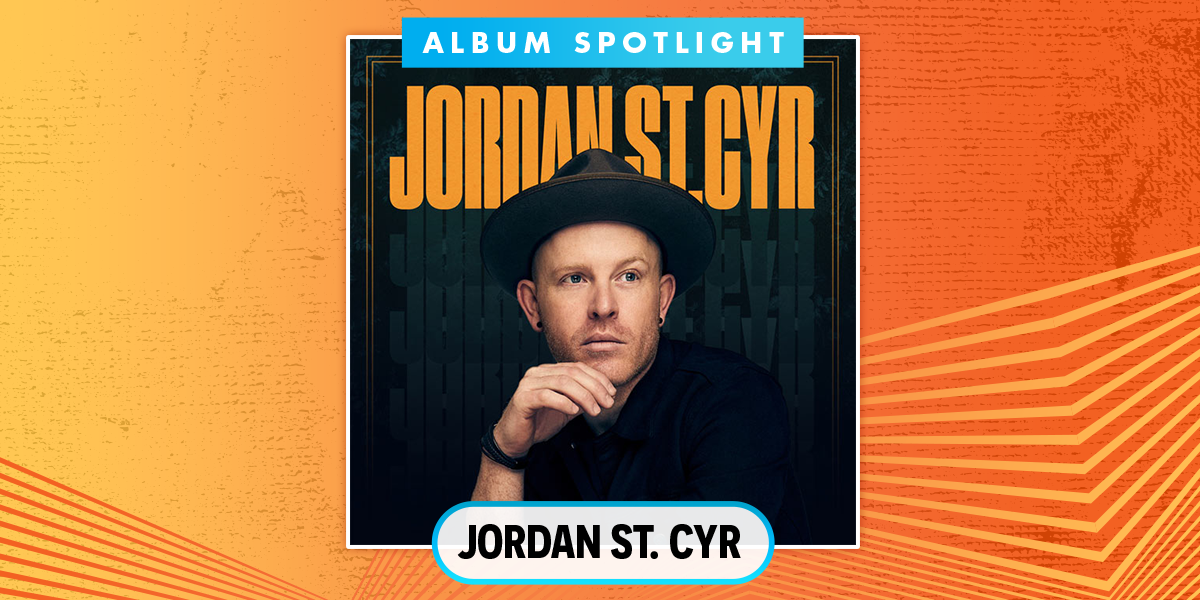 Before ever releasing a full-length project, @Jordan St. Cyr had already won fans over with not one, but two, hits that showcased a tender songwriter and a concerned father. His first single, "Fires," offered a slow-burning testimony of the way in which God refines His children through adversity. It was his own story of suffering, however, that made the mid-tempo ballad resonate with so many.
WATCH NOW: "Fires" Official Music Video
His daughter, Emery, was born with a chronic illness that she continues to battle to this day. It's a scary reality for the Canadian-born singer and his wife, who now reside in Nashville. But it's also a pain point that drives them closer to one another and closer to Christ.
RELATED CONTENT: Jordan St. Cyr Celebrates The "Fires" That Lead Us Closer To Jesus
After "Fires" cracked the Top 5 at radio, the impassioned "Weary Traveler," which St. Cyr penned with Matthew West and AJ Pruis, became his first No. 1. Wrapping poetic language around the Christian journey, "Weary Traveler" speaks to every tired heart, worn out from the fight. Arriving on the tail end of a global pandemic, the song's timing couldn't have been more appropriate.
WATCH NOW: "Weary Traveler" Official Music Video
Both of these emotional songs paint St. Cyr as a sensitive singer and a solid vocalist with a penchant for lyrics that connect. Yet, his first LP expands on this persona. Not only is St. Cyr in touch with his feelings, but he also has a shrewd sense for modern melodies that drive his truth-filled points home.
RELATED CONTENT: EXCLUSIVE First Look: Jordan St. Cyr Encourages The "Weary Traveler" Along The Journey
His self-titled debut is bursting with memorable pop moments on par with his peers, including West and current tour mate Jeremy Camp. Like these two men, St. Cyr deftly marries relatable storytelling with accessible sonics, making for a 10-track collection that uplifts with both word and melody.
Oftentimes, however, the album's upbeat backdrop belies the serious nature of its lyrics. St. Cyr frequently admits he doesn't understand God's ways. He openly confesses his doubts and fears, and he vulnerably exposes his humanity. But despite his transparency and self-ascribed inadequacy, the singer stands firm on what he knows to be true about God: He is faithful. He never wastes our pain. And He is always with us.
WATCH NOW: Jordan St. Cyr Exclusive Interview w/ Skip & Amy
The father of four affirms his loyalty to Christ from the onset with opening track "No Matter What" and his commitment to his wife on the John Mayer-esque "Yours." With a hint of Caribbean flair, he convicts listeners of missing God's greatest blessings on the poppy "Grateful" with lyrics that speak to the temptation of comparison: "It's not easy to come by when you're focused on what your neighbor has / Not easy to look for when you're living your life on Instagram."
Midway through, he bravely thanks God for the "Good Pain," on a standout track he co-wrote with former @Sanctus Real frontman Matt Hammitt and former Hawk Nelson member Micah Kuiper. Then, the record closes with "Let Go, Let God," a poignant song of surrender.
"My prayer for this album is that these songs would bring comfort and joy to those who hear them," St. Cyr says. "It is also my prayer that listeners would be more hopeful and open to the depths of God's love for them; knowing that their circumstances are not a reflection of how God feels about them, but rather their circumstances would reveal the closeness and nearness of the Holy Spirit."
With every selection, it feels like St. Cyr is stretching his faith, magnifying the size of his God over the size of his present trials. Perhaps he needs these songs as much as the next listener, penning anthems that have become life rafts in the middle of his daughter's sickness. Each time, he circles back to remind us that God is actively working in every situation.
St. Cyr's inaugural offering proves this breakout artist is more than meets the eye. He's channeled his hardships into art that resonates with those in the trenches. His initial effort establishes the fact that he might be a weary traveler, but he is not without hope. A fellow sojourner, St. Cyr is poised to go the distance if he continues to craft pop hits like the ones he unveils on his introductory set. Rooted in real struggle, these 10 tracks will undoubtedly help others navigating life's deepest valleys feel less alone as St. Cyr's music points to the God who is always standing right beside us in the fire.