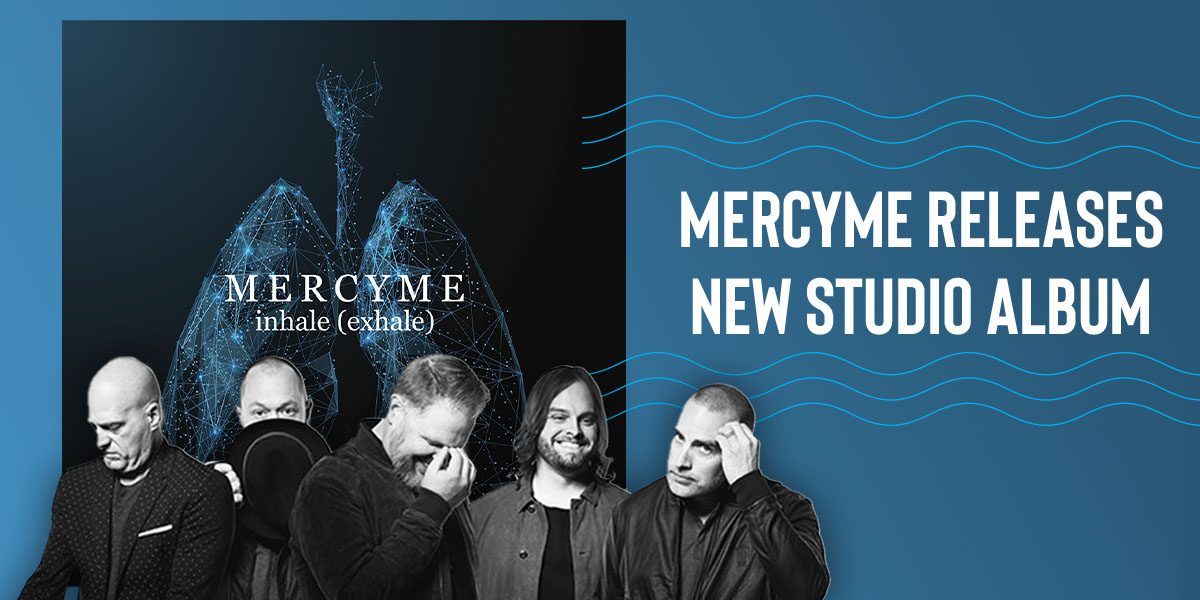 With their latest offering, inhale (exhale), MercyMe is extending an invitation for fans to take a deep breath in and a deep breath out. On the heels of a pandemic that forced us to simply be still and provided ample time and space for introspection, the title of the record seems fitting.
On the fresh project, the award-winning band takes listeners on an intentional odyssey starting with a brief intro MercyMe guitarist Mike Scheuchzer demoed on his iPhone. If you listen closely, you can even hear him bump against the microphone as he trades his guitar for a simple piano progression. It's an unvarnished start to an album that's expertly produced by Tedd T., Brown Bannister, and Jordan Mohilowski.
The four-time K-LOVE Fan Award-winning band is serving up a companion book to the popular album aptly titled inhale (exhale): A 40-Day Journey Breathing in Grace and Living Out Hope (get your copy today)
WATCH NOW: MercyMe "Say I Won't" Official Music Video
Mohilowski's fingerprints, in particular, are all over the LP. His "day job" is drumming for The Afters, but in recent years he's become an in-demand songwriter and producer. inhale (exhale) marks the first time he's collaborated with MercyMe, and the creative connection between Mohilowski and the band was instantaneous. Even after the album was complete, he and MercyMe frontman Bart Millard have continued to regularly write songs every week just for fun.
With Mohilowski's help, MercyMe wrote more than 40 contenders for inhale (exhale). The resulting 16-track collection builds on the band's 27 years together, offering a mix of soul-stirring ballads and upbeat pop anthems. Continuing to carve out new territory, many selections on inhale (exhale) dive into soulful R&B with a distinct '80s flair at times. Nowhere is this influence more prominent than on the disco-tinged "Brand New," featuring "I Will Survive" songstress Gloria Gaynor.
Other collaborations on the album include former Rascal Flatts lead singer Gary LeVox on the positive "A Little Love" and Millard's oldest son, Sam Wesley, on "On Our Way," which he also co-wrote. In addition, well-known One Republic frontman Ryan Tedder, who's penned songs for some of the biggest pop stars in the world, including Taylor Swift, Adele, and Beyonce, holds co-writing credit on pop gem "So Yesterday."
Aggressive tracks like "Whiplash" (an ode to leaving your mistakes in the past) and "Uh Oh (Here I Go)" (an invitation to bravery) will have fans ready to dance. Meanwhile, the swampy "Blessed" will have them simultaneously raising their hands and stomping their feet.
RELATED: MercyMe Dares Fans to Challenge Their Dreams in New Song
Thirteen tracks down, there's a 55-second interlude titled "Then Christ Came." It's a demo of a larger song the band wrote with Phil Wickham. It's so brief and raw, it's easy to miss; but astute fans will hold it close. The band hints that they have big plans for a full version of this song in the future. In the meantime, it serves as a soft intro to inhale (exhale)'s crown jewel and the group's current single, "Say I Won't," a soaring ballad of perseverance dedicated to their friend Gary Miracle, who lost all four of his limbs as a result of severe complications from the flu.
The album closes with MercyMe's multi-week chart-topper "Almost Home" and an outro that concludes the musical voyage with a release of air from our lungs, leaving fans with the hopeful message that, despite everything we've endured over the past year, we're still alive; we're still breathing; and, everything is going to be OK.
WATCH NOW: MercyMe "Almost Home" Official Music Video