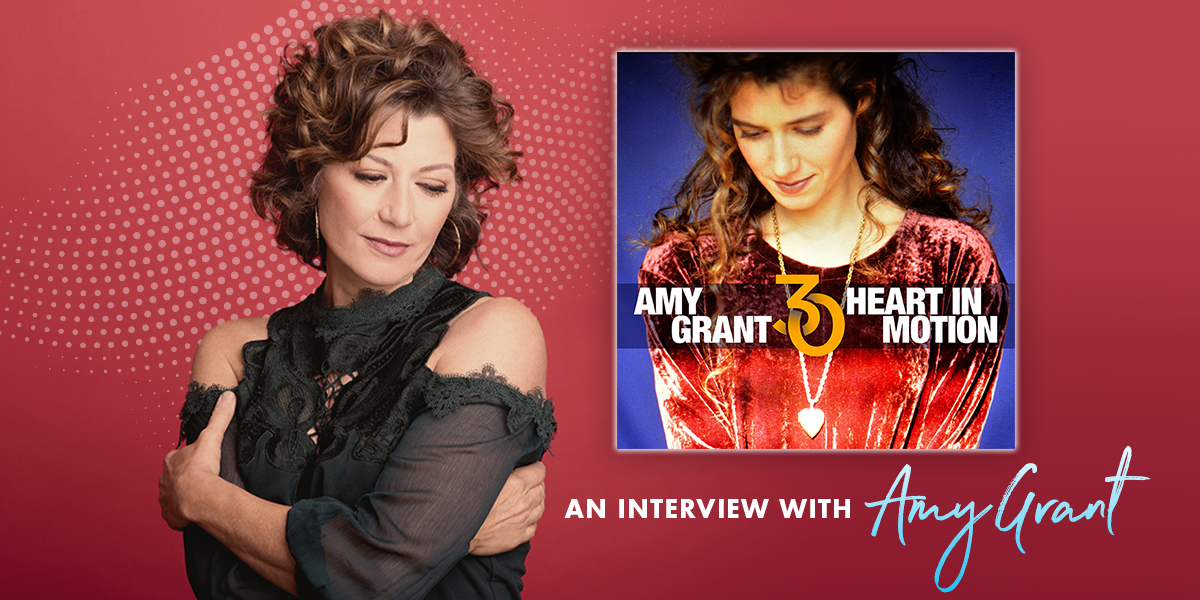 Twenty minutes before our interview, Amy Grant confesses she was wandering around her backyard barefoot. She stopped to read some poetry before dialing in. At 60, Grant is still every bit as wild and free as the 16-year-old wide-eyed girl who released her self-titled debut in 1977.
After crafting a steady string of successful releases that saw her morph into one of Christian music's youngest and most prolific lyricists, as well as a pioneer of the genre itself, Grant took a creative risk that paid off in spades. With her ninth studio offering, she decided to enlarge not only her lyrical footprint but also her sonic palette. Heart in Motion arrived on March 5, 1991, serving up more than 40 minutes of vibrant pop. Grant's fanbase expanded, and her career exploded.
"When I think about 1991, those were some of the craziest years of my life," Grant shares via phone from her home in Nashville. "I was surrounded by family, and so everything that happened to me in a musical context was so beautifully balanced by the rest of my big family."
Case in point, she remembers selling out The Forum in Los Angeles, a venue that seats more than 17,000 people, only to return to her hotel room later that evening to call home. Her young nephew was in the playoffs, and she wanted to know how many points he had scored that night.
The youngest of four siblings, Grant says her nephews and nieces actually kept her grounded during that period of life, often accompanying her on promotional trips or tour stints. In fact, that unforgettable heart-shaped locket she wears around her neck on the Heart in Motion cover? That belonged to her niece, Jenni, who joined her aunt on a trip to LA for the album's photoshoot. At the last minute, Grant asked to borrow the trinket, which her niece still has to this day.
Her small children also helped to keep her feet firmly planted as she toured the world in support of an album that literally transformed her into a global superstar. Grant gave birth to her second child and first daughter, Millie, right before she went into the studio to record Heart in Motion. The record's runaway hit, "Baby, Baby," was inspired by Millie, and the ebullient sound of the collection as a whole was reflective of the unbridled excitement Grant felt as a young mom to both Millie and 2-year-old son, Matt.
"My family was young and just beginning. We were always packing our bags; we were always leaving, dragging the kids with us. It was fun. It was a busy, but in some ways, a very uncomplicated time. And I feel like the music on that record is joyful and thoughtful and kind of just looked at a lot of areas of life through a lens of kindness," Grant offers. "Because I think I had young children, I found the way I wanted to express myself, even with hard things, which was really with joy and gentleness."
WATCH NOW: Amy Grant "Baby, Baby" Official Music Video
This year, Heart in Motion turns 30. The career-defining project made Grant the first Christian artist to have a record-certified Platinum, the first to hit No. 1 on the pop charts, and the first to perform at the GRAMMY Awards.
Three decades later, Grant looks back at the landmark recording with great fondness and love for the people who became family in the studio. People like Brown Bannister, who began his career in Christian music by producing Grant's records before going on to steer acclaimed albums for artists like @Steven Curtis Chapman, @MercyMe, and his daughter, @Ellie Holcomb, among others. And people like Wayne Kirkpatrick, who after co-writing Heart in Motion's "Every Heartbeat," penned songs for Little Big Town, Reba, and Garth Brooks, among other superstars.
"I'm sure if we all took the time to look back over anything that was a big group effort—whether it was the award-winning choral group from high school or a football team—it's always worth slowing down to go, 'Oh yeah, even when you think you're on a hamster wheel, beautiful things are happening,'" the 26-time Dove Award-winning artist remarks. "I think sometimes we just rush so hard to get through life and check all the boxes that we forget to slow down long enough to look at each other and go, 'I'm glad you're here. This experience is meaningful because we're doing it together.'"
WATCH NOW: Amy Grant "Every Heartbeat" Official Music Video
To celebrate the anniversary of Heart in Motion, this summer, Grant released a deluxe double-disc edition of the iconic album, which includes remastered versions of the original 11 songs, as well as a handful of remixes and never-before-released tracks.
Thirty years later, Heart in Motion still holds a special place in Christian music history and in the lives of numerous Christian artists. Many of them—including @Natalie Grant, @Danny Gokey, @Hillary Scott and @Anne Wilson—took to social media to congratulate Grant on the milestone and put their own stamp on some of the album's most memorable songs.
"I am really grateful that the music that I created was in a context of an amazing creative community," Grant reflects, thinking back on the 5X-Platinum LP. "I'm so glad that that music was the wallpaper for the lives of whoever listened."
Grant's music has been the backdrop for countless individuals now for more than 40 years. While at first her "cross over" into pop was viewed by some as controversial, Grant's accolades tell the story of an artist beloved by a diverse group of fans with contrasting beliefs, but all of whom can identify with the human condition explored throughout Grant's discography.
"I don't know why I have been compelled to write what I've written, but I personally have been so helped by the gift of music," the six-time GRAMMY winner shares. "It's helped me remember what I believe about God and myself and others. I mean all music. Music has really been a lifeline for me in the best and worst times."
Music remained an anchor for Grant last year when she was forced to have unexpected heart surgery after doctors discovered a previously undetected heart defect she had likely had since birth. Lyric and melody were also a grounding force for the songstress during the chaos and suffering of this polarizing past year, something Grant says she'll be processing for the rest of her life.
"I really came out of 2020 saying, 'I know the world I was born into. I don't want to leave it the same way, especially when it comes to race,'" Grant says. "I want the world that I experience to involve a lot more risk and a lot more openness. I'm asking myself, 'What does it mean to be a person of faith in this world? Like what does it really mean?'
"I don't want to live in a white homogeneous world," she continues. "Every person of color that was already a friend to me, we've had deeper conversations. I just want the conversation to be, 'What do I not see about your life as a middle-aged white woman? Talk to me about it.'"
Grant spent much of the past year looking at life through her unique lens colored by her faith in God, and learning to treat people with more grace and more empathy, which shouldn't be surprising to most long-time fans who already know Grant to be as humble and understanding as they come. "Honestly, I experienced my greatest reluctance to be called a person of faith during 2020," she admits. "It's the first time I've ever been frightened by the concept of church, because of the alignment with what felt like a total absence of compassion. It was terrifying. Forced to stew in our own juices, we were a collective witness to the best and the worst of each other."
Looking forward, she seeks to bring out the best in others—whether through music, through the multi-cultural kids camp she hosts on her farm each year, or through her continued philanthropic efforts. "My journey of faith and how I am a channel for the love of God in this world, it's not anybody else's journey; and nobody else's journey is mine. I just have such a clear understanding of the fact that I have to keep my hands on my own wheel. I cannot control anybody else. The whole reason I started making music years ago was to find a kind of language to express faith that was not confrontational and that was welcoming to people," she offers. "More than going, 'Hey, what's my next record going to sound like?' I feel that same surge of creativity, going, 'How can I use my creative gift to create spaces where people can gather, feel our connectedness, and honor our differences?'"
She'll have a chance to unite people around those commonalities sooner rather than later when she launches a 42-city tour in honor of Heart in Motion's legacy this fall. She suspects the audience will be filled with fans who grew up singing "Baby, Baby" into a hairbrush. "I had my last child at 40," she says, referring to her youngest child, Corrina, whom she shares with husband Vince Gill. "I am like ancient history for all of her friends. But every day a new generation is born, and I know that. I know it because of my kids."
Her five children that make up the blended family she's created with Gill, and her grandchildren, remind her, however, that you don't have to have a shelf full of shiny awards to make a difference. According to Grant, everyone has a story; and everyone has a stage.
"All of our lives affect each other," Grant offers. "And of our impacts in the world—let's get real—it's like doing a cannonball into a lake. Even a big splash, the ripples disappear. I mean, that's the reality. But I do think we all have such a deep capacity to influence the world around us."
---
Don't Miss a Beat & Sign Up for K-LOVE's Music Updates!
Get monthly emails with updates on new music, videos, and exclusives from your favorite Christian artists on K-LOVE!