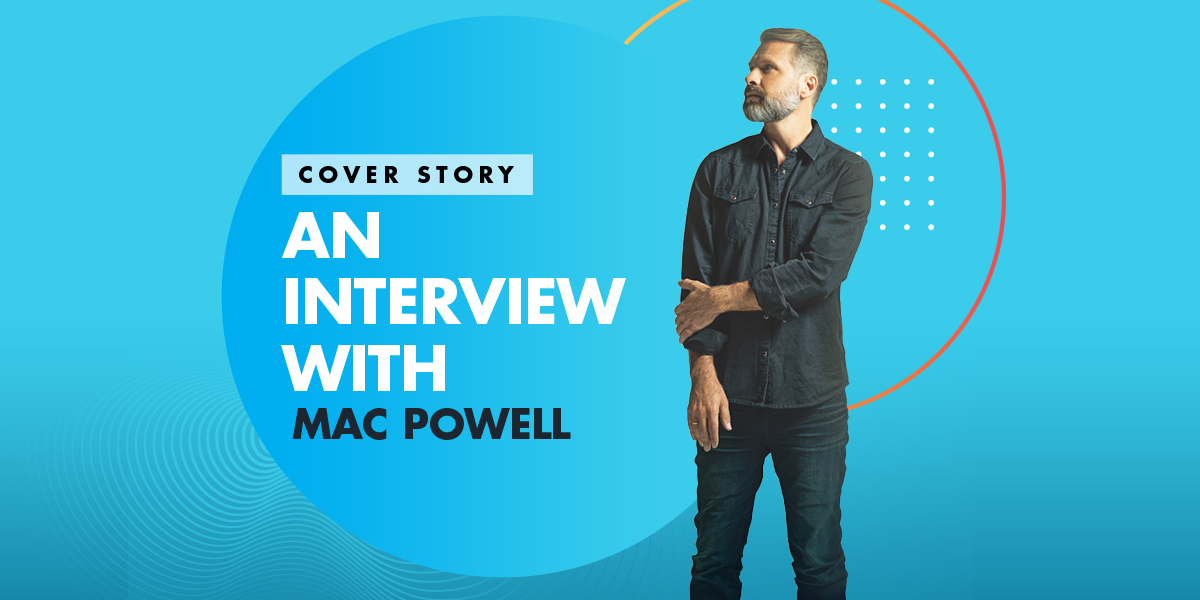 @Mac Powell never intended to formally announce the conclusion of @Third Day. But then, Tom Petty died. And in the fall of 2017, the longtime frontman found himself in a funk.
"Even though I'd never met him, I was a big fan, and I was kind of roaming around the house in a fog for a couple weeks," Powell says.
That's when his wife, Aimee, stepped in with a valid observation: The way Powell felt about Tom Petty? Maybe that's the same way fans felt about Third Day.
She had a point; but still, Powell was hesitant to commit to public displays of fanfare as his beloved band closed a nearly three-decade chapter. "We had known within the band that we were done for at least a couple years, and we were trying to figure out how to wrap it up and how to finish well," Powell shares. "We knew so many bands who made big announcements, and then they came back again and did 10 years of farewell tours, and we didn't want to do that. To be honest, we thought we were just going to kind of disappear into the sunset and not really say anything about it."
Petty's death—and, ultimately, his wife's thoughtful advice—changed Powell's mind. At this point, Third Day bassist Tai Anderson and drummer David Carr had already moved on to pursue other interests. (Guitarist Brad Avery exited in 2008.) That left Powell and guitarist Mark Lee, who were both in the midst of lining up their next endeavors. With a small window of availability between them, they decided to give fans one more chance to see Third Day live.
During a 15-city farewell tour in June of 2018, the remaining members put an exclamation point on an extraordinary run that includes more than 10 million albums sold, four GRAMMY® Awards, one American Music Award, 24 Dove Awards and an induction into the Georgia Music Hall of Fame. From early favorites like "Thief" and "Blackbird" to career songs like "Cry Out To Jesus," "God of Wonders" and "Soul On Fire," Powell, Lee and their final backing band presented the show they wish they could have experienced from Petty—just one more night of hits.
In the end, both fans and Powell were left satisfied. "It was good to be able to say goodbye to everybody," Powell admits, "and to put a definitive end to it."
But to quote Petty, "It's time to move on, time to get going. What lies ahead, I have no way of knowing."
With the band he had been a part of since high school in the rearview, it was time for Powell to make his next move. "I knew I was going to continue to do music," the former frontman says. "That's the only thing I know how to do."
During his final years of touring with Third Day, whenever he'd get a break, Powell would go and play solo country shows. He even released two independent country records (2012's Mac Powell and 2014's Southpaw) and two additional albums under the moniker of Mac Powell & The Family Reunion (2018's December and 2019's Back Again). So, when Third Day ended, it made sense to continue exploring the rootsy side of his artistry. "I never really left Christian music. I was just kind of focused on a different genre for a little while," Powell explains, "but even when I was doing country music, I was still doing Christian festivals and opening up for Christian artists."
At the beginning of 2020, the father of five felt led to make his first solo Christian album. Although Powell is a veteran songwriter, he's somewhat of a rookie when it comes to collaborating with Music Row songwriters who grind out hits from nine to five, five days a week.
"With Third Day, we were never one of those bands that went to Nashville and wrote with all the big writers. We weren't getting songs pitched to us—or at least we weren't asking for that. There would be times where we would cover someone else's song, or we would find a song we loved and record it," Powell says, pointing to one of the group's biggest worship hits, "Agnus Dei," written by @Michael W. Smith. "But the vast majority of it was us writing our own songs."
In full disclosure, as Powell made his way from his home in Atlanta north to Nashville, he doubted he would enjoy this new approach to writing. But what he discovered surprised him. "I've learned to trust my instincts, my experience, and the talents and gifts that I have in songwriting, but I've also learned to enjoy those collaborations and kind of take in some of those thoughts and ideas I would never have on my own," he reveals. "I was very fortunate to connect with some really great writers—great people—and so I loved the experience, and that's pretty much the way I'll work from now on."
The songs Powell crafted in Music Row writing rooms evolved into New Creation—a culmination of the past 30 years of his versatile career. Without a doubt, you can hear Powell's country influences—especially on acoustic-driven songs like lead single "River of Life"—but you can also discern the southern rock that made Third Day one of the top bands in Christian music, all powered by the lead singer's unmistakable voice.
WATCH NOW: Mac Powell "River of Life" Official Music Video
Not only was Powell surprised by how much he genuinely appreciated the experience of collaborating with a new pool of writers, but he was also surprised by the personal nature of the music that began to emerge. "There were quite a few more autobiographical songs than I thought there would be. I don't think I set out to do that, but it just kind of came out that way," Powell admits. "But even within that, there's some storytelling, too. So it's almost like a screenwriter who's writing a screenplay for someone's life."
WATCH NOW: Mac Powell "River of Life" Live in Atlanta
Fresh selections like the emotional "Love Is The Reason" and the retro "1991" are prime examples of Powell's ability to weave parts of his own story into a larger, meaningful narrative. But working with pro songwriters—and liking it—wasn't the only unexpected twist of 2020 for the multi-Platinum artist.
"I was supposed to be out on the road with @MercyMe for a fall tour. That got cancelled. I had a bunch of summer dates—those all got cancelled," Powell says of the COVID aftermath that ensued. That's when Powell reconsidered a recent offer he had received from a local pastor to join their team as an "artist in residence." At the time, Powell had told the minister he was grateful for the opportunity, but he was gone most Sundays making it impossible, at that point in his career, to accept a regular worship leading gig.
But as the uncertainty of the pandemic continued to loom and his five kids continued to grow, he began to entertain the idea. "So I called him back," Powell says, "and I said, 'Maybe I'll be home more often than I thought.'"
Even though he's back on the road again (He'll be touring with @Newsboys, @Danny Gokey and Adam Agee on the "STAND Together Tour" this spring.), he's now committed to leading worship multiple Sundays a month at The Church of The Apostles in Atlanta. Although he admits the transition from leading a rock band to leading a congregation took some getting used to. He credits the current worship team for showing him the ropes. "I didn't think I would love it as much as I do. There are Sundays when I'm not there when I want to be, and then there's Sunday mornings when I've got to get up at 5:30 a.m. or 6 a.m., and I look forward to it. I get excited about being there," he confesses. "I wasn't praying for the opportunity—I wasn't looking for it—and all of a sudden, I had it before I understood how much I needed it. I'm so thankful for God sometimes answering those prayers we're not praying."
Another unexpected answer to prayer came in the form of a drive-in tour with longtime friends @Steven Curtis Chapman and Michael W. Smith. The three legendary artists made the best of the pandemic by banding together for a run of outdoor shows where they shared the stage and sang on one another's songs. Dubbing themselves "The Three Amigos," Powell says, "It was like being a new artist again—it really was—for all of us."
In many ways, this unique touring experience—due to COVID protocol—transported Powell back to his early days when Third Day was traversing the country in a van and rolling in their own amps. For the drive-in tour, catering wasn't provided, so Powell said they were left to hunt down their own meals in every city—a challenge, as many restaurants were closed. They also couldn't travel by bus—too many people confined to too small of a space—which left all three artists individually responsible for getting themselves from show to show.
"It just felt like being a kid again, doing what you can, driving overnight if you have to, just to go play for some people. It was a great reminder of why we do what we do and a great reminder of the passion we have for music and just doing what you have to do to make it happen," Powell confesses. "It was a good, eye-opening thing for me. I love being on the road. It's something that hasn't gotten old for me. I still love it."
RELATED CONTENT: Mac Powell Invites Listeners Down To The "River of Life"
See Mac on the "STAND Together Tour" this spring — learn more here.
---
Don't Miss a Beat & Sign Up for K-LOVE's Music Updates!
Get monthly emails with updates on new music, videos, and exclusives from your favorite Christian artists on K-LOVE!