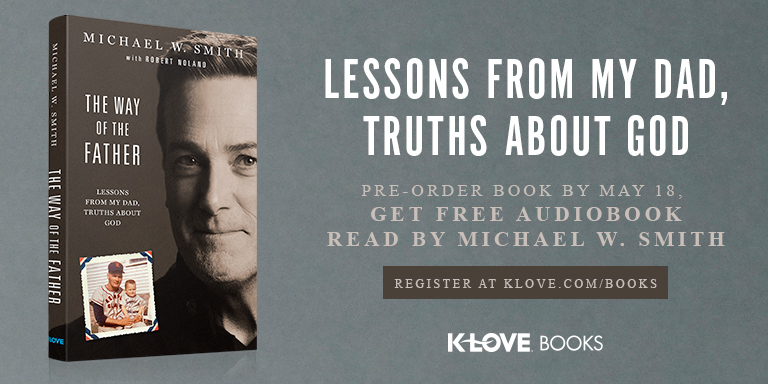 In time for Father's Day, Christian music icon @Michael W. Smith is releasing his latest book, The Way of the Father: Lessons from My Dad, Truths about God. The father of five adult children and grandfather of 16, Smith reveals how his father was a living example of God's love and a role model for his family.
"It's my honor to share the principles and promises I've learned from the two most powerful influences in my life and ministry: my dad and my God—my Abba Father," Smith says of the book.
The Grammy winner writes about his humble upbringing in a small West Virginia town and shares stories about this dad, Paul Smith. The Way of the Father is a deeply personal reflection on the legacy and the profound effect Smith's father had on every area of his life. Offering a glimpse into our approachable, dependable, and ever-present Father in Heaven, the book taps into the love of our God, regardless of the relationship with our earthly father.
"Regardless of the presence or absence of your dad, or your mom, God can be a Father to you." @michaelwsmith
"My father was my hero. Even though he's in Heaven now, he's still my hero every day. My memories of his life, his words, and his wisdom are with me constantly as I parent and grandparent today," writes Smith.
The Way of the Father reveals how God the Father is even more loving and gracious than any human parent. "Throughout his life, on a daily basis, Dad gave me a glimpse of what God is like. I am so grateful to be part of a long line of love and godly legacy through the grace and mercy of Jesus in our family."
In writing The Way of the Father, Smith partnered with Robert Noland, co-author of the bestselling memoir, I Can Only Imagine, with @MercyMe's Bart Millard.
The Way of the Father: Lessons from My Dad, Truths about God will be released on May 18, 2021, in partnership with K-LOVE Books, an imprint of EMF Publishing.