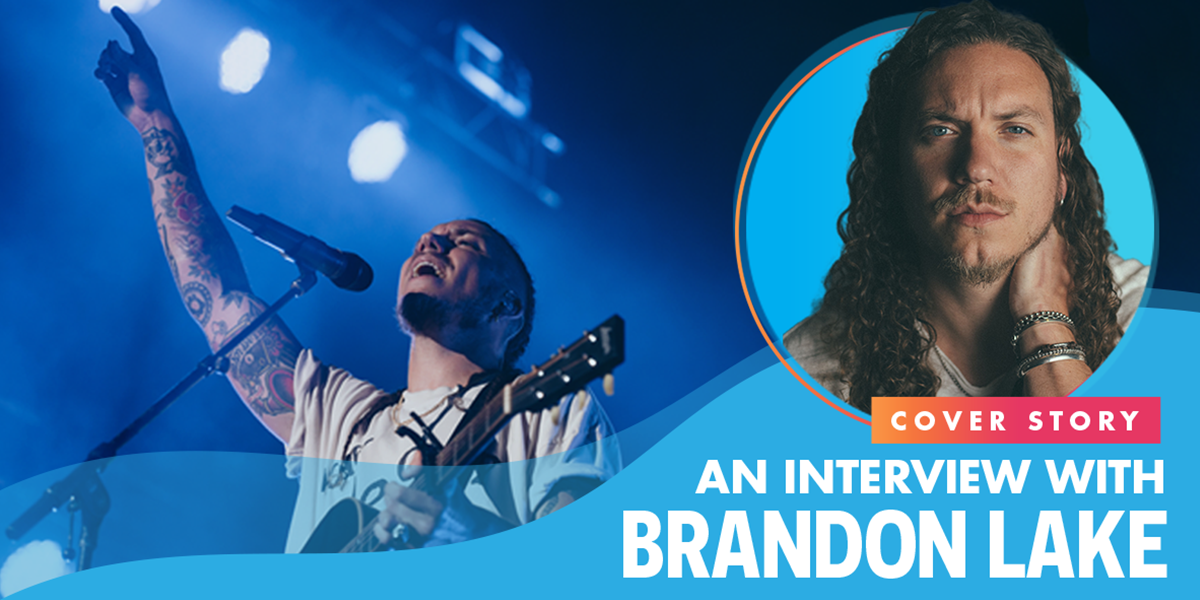 The thought of releasing "Too Good To Not Believe" to radio terrified Brandon Lake. Could he stand behind a song that declared God's ability to heal when he knew there were so many listening who were still waiting for their breakthrough?
WATCH NOW: "Too Good To Not Believe" Official Music Video
He quickly realized his fear might just be an indicator that the moving anthem was exactly the right song to take to the airwaves. "'Too Good To Not Believe' almost felt like a step of obedience," he says. "I like songs that scare me. I like songs that challenge my faith."
RELATED CONTENT: Brandon Lake's Seen Miracles "Too Good To Not Believe"
The track he co-wrote with Cody Carnes, Chris Davenport and Joshua Silverberg does just that, asking those who hear it to prioritize their faith over sight. Still, Lake recognizes the lyrical content toes a sensitive line. "What's so hard about this song is that it's not a one-line answer; it's a conversation, because everybody's situation is different," he reasons. "There's a few different ways God heals us: progressively, over time; boom, miraculously in a moment; or with heaven, and that's the thing we hope for. You might not get your breakthrough on this side of eternity, but you are sure as heaven going to be healed on the other side."
It's a bold message to steward for a newcomer like Lake, who is just beginning to build his profile as an artist, even though he's been writing songs for the better part of a decade. However, an unconventional single like "Too Good To Not Believe" seems right in line with the trajectory of Lake's rise, which has been just as unorthodox as the singer himself.
Foregoing a traditional launch, the South Carolina native was first introduced to Christian music fans as a featured guest on a string of collaborations that quickly became mega-hits, namely Elevation Worship's "Graves Into Gardens." Moreover, as a member of Maverick City Music, Lake was an integral part of the collective's landmark recording with Elevation Worship, Old Church Basement, which earned Lake his first GRAMMY® Award and a slew of high-profile performance slots on national television earlier this year.
RELATED CONTENT: Christian Music Artists Shine at 64th Annual GRAMMY Awards
In addition, the award winner has collaborated with everyone from Brooke Ligertwood and Rebecca St. James to Phil Wickham and Tasha Cobbs Leonard, among others. In fact, it was his songwriting credit on Cobbs Leonard's "This Is A Move" that brought Lake's profound lyricism to light.
Lake might be the most in-demand featured artist in Christian music right now, but that's partly because he's intentionally sought out collaboration. For Lake, collaboration isn't just an aside to his solo artistry; collaboration makes up his very DNA.
"For me, collaboration is everything because collaboration is Kingdom, and Kingdom is collaboration. Once you've tasted collaboration, I don't know how you would ever want anything else because it makes you better," he asserts. "I'm a better singer because I've spent time with Tasha Cobbs Leonard. I'm a better writer because I've spent time with Jason Ingram. I think collaboration provides the most beautiful opportunity for growth. God doesn't want us to do anything alone. God wants us to do it together."
Even his full-length solo project, House of Miracles, was a group effort. He might commandeer lead vocals on the record's dozen originals, but a closer look at the credits reveals that Lake linked arms with expert wordsmiths like Dante Bowe, Matt Maher, Sarah Reeves and Pat Barrett, among others, for the final track listing. Moreover, he even put his own spin on hits first recorded by Elevation Worship like "Graves Into Gardens" and "RATTLE!"
WATCH NOW: "Graves Into Gardens" Official Music Video
Ironically, Lake never aspired to be an artist. Growing up in Myrtle Beach, South Carolina, his family was part of a church plant pastored by his father. This was where Lake remembers first encountering a healthy version of biblical community, something he seeks to now model in his own endeavors. Today, he regularly leads worship at Seacoast Church in Charleston, where he also contributes to the church's original music as an artist in residence. Songwriting has, and always will be, his first love ever since his dad taught him three basic chord progressions. That's when Lake started teaching himself how to play songs by Third Day and Chris Tomlin. "All I knew was Christian music," he says, "so that's just what I began to play." Left-handed, he also forced himself to play with his less dominant hand because his first instrument was a right-handed guitar. "I still play right-handed to this day," he adds.
As a teenager, he started accompanying the praise team at his church. The first time he was asked to sing, he swore he'd never do it again. Still, God continued to pave the way for Lake to lead worship and write songs. When Seacoast hired him to lead worship for their college ministry, Lake remembers, "It was like they handed me the keys to a brand new car and just were like, 'Let it rip.'"
The more he stepped up to the microphone, the more comfortable he became with the sound of his own voice and the more convinced he became of his calling. "With everything God had been doing and the people He was putting around me, it was just evident that this was where He was leading me," Lake affirms. "I really fell in love with leading worship, especially when I saw my friends and these young kids getting wrecked by the Lord and people connecting to God through song. It was unlike anything else I'd ever experienced."
Regardless, he never envisioned himself as the one out front. Perfectly content to remain behind the scenes, Lake set out to hone his craft as a songwriter, something he says he could do for the rest of his life and never grow weary.
"Beyond being the best child of God and the best father and husband I can be, I think my biggest dream is to be the best songwriter I can possibly be," he shares. "I never wanted to be an artist because it looked like doing things on my own. It looked lonely to me. Leadership is lonely. Pioneering is lonely. So I knew that if I was ever going to be an artist, I wanted to do it differently."
It seems Lake has managed to simultaneously accomplish both. At the 2021 Dove Awards, he was crowned "Songwriter of the Year (Artist)," an honor that continues to humble him. And his successive smash features are proof that he's forged an unusual career as an artist by way of the very thing he believes in most — collaboration.
He'll collaborate with fellow artists out on the road later this year. After a full summer itinerary filled with "Kingdom Tour" dates with Maverick City Music, Lake will embark on his inaugural headlining trek this fall. The "Miracle Nights Tour" will mark the first time the singer/songwriter will have the opportunity to share the entirety of the message behind House of Miracles live and will include special guests Blessing Offor and Joshua Silverberg, who both possess incredible stories of healing and redemption.
RELATED CONTENT: New Kids on the Block: Maverick City Music
While most artists would follow an acclaimed label debut like 2020's House of Miracles with an impressive sophomore album, Lake took a U-turn and instead surprised his wife with Almond Eyes, a five-track set of heart-melting love songs written in honor of the couple's 10th wedding anniversary. Then, he unveiled a live version of House of Miracles. While he confirms a "proper" long-form follow-up collection is in the works, in May, he'll release Help, a concept album centered on mental health.
"It was supposed to be a three-song, hold-people-over EP, and it turned into a nine-song record," Lake says of the left-of-center project that bows during Mental Health Awareness Month.
From honest confessions that process his own emotions to soothing selections that remind listeners of the truth found in God's Word, Help is rooted in Lake's own personal wrestling. "As soon as I started touring, I realized how serious mental health was and how real anxiety and panic can be. I quickly had to meet with my counselor and gain tools for overcoming real fear and insecurity and lies from the enemy," he shares. "And so I started writing songs about how I was feeling and what God says about it."
Sonically, the title track feels like a panic attack with an onslaught of chaotic sounds and poetic lyrics. "My mind feels like a circus, taming tigers, flaming torches. I can't deal with my own conscience. I get truth and lies entangled, dodging arrows at every angle," Lake sings. "Why does life feel like a jungle? Come take this weight off my chest. Come put this chaos to rest. I think I'm losing my mind."
Elsewhere, songs like "Hard Year" acknowledge the toll COVID has taken on our collective mental health, and other selections remind listeners: "Don't give up. God's got more for you."
"I just have to believe that someone's going to hear these songs that's on the verge of taking their own life," Lake asserts, "and they're going to stop, they're going to choose to live, and they're going to choose to believe the promises God has for them."
Whether he's writing about mental health or the miraculous power of God, the father of soon-to-be-three children has penned enough songs to know that God uses the vehicle of music in a myriad of ways. He's just grateful to be a vessel.
RELATED CONTENT: Brandon Lake Joins Skip & Amy for an Exclusive Interview
"For whatever reason, God's allowed me to be a part of a lot of amazing things I can't take credit for," he says. "I just think He has a huge, way bigger picture of where we're headed and what we're doing and what we're called to."
Believing this, Lake will continue working in community and walking the path He feels called to — even when it requires scary songs.