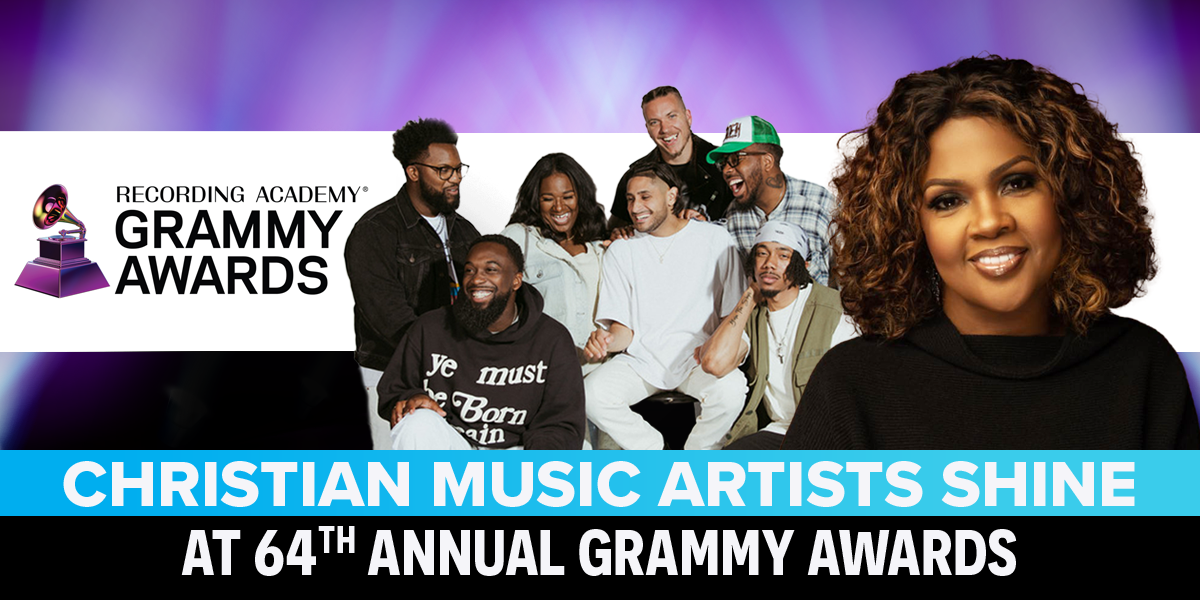 @CeCe Winans, @Maverick City Music and @Elevation Worship walked away winners at the 64th GRAMMY® Awards. The annual ceremony was held Sunday, Apr. 3, 2022, in Las Vegas, where Winans added three trophies to her collection, and Maverick City Music and Elevation Worship each took home their first respective wins.
Winans earned a trio of gold statuettes for Best Gospel Performance/Song for "Never Lost," Best Contemporary Christian Music Performance/Song for "Believe For It" and Best Gospel Album for Believe For It, upping her GRAMMY® tally to 15.
Unable to attend this year's gala, the Gospel music trailblazer shared a video to social media shortly after her wins were announced. "To God be the glory! We are so humbled by this. Unbelievable. This is amazing. Believe For It — thank you to everybody who played, everybody who sang, Dwan [Hill] for co-producing, all the incredible songwriters, the songs that we redid that blessed people's lives. This is why we're here today, because the songs were just amazing. So thank you so much," Winans said, visibly surprised by the honors. "And to everybody who was in the categories with us, we love you… Let's keep building the Kingdom."
Songwriters Dwan Hill and Mitch Wong were on hand to accept the award for "Believe For It." "This song is all about belief. And we believe for a better world. We believe in peace. We believe in the unconditional, no-strings-attached love of Jesus, and we want to thank you," Wong said from stage during the GRAMMY® Premiere Ceremony streamed live prior to the main telecast. "It's an honor to be here. We're so grateful to be in the room."
Rounding out the main faith-based categories, Maverick City Music and Elevation Worship landed a GRAMMY® for Best Contemporary Christian Music Album for their acclaimed collaboration record, Old Church Basement. "Maverick City was a space created by our founders, Tony Brown and "JJ," Jonathan Jay, for those who are marginalized, unheard and rejected," shared the collective's Chandler Moore, motioning to the tight-knight assortment of friends encircling him. "All of us on this stage represent that."
Elevation Worship's Chris Brown followed Moore with his own remarks of gratitude: "I will never forget that little basement where this beautifully wild season between our two groups began. It's been the most amazing thing watching our two ministries create something together that we could have never created separately." Elevation Worship has five GRAMMY® nominations to their name, with Old Church Basement becoming their inaugural win.
Both groups have recently hinted that Old Church Basement, Pt. 2 is coming soon. Meanwhile, Elevation Worship is headlining "Elevation Nights" in select cities this spring, and Maverick City Music is set to co-headline the massive "Kingdom Tour" with Kirk Franklin this summer.
Going into the awards, @Dante Bowe led nominations in the Christian/Gospel categories with an unprecedented five nominations, with three competitive nods in the Best Gospel Performance/Song category alone. The "Joyful" singer scored the first GRAMMY® of his career for Old Church Basement in conjunction with Maverick City Music. Meanwhile, @Brandon Lake, who also earned his first GRAMMY®, performed with Maverick City Music, whose powerful delivery of "Jireh" marked the first time a Christian artist has received a televised GRAMMY® performance slot in two decades.
"Thank you, Jesus! Every bit of what we do belongs to God! We're so honored to be a part of what He is doing in the Kingdom," Maverick City Music collectively posted to social media following their win and performance. "Thank you to our community, our family, for the love and support. This wouldn't be possible without you, and thank you to the Recording Academy!"
Related Content: NEW KIDS ON THE BLOCK: MAVERICK CITY MUSIC
Additionally, Carrie Underwood won her eighth GRAMMY® Award for her debut Gospel album, My Savior, in the category for Best Roots Gospel Album.
Earlier in the day, nominee @Kari Jobe walked the red carpet with husband @Cody Carnes; and @Natalie Grant, nominated for No Stranger, stunned in Oscar de la Renta alongside husband and former GRAMMY® Award-winning songwriter/producer Bernie Herms. On Friday, two-time GRAMMY® winner @Lauren Daigle helped kick off the celebratory weekend with a performance at the 2022 MusiCares Person of the Year gala, honoring legendary singer/songwriter Joni Mitchell.
64th Annual Christian/Gospel GRAMMY® Award Winners
Best Gospel Performance/Song
"Never Lost," CeCe Winans
Best Contemporary Christian Music Performance/Song
"Believe For It," CeCe Winans
Best Gospel Album
Believe For It, CeCe Winans
Best Contemporary Christian Music Album
Old Church Basement, Maverick City Music & Elevation Worship
Best Roots Gospel Album
My Savior, Carrie Underwood