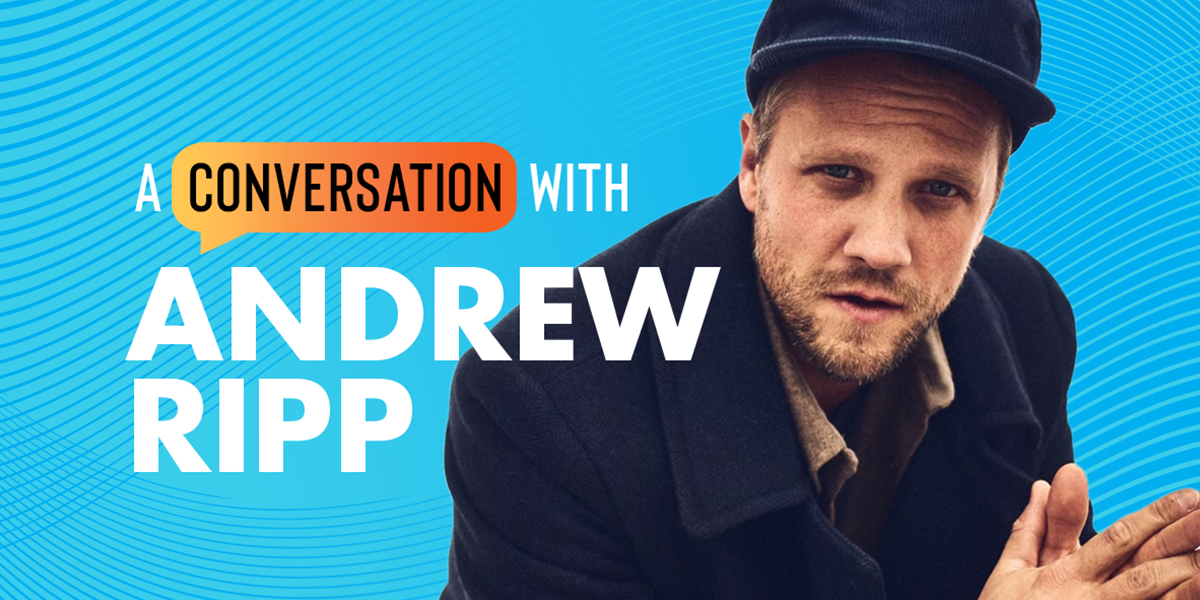 @Andrew Ripp is a bit of an anomaly. He's the first purely independent Christian solo artist to earn two No. 1 hits at radio. His original songs, "Jericho" and "Fill My Cup," topped the faith-based charts, but only after the longtime singer/songwriter went through a period of intense wrestling and waiting. It was during this season of uncertainty that God began unlocking Ripp's true identity…and his next career move. Eventually, all roads led back to music, and this time, doors started opening unexpectedly in Christian music. This fall, he'll resume touring with @MercyMe, sharing his stories and songs in cities across the country.
RELATED CONTENT: Andrew Ripp's Cup Runneth Over on "Fill My Cup"
From his home in Nashville, the "Rescue Story" co-writer recently spoke with KLOVE.com about surrendering his dream, seeking the Lord in the midst of the unknown and adopting his daughter after five years of wondering if he'd ever be a dad.
WATCH NOW: "Fill My Cup" Official Lyric Video
K-LOVE: You're new to Christian music, but you've actually been writing, recording and touring as an artist for a long time. At some point, you decided to throw in the towel, and you sold your guitar. What brought you to that point of saying, "I'm done. I'm giving up on this dream"?
Andrew Ripp: It was just a whole lot of trying and trying and desperately trying, and I needed it in order to feel worthy. My identity was attached to music. I was doing music for over a decade full-time. It was working in regards to providing, but at the same time, it wasn't working because I was stressed out all the time. So I just got to a point at the end of 2016 where I felt like the Lord was calling me away from music. I didn't know what was next.
And then I had a couple panic attacks, which were very eye-opening, and that really woke me up to the potential of this thing not being good for me anymore. I don't know that it was even a choice at that point, because my body was telling me I couldn't keep going. So I left music, and I had nothing on the other side of it. My wife is an interior designer so I thought maybe I could help her and support her dream rather than the opposite, which had been what we'd done up until that point. With absolutely nothing on my schedule, I realized pretty quickly that I was in the process of learning who I was without music, like who is Andrew Ripp without a guitar? So I sold my guitar on Craigslist, and it was freeing.
K-LOVE: How did you fill your days during this time?
Andrew Ripp: I was used to working hard, and I was sitting at the breakfast table looking at my schedule one morning, and my wife was like, "What are you doing?" And I was like, "Oh, checking my schedule." And she's like, "You have nothing going on." And I was like, "Yeah, I know, this is horrible." She said something I'll never forget that really changed the game. She said, "Just because there's nothing on your schedule doesn't mean it isn't full." And it just shifted everything for me. It was like, oh, OK, this isn't nothingness because I don't have anything going on, it's nothingness because God wants me to pursue Him. It's now full of going after the Holy Spirit in a way that I've always been inspired by, but never took the time to do.
K-LOVE: So what did that look like for you?
Andrew Ripp: I don't even know how to describe it. It was a lot of just waiting and waiting at the frontend to where I got to a point where I began to actually have a line of communication with God that I'd never had before. I was experiencing God's voice in so many different things all day. It was so clear and tuned in. I wasn't going to the Lord anymore with an agenda. I was just sitting with God. That changed my life when it became less about my agenda and more about Him. And then that's when He began to uproot some old, unhealthy stuff and began to replace unhealthy mindsets with truth. I mean, I could talk about this season of life for a week, because it was so good. So good. Changed my whole life. It felt like I was sitting still. It felt like I had been forgotten in regards to music, but it was the nitro booster for my career.
K-LOVE: Isn't it funny how the outcome is often the opposite of what we think is going to happen?
Andrew Ripp: It's exactly the opposite. I didn't want music anymore, because I had Him. I didn't need it anymore. And then He brought it back in a way that I didn't even know I would want. I tell you, when things with music started rolling again, I fought it, because I was in such a sweet season of not doing it that I didn't want to go back. I said no for three months. I realized I had trauma from kicking doors down, and I didn't want to do it again. But after three months of conviction, I realized that this was the first door He had opened. There was no striving.
K-LOVE: What lesson did you take away from that?
Andrew Ripp: There's something so profoundly beautiful about not having the next move planned — and it's so uncomfortable —but if you can step into the discomfort of faith, there's something there for you. God doesn't let us down. So it might not look the way you thought it would, but I can tell you from experience, the surrendered approach not only changed my life, but my whole family was affected by one simple decision I made, which was, I'm not doing this for me anymore. And I'm still rediscovering who I am. I think that's part of the lifestyle of a believer — a consistent surrender to what you thought it was going to look like.
K-LOVE: That probably never stops, right?
Andrew Ripp: Well, even after I had success with "Jericho," then the challenge after that was to let go of the next one. When you have success once, according to the world, you have to do it again. And then if that one works, you need another one.
WATCH NOW: "Jericho" Acoustic Video
RELATED CONTENT: Andrew Ripp Watches All His "Jericho Walls" Fall in New Song
K-LOVE: That's right. Where does it stop?
Andrew Ripp: It doesn't. So you have to kill that thing every time. But it's a skill. I'm not saying I'm great at it, but I'm definitely getting better, and I feel like that's where life is — that whole upside-down Kingdom approach where if you want to live, then you've got to die. If you want to go first, then you're going to have to go last. It's like, you want to thrive? Well, surrender.
K-LOVE: At what point did you really start writing songs again?
Andrew Ripp: In that time of nothingness, I would write in my journal what the Lord was saying to me. I was reviewing some old journals one day, looking back on what God had done in my life, and at the top of one of the pages I put "Rescue Story." I had a conversation with a friend of mine who's a songwriter, and it came up in conversation. I remember him being like, "'Rescue Story,' huh?" I was like, "Yeah, that was the title of the journal entry." And he said, "That sounds like a song." And I was like, "Well, check this out." I had four specific lines written down, and that was the beginning of how God opened the door for @Zach Williams to record "Rescue Story."
RELATED CONTENT: "Rescue Story" by Zach Williams
K-LOVE: You had this long season of waiting, not knowing what was ahead professionally, but, personally, you and your wife were also waiting to start a family.
Andrew Ripp: Yeah, that two-year period of time when I stepped away from music was perfectly orchestrated by the Lord. It was year four and five of our pursuit of a family. We poured our finances, time and energy into trying to have a baby. After the second round of IVF, which is just such an excruciating process, we got bad news again. It didn't work, and we were devastated.
A couple weeks after that my wife got a call from an adoption agency that we had met with a year prior. We were just dipping our toe in; we'd never reached back out. We had this huge stack of paperwork sitting in the corner of the kitchen, but we were already exhausted, and we didn't feel up to starting another marathon when we could be disappointed. But the adoption agency called and was like, "Hey, there's this situation that came up, and I thought of you guys. Would you even be interested?"
I had just started pursuing music again, and I was off writing a song with a friend that day. By the time I got home, my wife was surrounded by paperwork in the living room. We got a phone call a week later saying that the birth parents chose us. We had three weeks till the baby was due. So we went up to New York for Thanksgiving and broke the news to the family. It was beautiful. And then the next night, we got a picture and a text message saying she came early. She was born while we were eating Thanksgiving dinner in 2018. We took a red-eye home and borrowed a car seat from a friend. It was nuts, but it was so good. That's the thing, you can't write them like the good Lord does. It's really scary, but it's also just insanely gratifying. I think about this with songs, too. When you really follow the Lord, you don't get to take credit for the victories, but you also don't get to take credit when things don't go your way. That's not your deal. You're just on the ride trying your best to do what He says. That's it.
RELATED CONTENT: 21 Questions with Andrew Ripp on Inspiration, Fatherhood, and "Jericho"
K-LOVE: What would you say to someone who's in a season of waiting?
Andrew Ripp: I would say there's something in that season that you can only experience in that season. God gave me this visual during that time, where I had this treasure chest. In that two-year season of life, I didn't have any idea what He was doing, but I was just pursuing Him, I was filling my treasure chest with weapons. Every day there was another thing to add to the chest — some truth, a piece of wisdom, an opportunity to be there for a friend, an opportunity to celebrate somebody I was jealous of. And every time I did it, I felt like the chest just got more full of weapons, things that I could bust out later when I'm up against fear. So my advice would be to fill up that treasure chest with weapons that will last.
K-LOVE: What's next for you? When are fans going to be able to hear a new record from you?
Andrew Ripp: I'm just dropping singles right now. I feel like that's been a fun way to do it. I don't have a label, a publisher, a manager, or anything right now.
K-LOVE: Which makes the fact that you have two No. 1 songs under your belt already even more unbelievable.
Andrew Ripp: It's incredible. Well, it's only God. There's no way that happens without the breath of heaven on it.
I've got a friend who's releasing songs on Friday, and I was asking how he was doing. He's feeling anxiety, like we all do. But the hard work is getting the music recorded and out in its purest form without letting fear hit it. I think that's the win — not just in art, but in life. For instance, there's something really beautiful about the guy who's getting ready to go stock shelves at the grocery store and is on his way to work actively pursuing the Lord in regards to what He could use him for that day. That's showing up in your purest form.
So my friend who is releasing music this week — he's already done it. He wrote everything. He's recorded all the songs. He's got all the photos done. The videos are done. I'm like, "Dude, start celebrating, because the victory is done. It's not what it does. It's what you've done. It's what you already did, and you did it in the purest form."
There's 2,000 songs being written right here in Nashville just while we're talking. The world is not desperate for more songs, it's desperate for heaven songs. And those type of songs come to the one who's willing to wait for that song by way of pure-hearted surrender. It's not, "I need the hookiest new song." It's "God, what do You have to say? What do people need right now? What's the next song that the Church needs, that the world needs? Give me that one."