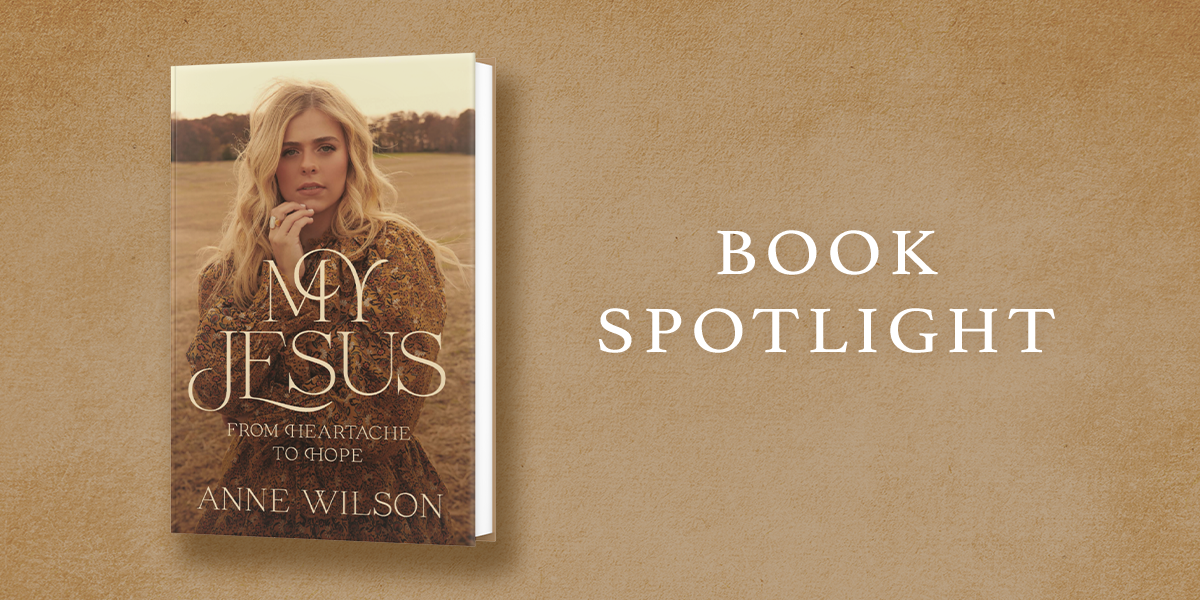 Anne Wilson might only be 20 years old, but she's already a two-time K-LOVE Fan Award winner, a two-time GMA Dove Award winner, and most recently, a first-time GRAMMY® nominee. Now, she can officially add the title of "author" to her list of impressive achievements with the release of her debut book, "My Jesus: From Heartache to Hope."
The 11-chapter work reads more like a novel than a memoir with real-life dialogue and descriptive prose that creatively transports readers into Wilson's world filled with her favorite tree in her childhood backyard, a truck dial permanently tuned to country radio and the stables of her family's Kentucky farm.
WATCH NOW: "My Jesus" Official Music Video
Anyone who has paid attention to Wilson's remarkable rise in Christian music likely knows her introductory single and instant chart-topping smash, "My Jesus," was written — like much of her music — in the wake of losing her brother, Jacob, who died in a tragic car accident at only 23 years of age. While Wilson shares stories of Jacob often, her new book dives into the backstory of both the song and her calling.
RELATED CONTENT: Anne Wilson Trades Ashes For Beauty On "My Jesus"
For the first time, the award-winning songwriter opens up in-depth about her childhood and what it was like growing up in a strong Christian home as the youngest of three siblings. She recalls special memories shared with her brother before revisiting the events that led to his unexpected death in great detail. As Wilson lets readers in on the suffering her family endured, the rawness is palpable, the grief unbearable. Yet, their unflinching faith is equally as tangible.
As she shares her family's inspiring journey through heartbreaking loss, she also divulges how she heard a clear word from the Lord calling her into music at her brother's funeral and how that moment led her on an unexpected path to Nashville. Setting aside long-held aspirations of becoming an astronaut, Wilson surrendered her own dreams, determined to trust a God who gives and takes away.
With each chapter, Wilson reveals how the Lord opened impossible doors and showed up in ways that will make even the biggest skeptic believe in the supernatural power of God. Wilson's unlikely journey to Christian music was Spirit-led every step of the way, and the "Sunday Sermons" singer candidly shares how God spoke to her — both audibly and through the peace she experienced at key crossroads along the way. Her brutal honesty and the enviable way in which she trusts God to lead her will give readers a glimpse into the heart of an artist that is fiercely committed to taking territory for the Kingdom.
RELATED CONTENT: Exclusive Performance of "Sunday Sermons" with Anne Wilson
Candid about being so consumed by grief that she contemplated ending it all, Wilson doesn't shy away from the most visceral parts of her story. Instead, she chooses to humanize her pain in an effort to show others that it's OK to not be OK. Wilson even concludes each chapter with a personal note to readers, sharing a lesson she's learned or a word of encouragement from her own experience. Across every page, the strength she's found in Jesus shines through every word — much like it does in her songs.
Although Wilson's career has skyrocketed in just a few short years, "My Jesus" doesn't simply offer an insider's perspective into the development of a new artist. Instead, it extends an All Access pass to Wilson's life and personal growth. While she briefly touches on her overwhelming schedule and life on the road, admitting it's been far more challenging than she ever imagined, the book ultimately culminates in the release of her first single — the song that literally changed everything for the young, grieving teenager from Kentucky. Full of hope and promise, "My Jesus," ends with the assurance that God will write a beautiful story if we're willing to hand Him the pen.
"When I wrote this book, I had so much faith in the Lord and everything He was doing with those moments of trusting Him," Wilson says. "I hope this story shows you that there's a light at the end, you just have to have the hope to find it."
On the heels of her inaugural book, Wilson recently unveiled a Christmas EP, "My Manger." She'll cap the year with Phil Wickham on select holiday dates throughout December before joining We The Kingdom, Jeremy Camp and more on Winter Jam 2023.
RELATED CONTENT: Anne Wilson Joins Skip & Amy for an Exclusive Interview