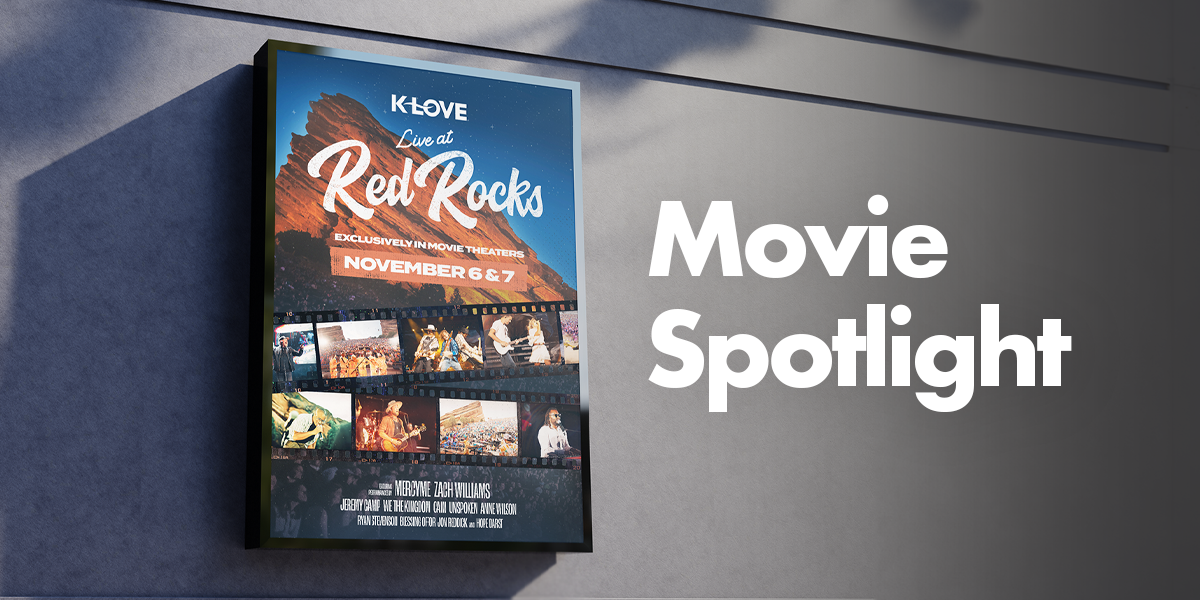 This summer K-LOVE returned to Red Rocks Amphitheatre in Morrison, Colo., for two back-to-back nights of Christian music. The annual tradition attracts fans from all across the country who travel to the storied venue to experience its natural beauty and one-of-a-kind performances from the artists fortunate enough to grace its stage. Now, for the first time, in partnership with Fathom Events K-LOVE is bringing Red Rocks straight to the fans.
For two nights only, "K-LOVE Live at Red Rocks" will premiere in hundreds of movie theaters nationwide Nov. 6-7, 2023. Fans can purchase tickets in advance here.
Part documentary, part concert, "K-LOVE Live at Red Rocks" gives moviegoers a small taste of the full Red Rocks experience. With stunning aerial shots of the sprawling venue, exclusive interviews and behind-the-scenes footage, fans can savor the natural beauty that provided the stunning backdrop and set the stage for the 11 artists who performed across a pair of sold-out nights, including @MercyMe, @Zach Williams, @Jeremy Camp, @We The Kingdom, @CAIN, @Unspoken, @Anne Wilson, @Ryan Stevenson, @Blessing Offor, @Jon Reddick and @Hope Darst.
"Red Rocks is the greatest venue in the world, in my opinion," shared Bart Millard of MercyMe, who headlined the second evening of the event. "We love this place."
In addition to showcasing the breathtaking surroundings, the film serves as a highlight reel that curates the best performances across both nights and brings them to life on the silver screen.
Despite the steady rain, those who attended the 2023 edition of "K-LOVE Live at Red Rocks" in-person didn't let the weather keep them down. A poncho-clad crowd worshiped amidst the gathering clouds. Newcomer Blessing Offor even celebrated the stormy conditions, noting, "In the middle of the rain, you are still loved" before launching into fan favorite "Tin Roof."
While this was Offor's second consecutive year playing the famed venue, there were plenty of Red Rocks rookies featured in this year's lineup, including Wilson, who shared the emotional true story behind "My Jesus" before taking the stage to perform her signature hit. "It has been just a dream and so surreal," she said of getting to be a part of the star-studded bill.
Wilson returns later on in the film to join We The Kingdom for the group's current single, "Jesus Does." The family band also brandishes a fiery rendition of "Don't Tread On Me," a standout from their debut. "There is no better place to play music than Red Rocks," observed We The Kingdom's Scott Cash, who's graced the hallowed stage multiple times. "As a musician, this is the absolute tip-top of the bucket list."
Stevenson, who also made his Red Rocks debut in 2023, echoed Cash's sentiments, saying, "It's overwhelming. I'm emotional. My heart is full. It's just special to be here." The hitmaker is featured in the official movie delivering an acoustic version of his breakthrough hit, "Eye of the Storm."
For Unspoken, performing at Red Rocks felt like a full-circle moment. "This is awesome for us to be here, and for us to be here with artists we grew up listening to. Their music has been influential in our lives," the group's Chad Mattson affirmed ahead of Unspoken's performance of "Reason." "For us to be able to come play at this iconic venue with some of these people who have inspired us along the way — like MercyMe and Jeremy Camp…it's unbelievable," he added.
It wasn't just new artists, however, who got to experience the butterflies of performing at the awe-inspiring amphitheatre for the first time. Surprisingly, this year marked Camp's Red Rocks debut as well. "I've kind of played everywhere else that I've wanted to play except Red Rocks. So I'm finally going to get to check it off my bucket list," the always charismatic singer shared before giving hits "Getting Started" and "Dead Man Walking" the live treatment. "I'm excited."
Those who aren't familiar with Christian music will quickly see why Camp is a genre leader. Thanks to massive performances, they'll also easily understand why seasoned artists like MercyMe and Williams repeatedly top the charts. Yet, "K-LOVE Live at Red Rocks" doesn't simply showcase beloved bands and veteran acts, it also introduces fans to newer names like Reddick and Darst.
While K-LOVE listeners will recognize plenty of radio hits throughout the nearly 90-minute film — like Williams' debut smash, "Chain Breaker," and MercyMe's most recent No. 1, "To Not Worship You" — there's also several deep cuts included in the setlist sure to delight astute fans.
Sibling trio CAIN debuts "Windows Down," the heartfelt testimony of Logan's wife, Emily, from their new album, "Jesus Music." Meanwhile, consistent hitmakers MercyMe deliver hidden gem "Grace Amazing" from their latest record, "Always Only Jesus."
Beyond the memorable performances, it's the personal stories behind the songs that really take center stage, giving moviegoers a glimpse into the hearts of the artists they hear on the radio every day.
Learn more about how you can experience "K-LOVE Live at Red Rocks" at a theater near you November 6 & 7 here.