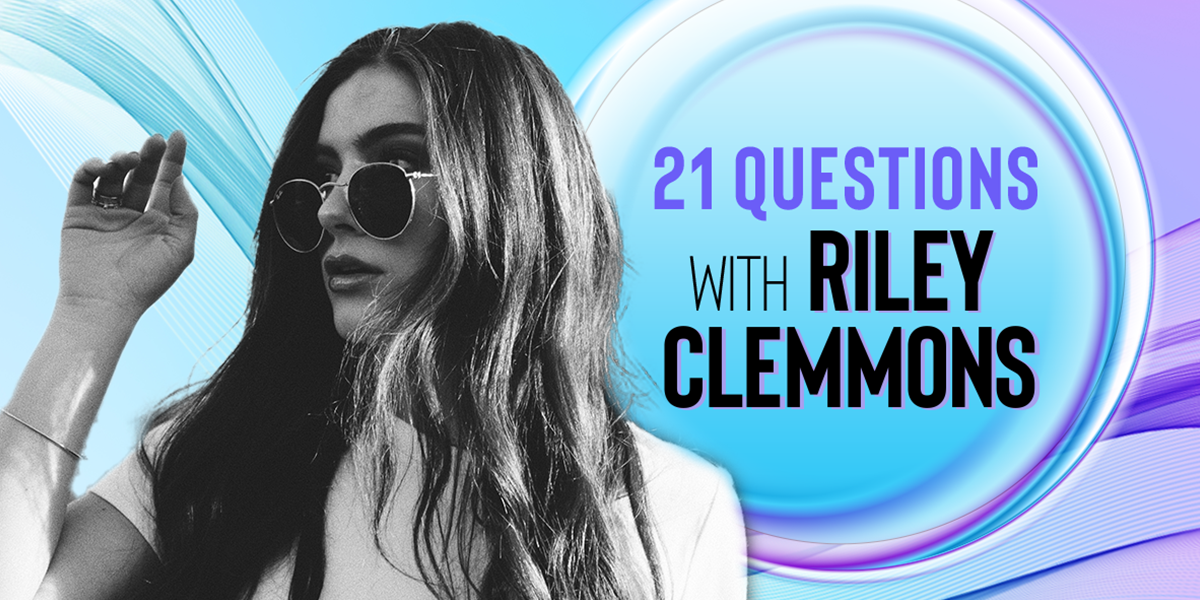 @Riley Clemmons kicked off the summer with a high-energy performance of her most recent single, "For The Good," on the K-LOVE Fan Awards stage, where she welcomed special guest Walker Hayes on the second verse of the song. Next up, the rising singer/songwriter helmed a string of shows in Europe. Across the pond, Clemmons played festivals in the UK, the Netherlands and Norway. She'll end Summer 2022 with an appearance at Colorado's most iconic venue when she joins @Tauren Wells, @Matthew West, @Mac Powell, @Cory Asbury and @Andrew Ripp for night two of "K-LOVE Presents LIVE at Red Rocks." The songstress has spent the past year criss-crossing the U.S. on notable outings with Wells and @Jeremy Camp, among others. Along the way, the Nashville native has been bringing numerous hits, including "Fighting For You" and "Broken Prayers," directly to fans, as well as debuting deep cuts from her latest album, Godsend.
WATCH NOW: The Story Behind "For The Good"
This month, the spunky 22-year-old took time to chat with K-LOVE and shared her recent lessons in touring, the biggest "pinch me" moment of her career so far, and a word of encouragement to her fellow female artists.
---
K-LOVE: One lesson you've learned from your previous tourmate, @Jeremy Camp?
Riley Clemmons: Jeremy is genuinely so full of such rich wisdom, but one thing I especially have loved talking with him about is his perspective on being faithful to what God has put in front of you in the present moment. In the world we live in, it's so easy to always be looking toward the next thing, but there's truly so much beauty and wisdom in choosing to be fully present and faithful to what God is doing in the now.
K-LOVE: Favorite song you've ever written?
Riley Clemmons: THIS IS SO HARD, Y'ALL! I go back and forth between "Godsend" and "Everything and More." Both of those songs feel like God-given gifts. Those two writing sessions were also really special.
K-LOVE: One way you've seen God work something "for the good"?
Riley Clemmons: In the past few years, my family has walked through a tough season of loss and hurt. While a lot of those wounds are still very much healing, my family has watched God bring the "for the good" promise of Romans 8:28 to fruition in so many beautiful ways. One of my favorite "for the good" experiences has been watching my family become closer to each other and closer to God through it all.
K-LOVE: First time you knew you wanted to be an artist?
Riley Clemmons: From the time I was a little kid listening to my mom sing Southern Gospel songs in church, I can recall always feeling a special connection to God when I heard music. When I first developed a desire to share my perspective on my faith, my struggles, and my life through writing songs, that sealed the deal on wanting to be an artist for me.
K-LOVE: Song you currently have on repeat?
Riley Clemmons: "This is the Day" by Fred Hammond
K-LOVE: Favorite late night snack?
Riley Clemmons: Hot Cheetos…always.
K-LOVE: One thing people might not know about you?
Riley Clemmons: I finished my senior year of high school while I was on my first tour. I wrote so many psychology papers in the back of a tour bus!
K-LOVE: First album you ever owned?
Riley Clemmons: My mom had a huge cassette collection when I was little, and I loved Natalie Grant's album, Awaken, so much that my mom eventually let me keep the cassette.
K-LOVE: Best thing about touring with @Tauren Wells?
Riley Clemmons: Tauren is one of the most generous human beings I've ever met. He champions the people around him with such genuineness and intentionality. There are so many amazing parts about touring with Tauren, but my favorite is getting to witness and learn from his leadership.
K-LOVE: Biggest "pinch me" moment of your career so far?
Riley Clemmons: Watching people sing along to my music at shows will FOREVER be the most surreal "pinch me" experience of all time. It never gets old.
K-LOVE: Favorite Bible verse?
Riley Clemmons: Romans 8:28 is definitely one of my life verses.
K-LOVE: Last person you texted?
Riley Clemmons: My sister!
K-LOVE: Go-to coffee order?
Riley Clemmons: Iced vanilla oat milk latte with an extra shot of espresso.
K-LOVE: Most cherished possession or keepsake?
Riley Clemmons: I have a collection of all my old journals and song books that I truly do cherish.
K-LOVE: One truth you often remind yourself of?
Riley Clemmons: I've been created purposefully and uniquely by the Creator of the world.
K-LOVE: Artist you'd love to collaborate with?
Riley Clemmons: My absolute dream collaboration would be either Stevie Wonder or Billy Joel. I refuse to choose between the two.
K-LOVE: Favorite way to spend a day off?
Riley Clemmons: Playing pickleball and cooking dinner with my family!
K-LOVE: A daily discipline you try to practice?
Riley Clemmons: I try to be very intentional about making time to journal and read a devotional every morning. I love having my first cup of coffee for the day while talking with Jesus.
K-LOVE: One word of advice or encouragement to your fellow female artists?
Riley Clemmons: As a little girl, I was always so inspired by the women I would hear on the radio. So, I'm always encouraged by the thought that there's a little girl sitting in the backseat of a car somewhere being inspired by a female artist they hear on the radio. I would encourage my fellow female artists with the reminder that there's more than enough room for all of us to share our stories and cheer each other on.
K-LOVE: Last song on your current setlist?
Riley Clemmons: "Keep On Hoping"
K-LOVE: Biggest lesson you've learned since you signed a record deal?
Riley Clemmons: Through all the highs and lows of having a career in music, the most wise and important thing I can do is continually choose to place my value and self-worth in who God says I am.
---
Don't Miss a Beat & Sign Up for K-LOVE's Music Updates!
Get monthly emails with updates on new music, videos, and exclusives from your favorite Christian artists on K-LOVE!