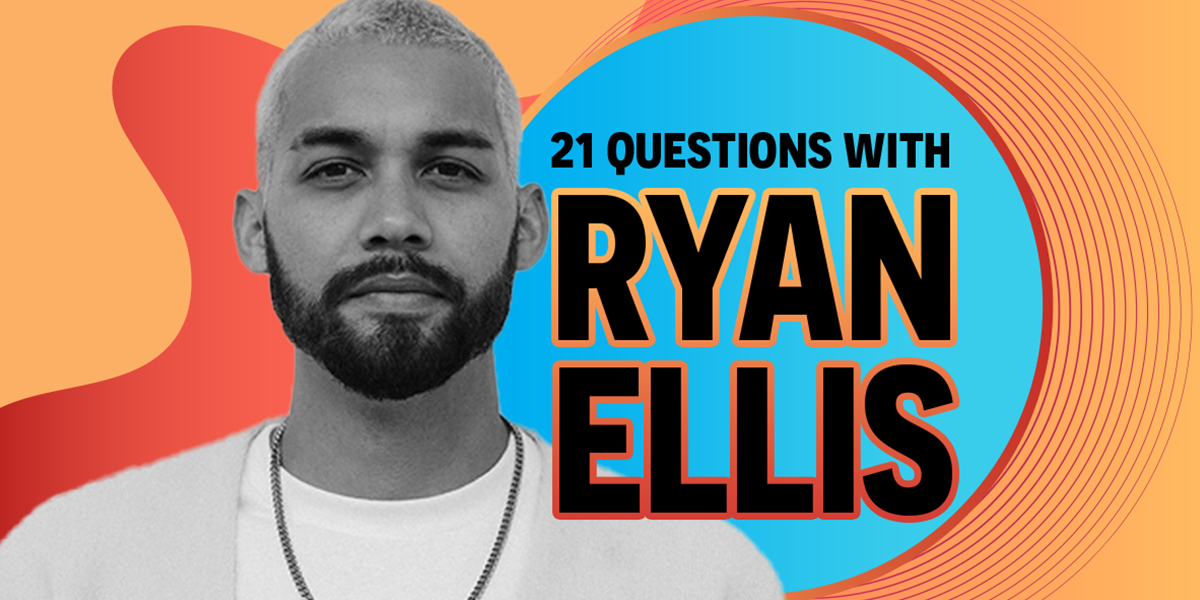 Breakout artist @Ryan Ellis was first introduced to fans via his song, "Heart of the Father." The worshipful pop hit made waves at Christian radio as Ellis tested his road skills on tour with @Big Daddy Weave. The California native later released another version of the track featuring female vocalist Doe. "Heart of the Father" and his latest single, "All My Praise," are both included on his self-titled debut that melds pop, R&B and worship. The singer, who's written selections recorded by @Chris Tomlin, @Natalie Grant and @Matt Redman, among others, has spent the summer performing with Housefires on "The Kingdom Tour" with @Maverick City Music and Kirk Franklin. He's set to take his original music across the country this fall supporting @We Are Messengers.
On a rare day at home, the father of two, who will welcome a third child with his wife in November, was game for a round of KLOVE.com's "21 Questions." The Navy vet spilled all the tea on the moment he knew he was called to music, why he loves living on the West Coast, and the artist he admires most.
K-LOVE: Favorite aspect of songwriting?
Ryan Ellis: The hangout with the writers, the connection and vulnerability in the room, and the creation of something out of nothing with friends or total strangers.
K-LOVE: Best thing about touring with Big Daddy Weave?
Ryan Ellis: Meeting all the band members! I learned a lot of life nuggets just by being around them. Those guys all have pure hearts. I waked away with life-long friendships.
K-LOVE: Favorite lyric you've ever written?
Ryan Ellis: "I was running low just like power to my cell phone."
K-LOVE: Story behind "Heart of the Father"?
Ryan Ellis: This song was birthed in Isla Vista, California. I was part of a ministry there called JESUS BURGERS. We would have worship nights in the garage then head out to the front patio to hand out hamburgers to party kids. Giving you a hamburger is what our mission was, but we would give them whatever they needed. We just wanted to be ambassadors of Love. The song came out of what we were doing there and the revelation that God is a Father, and that He will meet you even in the most unexpected place.
WATCH NOW: "Heart Of The Father" Official Music Video
K-LOVE: Deep cut on your self-titled debut album people shouldn't sleep on?
Ryan Ellis: Don't sleep on any. They're all fire.
K-LOVE: How you first started leading worship?
Ryan Ellis: I was fresh out of the Navy, and I was newly saved. I was talking in a coffee shop to a friend about revival and Jesus. The owner of the coffee shop overheard me and said his dream for his business was to have worship nights. He let us use the space after the shop closed. So we started a Spirit-led worship night called AFTER HOURS. We would go from 10 p.m. to 3 a.m. sometimes, just worshiping God and ministering to one another. Then I moved up to the JESUS BURGERS ministry in Santa Barbara and was part of Isla Vista Worship.
K-LOVE: Best thing about being a dad?
Ryan Ellis: All of it. The cuddles, the kisses, the tickles…the learning. The deeper understanding of life and God just by staring at these little homies.
K-LOVE: First job you ever had?
Ryan Ellis: Working construction with my grandpa.
K-LOVE: Favorite artist of all time?
Ryan Ellis: Kanye West. His discography, life, business accomplishments, controversy — to me, that's what makes a good artist.
K-LOVE: No. 1 goal with your music?
Ryan Ellis: My goal is to bridge the gap between what we can sing in church and what you can jam out to in your car, all while breaking boxes of what Christian music is "supposed" to sound like.
K-LOVE: Last person you texted?
Ryan Ellis: Wifey.
K-LOVE: One thing you learned about fellow new artist Doe when you brought her in for an updated version of "Heart of the Father"?
Ryan Ellis: She is super humble, and she's a musical genius. She came in, and we had video people, label people, management people there — just a lot going on — and she cut the vocals right there. Just a couple takes, and she was done.
RELATED CONTENT: "Heart of the Father" Marks Newcomer Ryan Ellis' Debut as a Recording Artist
K-LOVE: Best thing about living in California?
Ryan Ellis: I love the diversity out here. You see so many people from every walk of life. Also, the weather and the ocean. You can be in the mountains snowboarding in the morning, and in the same day, go surf and watch the sunset.
K-LOVE: One thing you're most excited about as you embark on a career as a signed recording artist?
Ryan Ellis: Jamming hard on stage and giving everyone some good music.
K-LOVE: First album you ever owned?
Ryan Ellis: The Chronic, by Dr. Dre
K-LOVE: The place where you first felt called to music?
Ryan Ellis: When I was in my first writing session in Nashville. I asked God, "What is this?" And He said, "This is where I'm taking you…" I said, "OK." That was the first time the calling felt tangible.
K-LOVE: Favorite TV show to binge watch?
Ryan Ellis: "The Office" and "The Chosen."
K-LOVE: Best advice you've ever received?
Ryan Ellis: The grass isn't greener on the other side, it's greener where you water it.
K-LOVE: Christian artist you admire the most?
Ryan Ellis: Is Kanye West considered a Christian artist? He just swept the Christian Billboard Awards. That man is a Bible character.
K-LOVE: Favorite way to unwind when you have a day off the road?
Ryan Ellis: Wrestle the kids, date night with the wifey, and go hit some golf balls.
K-LOVE: One lesson God is teaching you right now?
Ryan Ellis: He's showing me it's just me and Him. How to trust and how to wait and how to listen and be led more and more by His peace.
---
Don't Miss a Beat & Sign Up for K-LOVE's Music Updates!
Get monthly emails with updates on new music, videos, and exclusives from your favorite Christian artists on K-LOVE!