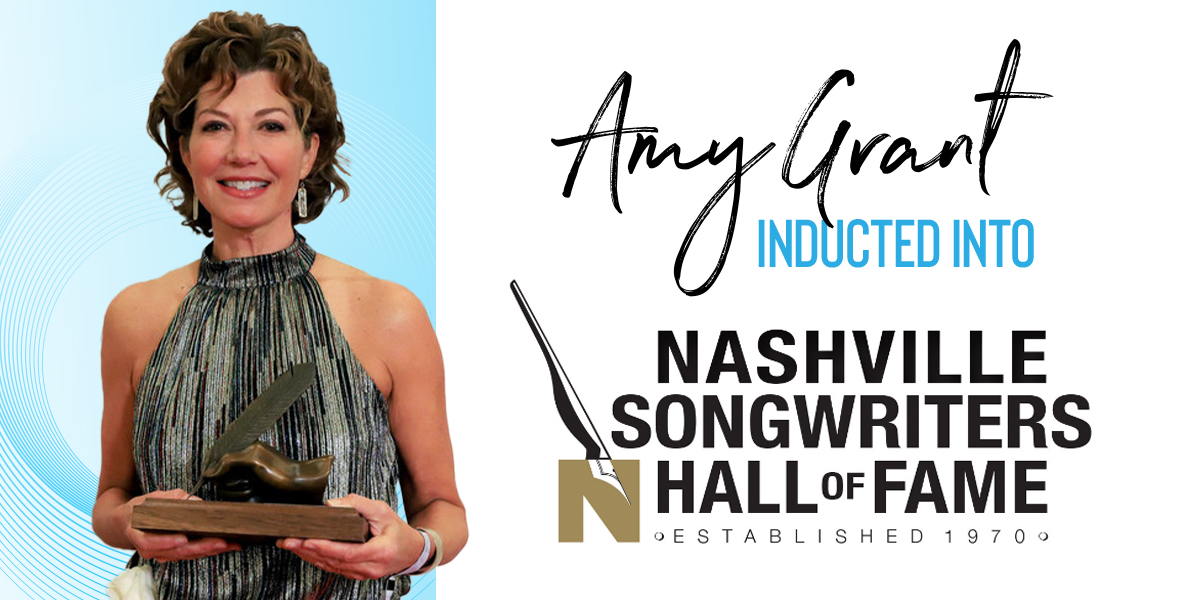 Adding to more than four decades-worth of accolades, @Amy Grant recently became the newest member of the Nashville Songwriters Hall of Fame. Alongside additional inductees into the Class of 2021, Grant was feted at a gala in Music City, where her husband and fellow Hall of Fame member, @Vince Gill, honored her with a performance of her acclaimed Christmas ballad, "Breath of Heaven (Mary's Song)."
Since 1970, the Nashville Songwriters Hall of Fame has been honoring Music City's best lyricists, recognizing writers from all genres of music who have reached the pinnacle of their craft. Induction into the Nashville Songwriters Hall of Fame is the highest honor bestowed by the Nashville songwriting community. Grant now joins an elite group of esteemed Hall of Fame writers, including Johnny Cash, Dolly Parton and Garth Brooks, among others.
"I'm thrilled to be included in the Nashville Songwriters Hall of Fame Class of 2021 and honored to be part of such a vibrant songwriting community," says Grant of the recognition. "I want to encourage anybody who has ever had a creative thought, your voice is unique to you and the world needs your stories."
A tireless champion of fellow artists and songwriters, the six-time GRAMMY® winner holds a star on the Hollywood Walk of Fame and the Music City Walk of Fame. In 2020, she was also honored with the Tony Martell Outstanding Entertainment Achievement Award.
RELATED CONTENT: Amy Grant Reflects on "Heart in Motion" Turning 30 and What It Means to be a Believer in 2021
The past year has found the 26-time Dove Award-winning artist celebrating the 30th anniversary of her iconic album, Heart in Motion. Last July she surprised fans with a special double disc edition of the landmark recording that made her a pop sensation, followed by a 41-city tour in support of the 5X-Platinum collection to commemorate the career milestone. In addition, along with longtime friend @Michael W. Smith, Grant executive produced The Jesus Music film, which documents the incredible impact she had on the birth of the Christian music genre. She recently appeared with @for KING & COUNTRY on "CBS News Sunday Morning" to promote the release of The Jesus Music on demand, Blu-ray and digital.
The revered songstress capped an incredible 2021 co-headlining select Christmas dates with Smith before heading home to Nashville for her annual holiday residency at Ryman Auditorium with Gill, a tradition beloved by both the couple and fans alike.
The legendary artist kicked off the New Year by welcoming granddaughter Penelope Willow Long, born Jan. 3 to Grant's daughter, Millie, for whom Heart in Motion's smash hit, "Baby Baby," was written.