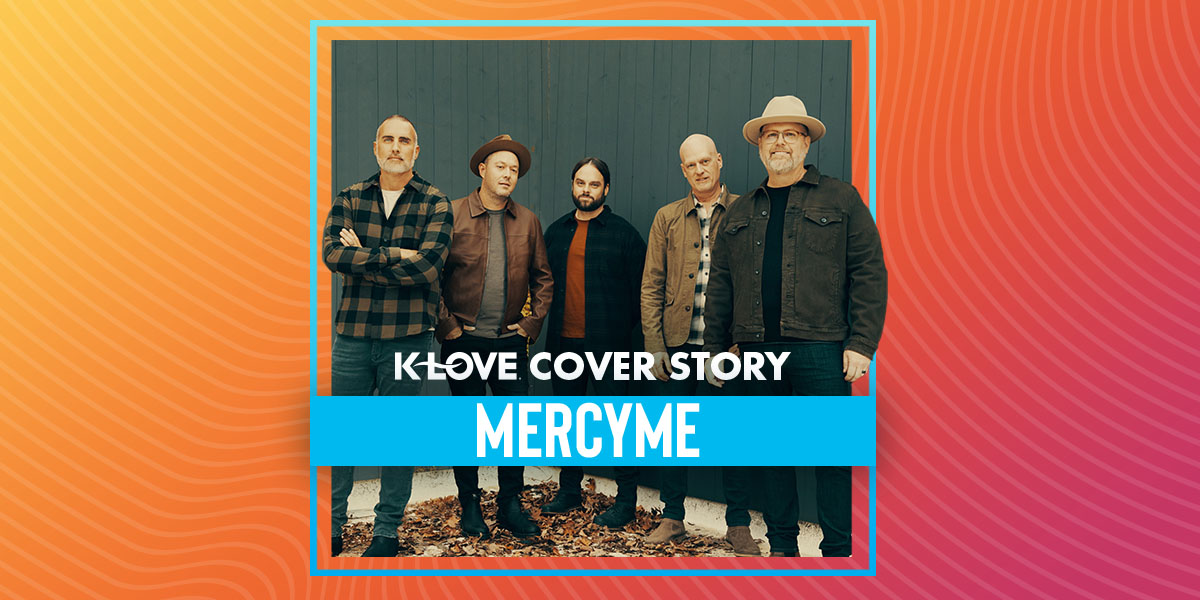 When 2020 began, @MercyMe had a brand new single, "Almost Home," ascending the charts and a brand new album nearing completion. The record would be titled Spaceman, and the band would introduce their fresh tunes via a nationwide tour.
Then, COVID-19 happened, and MercyMe—like every other artist who depends on touring to support their music—was faced with a decision. They could release the project without a tour behind it, look for alternative ways to promote it, and hope for the best. Or…they could make an entirely different record.
Longtime bandmates Bart Millard, Nathan Cochran, Mike Scheuchzer, Robby Shaffer and Barry Graul opted for the second option.
"We kind of wiped the slate clean and just started over," Millard admits. "There are songs we had written before that made the record, and then we wrote a lot of new songs during that season."
The band crafted the album in their new studio, a remodeled log cabin in Franklin, Tennessee, where the Eric Clapton hit, "Change The World," was originally written. They also found a kindred creative spirit in Jordan Mohilowski, the drummer for @The Afters, and discovered that working on a new record gave them purpose during a year of uncertainty. The result is inhale (exhale), a 16-track collection produced by Mohilowski, that ended up releasing a year-and-a-half after the album's lead single launched.
"The pandemic changed everything to the point where the album for us, more than any record we've done, is like a timestamp for a season. People are going to talk about this pandemic a hundred years from now. So we wanted to address what's happening now," Millard offers. "We kept talking about how we want this album to give someone a chance to take a deep breath and remember what's important."
inhale (exhale) does just that, providing 48 minutes of intentional respite—deep breath in, deep breath out. It's a combination of all the things MercyMe does best—emotional ballads mixed with thoughtful pop gems. "Our motto was if it doesn't rip your heart out, it should make you dance," Millard shares, "and we wanted fewer power ballads and more just you-get-caught-dancing-at-a-red-light-when-no-one's-looking kind of songs."
Camera lights around the country might capture some incriminating footage as listeners crank disco track, "Brand New." It's a "brand new" sonic look for the historically conservative band, but one that definitely makes you want to move. Plus, the ambitious track features the queen of disco herself, Gloria Gaynor.
The songstress was a last-minute addition. Millard teamed up with Gaynor on a song called "He Won't Let Go" for her 2019 Gospel record, Testimony. So, all it took was a call from the beloved frontman for the disco queen to return the favor. Millard sent her the song on a Friday, and by Monday of the following week, Gaynor was in a studio in New Jersey recording, and the band was on Zoom talking her through it.
"What's funny is Joel [of @for KING & COUNTRY] and I will meet every couple weeks just to catch up," Millard explains, "and he was like, 'How in the world did you get Gloria Gaynor?' and I was like, 'Cause you suckers used up Dolly Parton. I can't use her again, so I had to find another iconic singer, so we went disco.'"
Scheuchzer jumps in with an addendum: "That said, Dolly, if you're listening, we are totally open to collaborating. Any time."
Parton might be absent from the tracklisting, but Gaynor isn't the only high-profile artist featured on inhale (exhale) either. A longtime friend of the band, Gary LeVox, makes a cameo on "A Little Love." Known as the recognizable lead vocalist for country supergroup Rascal Flatts, LeVox loved the song so much, he also included it on his first solo Christian EP, One on One. Millard insists the two frontmen are cut from the same cloth.
"I like SportsCenter more than I like The Notebook, or whatever. I'm not a very contemplative, artsy guy. He's the same way," Millard says of LeVox. "He sings in Crocs for crying out loud!"
Elsewhere, four tracks from the top, pop-centric selection "So Yesterday" subtly boasts production and co-writing credit from songwriting ace and One Republic frontman Ryan Tedder. Although he and Millard have never met in person, the two songwriters found themselves texting and chatting over Zoom during the pandemic.
"One day we were talking about something else, and I gave him a hard time and just said, 'Hey, just so you know, Christian music's way harder to write than pop music, because we have all these rules to play by. You can sing about whatever. It doesn't really matter,'" Millard laughs. "He grew up in the church, and he goes, 'You're actually right. I couldn't do Christian music. It's too hard.'"
Then Tedder—who's penned songs for superstars like Beyonce, Adele, and Taylor Swift, among others—did the unthinkable and asked Millard to send him the song he was currently working on. A voicemail soon arrived with Tedder's notes.
"He's the biggest songwriter in the world, and he didn't change a lot, which was kind of cool. He liked it enough to not tweak it too much," Millard says. "A few melody changes and a couple lyric changes, and he would explain it like it was a master class in pop music. The whole time I'm freaking out, going, OK, I just wrote a song with Ryan Tedder."
In the end, however, the global hitmaker didn't turn out to be Millard's favorite collaborator on the project. Tedder came in second to Millard's son, Sam Wesley, who lends his vocals to "On Our Way," a song on which he also holds co-writing credit with his dad. Millard's oldest child had started writing the song with some friends, and when the father of five heard it, he immediately knew it was special.
"I had to have this awkward conversation like, 'Hey buddy, Daddy loves your song. Now Daddy wants your song,'" the frontman quips. "He didn't know how to feel about it, but then I explained to him how songwriting works and that this would be a huge opportunity and that he would actually get paid as a songwriter."
The day Millard went into the studio to demo the track, he was under the weather and asked Sam to fill in the back half of the song just to get something down on tape. When the label heard it, they, along with the other members of MercyMe, agreed that Sam's vocals should stay.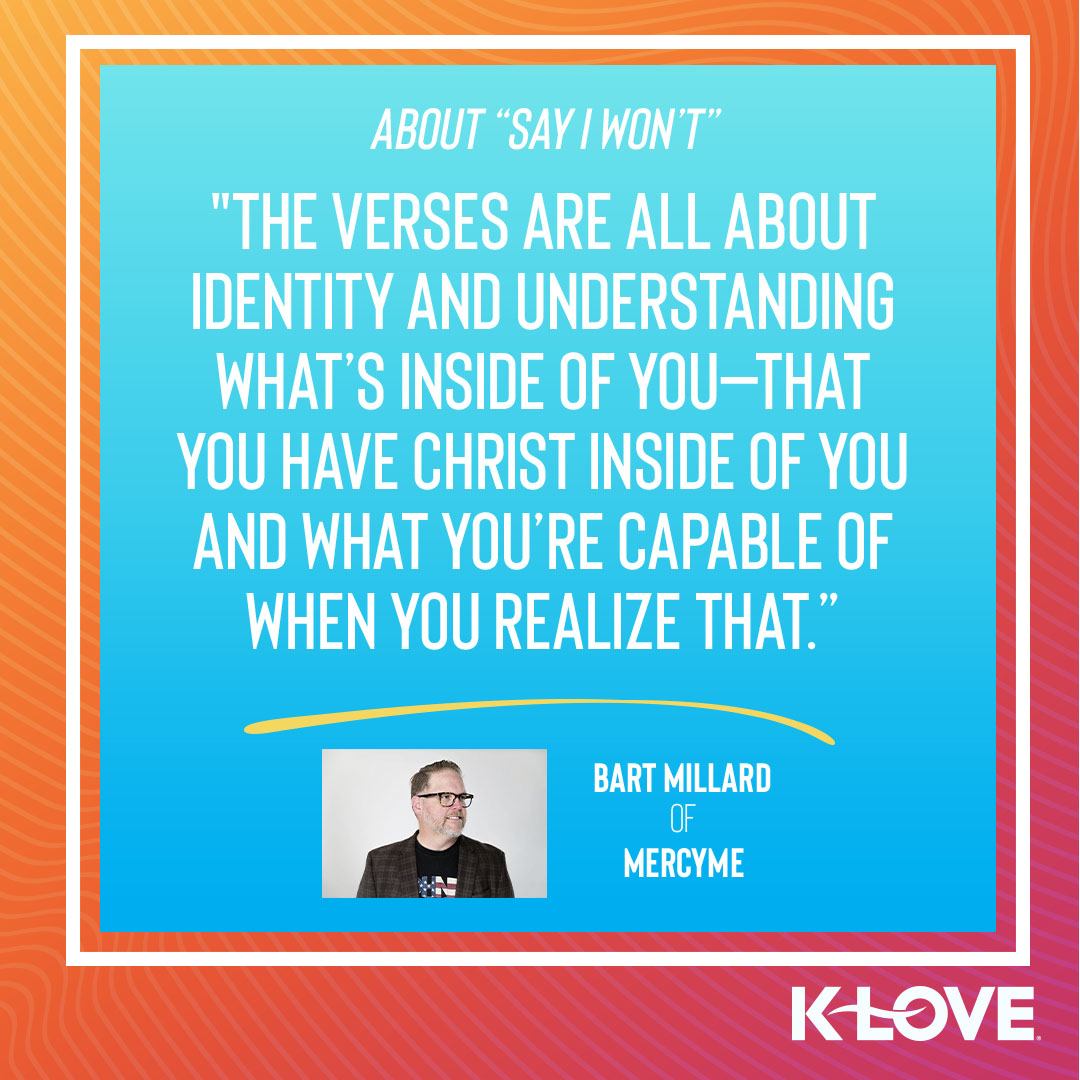 "He wants to do this one day. He wants to make his own albums," Millard reasons. "The proud dad in me was so excited, but I never would've suggested we use his vocals. I didn't want to be the head coach whose son is automatically the quarterback. So I was really excited the label and the band were for this. It's crazy to think I was in MercyMe when we had Sam, and we're still in the band, and now he's old enough to be singing on the album."
It makes sense when you stop to consider the fact that the award-winning group has been making music together for the past 27 years. MercyMe released six projects independently before launching their career-defining label debut, Almost There, in 2001. The album's lead single? A little song called "I Can Only Imagine." Two decades later, the song remains the band's quintessential recording. The 4X-Platinum track even received a second life in 2018 when the real-life story behind the song was brought to the silver screen, putting Millard's rocky relationship with his abusive father front and center.
"We kind of jokingly say we took over the funeral song from @Michael W. Smith's 'Friends Are Friends Forever' with 'I Can Only Imagine,'" Scheuchzer says. "The ability for Bart's story of the relationship with his dad to be told kind of opened up a different viewpoint for a lot of people."
The same could be said of many of MercyMe's biggest hits, including their latest single, "Say I Won't." Shifting listeners' perspectives on what they are capable of through Christ's strength, the mid-tempo ballad is dedicated to the band's former crew member Gary Miracle. Last year, complications from the flu sent Miracle into septic shock, resulting in the loss of all four of his limbs.
WATCH NOW: MercyMe - Say I Won't (Official Music Video)
"He was a part of the song before he ever got sick. It came out of a couple years of conversations with him. The verses are all about identity and understanding what's inside of you—that you have Christ inside of you and what you're capable of when you realize that," Millard shares. "Gary was our first merch guy 25 years ago. He's just been a dear friend ever since. The line 'driving 35 with a rocket inside' was something I told Gary in a text conversation.
"I was consumed with his story; his outlook and positive attitude were infectious," Millard continues. "So the song took a turn to where it became this overcomer, kind of Rocky moment of, 'I dare you to say that I won't do it, and I'll show you that I will.'"
WATCH NOW: The Story of Gary Miracle
In a way, this sentiment could also be said about the members of MercyMe. Few bands come out of the gate with the biggest song of their career, and even fewer manage to top it. While the group's long line of chart-toppers and accolades speak to their commercial success, the biggest feat of all might just be the fact that 27 years later, they're still making music.
Regardless, their "day job" isn't for the faint of heart. After all, it takes a great deal of courage to stare a pandemic in the face, scrap an entire album, and start over.
"You want music to be current, and you want it to have truth but not come across as corny," Millard confesses of the conundrum he faces every time he sits down to write a song. "Half the time you miss it, and sometimes, you get it right."
---
Don't Miss a Beat & Sign Up for K-LOVE's Music Updates!
Get monthly emails with updates on new music, videos, and exclusives from your favorite Christian artists on K-LOVE!